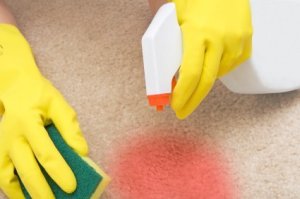 The thought of kids drinking Kool-aid on the carpet is enough to make any parent cringe. Those brightly colored stains are hard to remove. This is a guide about removing Kool-aid stains from carpet.
Ad
---
Solutions: Removing Kool-Aid Stains from Carpet
Read and rate the best solutions below by giving them a "thumbs up".
I spilled Hawaiian punch on my carpet and it dried a big red stain into my carpet. I tried resolve and spot shot and neither got them out by themselves. I found this website. Although it seems I couldn't find the original post. Here's how I got it out:
Put dish soap and water on the stain and let it set for about a minute.
Take a white t shirt and put it over the stain. Use the very edges so that you can repeat this step by using all the surface area of the t-shirt.
Take hot iron and run it over the t-shirt that is over the stain. you will start to notice the stain transferring onto the t-shirt. In my case, at the end of this procedure, my t -shirt was almost completely red and it also took out a lot of dirt that one might not notice.
Repeat these steps until it is all gone. It's like magic!
By John
Give a "thumbs up" to the solution that worked the best! Do you have a better solution? Click here to share it!
Questions
Here are questions related to Removing Kool-Aid Stains from Carpet.
How do I get Kool-Aid stains out of my carpet?
By Stacey from Strathmore, Alberta
AnswerWas this interesting? Yes No
Ad
---
---
Best Answer
By Melody Hoffman 1 13 09/16/20100 people found this helpful
The best way I know is to use your steam iron. Wet a white towel and wring it nearly dry. Turn your iron on the highest steam setting. Place the wet towel over the rug stain, then hold the iron a little above the towel and steam away. You may need to do this several times to get the entire stain out. You should be able to see the stain move from the rug into the wet cloth.
---
How do I get Kool-Aid stains out of carpet?
By Patti from Pearson, GA
AnswerWas this interesting? Yes No
Ad
---
---
Best Answer
By Robyn Fed 394 1,240 09/18/20110 people found this helpful
1/4 tsp. mild liquid dishwashing detergent with 1 cup of lukewarm water.

Blot the solution onto the stain. Work from the edges of the stain toward the center of the stain to ensure that you are not spreading it. Gently agitate rather than rub the stain and reapply solution as necessary. Keep blotting with a white cloth. If that does not work then use:
1 cup of white vinegar with 2 cups of water.

Keep blotting the area with a white cloth until the stain no longer transfers onto the white cloth, not rubbing but pressing.

If this is not helping, then make up an ammonia solution, remember never to use any kind of bleach with ammonia, not even on a spot that had bleach on it. You could hurt yourself by the fumes.

Mix 1 Tbsp. of ammonia with 1 cup of water if the stain is still visible. Sometimes ammonia will lighten the carpet a touch.

Blessings, Robyn
How do I get a red Kool-Aid stain out of my carpet?
By LaRena713 from Galesburg, MI
AnswerWas this interesting? Yes No
---
Best Answer
I've got two big red stains in my carpet. I don't know what it is, Kool-aid or some kind of red drink
By Olga
AnswerWas this interesting? Yes No
---
Most Recent Answer
How do I get red Kool-Aid out of carpet?
By Charleen
My grandbaby spilled her red Kool-Aid like drink on my light colored carpet. I have tried carpet shampoo, dish soap, rubbing alcohol, and Greased Lightning on it. Nothing has worked. I am looking for suggestions on household remedies to get it up.
By Debbie
I have got several future brothers-in-law at my house and they love Kool Aid. I have several stains now and I am having trouble getting them out. I made a home solution consisting of Dawn dish soap, LA Awesome, vinegar, and hot water. I pour the solution on the stain and scrub the area with a brush for five minutes and then I use my carpet cleaner (filled with hot water) and go over the area until there is no more soap coming up and it stops sucking up water. So far it gets 99% of the stain out, but it is still pink (barely noticeable unless you're really paying attention.) The thing is I am a perfectionist and I want to get it completely out. Any ideas?
By Sammi
Archives
Thrifty Fun has been around so long that many of our pages have been reset several times. Archives are older versions of the page and the comments that were provided then.
I need advice on getting stains out of carpet. A couple months ago someone got sick on my floor. Please help me to get the koolaid stains out of carpet before my lease is up.
Thanks
Hydrogen Peroxide
We used hydrogen peroxide for stains on carpet. Get clean white cloths and Dawn dishwashing soap and water. Pour the peroxide on the cloth and gentle rib the area you might have to do this several times. Then wash and rinse real good. Do spot test if this is a solid dark carpet. You might have to repeat this but it does help get spots out.
By Dgrams
Selzter Water
Use selzter water. Just pour some on the stain, let it sit for 2 minutes then sponge up. Don't rub the water into the carpet. It wont help any. Dab it up with a paper towel or sponge. This helped me with some stains on the floor.
By Smilez28
Boil Some Water for the Stain
Boil some water and both slowly and carefully pour onto the spot with koolaid stain. This has removed all my koolaid stains in the past. Use of hot water will cause the koolaid stain to come out of the carpet, but remember its gotta go somewhere so use a towel to remove it as you use the water to keep it from spreading. Rubber dishwashing gloves should keep you from scaulding your hands.
By Scott
Clothes Iron and Dawn
I have to be honest, I was really discouraged to think that anything at all would remove the horrible koolaid stain that was sitting in front of my desk after having failed to remove it with oxyclean, bissell little green, spot shot, shout gel, and woolite oxy deep. My doubts only got worst when I ran out of chemicals to drench my carpet with: The only thing they left me with were a fresh smelling bedroom, and a horrilbe, now rosey spot - which only seems to be bigger! It turns out no chemicals were needed, just that iron trick with the blue dawn and water combo. Word of advice: take your time as it took me close to two full days to get the 12 inch diameter stain out. Be patient, and even cherry koolaid will come out.
By Andrew
Boiling Water
I could not believe how the boiling water took the red koolaid stain out. Don't be afraid. Dump the whole teakettle on there after you vacuum out all you can.
By Ellen in Alaska
Boiling Water - Be Careful
I used boiling water and my carpet shampooer to suck the hot water up. It did work, but be careful and don't do it TOO many times. I did and actually took some of the color of my carpet out. I guess it's better than a pink stain, though!
By Shelley
Iron on Low Heat
I mixed a small amount of dawn blue colored dish detergent with warm water and applied it to the stain. Then I put a white cloth on top of the stain and patted it with a warm (very low heat) steam iron. I repeated this procedure several times until it completely removed the koolaid stain. And it did not discolor the carpet.
By Laura K.
RE: Kool Aid Stains on Carpet
I just had this same problem! Our son managed to spill red koolaid in four different places in the apartment we were renting until our new house was finished being built. Wanting to get our deposit back I tried everything to get the stains out. The ONLY THING that worked was the iron trick. I took a big tub of cold water, soaked a washcloth in it, folded it in half, then laid it sopping wet over the stain. Next I laid a VERY HOT iron on top of that. Once the washcloth was kind of dry I soaked the washcloth in the cold water again to cool it off and started the process all over again. It took some time but it DID get the stains out!
By Jennifer
Dawn and Iron
Kool Aid stain in the new car: Dawn dishsoap with a warm towel over it and a hot steamy iron did the trick. The warm towel was pretty soaked. I had tried M-30, oxy magic, tide with bleach, commercial cleaner in a carpet cleaner, and peroxide. Only the steamy wet towel did the trick.
By julia
RE: Kool Aid Stains on Carpet
I had old kool-aid stains on my biege carpet. It was horrible, I tried everything and nothing worked. I am so happy, the wet cloth and steam ironing worked great. Carpet is like new.
By Gina Padin
Gatorade Stains
Dawn worked for Gatorade.
By Dawn Lynn
Anybody know what will get out red kool-aid from kids bedroom carpet?
Wine Out
Go to a liquor store and buy WINE-OUT. This removes anything RED.
By Leeanne
Dye Out
If you have set in koolaid or dye in your rugs or clothes, there is a product by your cleaning supplies in your market called Dye Out. It comes in a small 3 x 3 package and it really is a gem. I love it.
By Cheri
Steam It Out
Wet a towel and put on the stain, then take out your steam iron and steam it out! It has worked on kool aid stains from 2 years ago.
By Liz
Ammonia
Take a bowl of water and pour a very little ammonia in the bowl and then take a brush ( srcubbing brush with a handle ) dip in the mixture and then scrub carpet really good. Then get a white towel and you will see the dirt form the carpet.
By jwired48
Steam Iron Worked
We just moved in to a new home and I recently spilled red kool-aid on my light colored carpet. I immediately got online and did a search. I found this website with the steam ironing trick! It really works!
By Holly
The Iron Trick Works
The iron trick really works. My daughter spilled her fruit punch all over the floor and I tried everything to get it up right away and nothing worked. We have an apartment so I had to get the stain out because I didn't want to pay for a new carpet. The steam trick really works but it does take a while to do it. Just get a wet towel and put the iron on top and go back and forth until the stain is gone. Good luck! (06/09/2006)
By Jennifer
Iron Tips
I found the wetting the carpet and using a towel and hot iron works well. Some tips on this - one, it seems to work the Best when its the less traveled over carpet (like on the edges of the room etc) - it picks it Right up then. Really traveled sections it Almost took all the red out - but it was a definite improvement. Also - be sure to Wet the carpet down pretty well - and i dont think you need to wet the towel, as it will pickup the steam very quickly. At first i just wet the towel, but that didnt work well. Also - i havent tried doing a combo of hydrogen peroxide mixed in the water, and the iron/towel trick - that might be better.
By Mike
Be Careful
Be careful i tried this - it worked on the stain but it also took out the color of my carpet - now i have a white/yellow spot on my beige carpet!
By Jen
My son just spilled red Koolaid on our carpeting and I need help removing it. Any suggestions?
How do you get red kool-aid out of carpet?