2 of my dogs got hit yesterday in a hit and run. One died, the other has broken legs. Does anyone know of low cost clinic or a vet that takes payments in Bakersfield California?
By Stacey
April 9, 2015
0

found this helpful
Best Answer
Contact your local humane society or shelter. They offer care but if you cannot pay for it, you will need to surrender your dog. and they will own it and make decisions on its' future. Not a great answer but it does prevent your dog from suffering further.
April 7, 2015
0

found this helpful
So sad! I'm so sorry this happened to your dogs and a hit & run! Unfortunately, there are few low cost and payments vets in any area. You can call vets in your locale for a possible referral to a low cost vet, however, it is rare. Vet education and training is very expensive and running a clinic is also high cost. They must also pay their bills like the rest of us.
Good Luck!
My male kitty is nearly 2 years old. For about the past six months or so I have been keeping him indoors. He is not neutered. I am going to get him neutered, ASAP, the problem is he is very tricky and an escape artist. He is also one to roam and fight and comes home so beat up. Please do not judge, I love this animal very much and I do my very best to keep him protected.
However, his injuries (mostly lumps deep scratches) literally take him a couple of weeks to heal up and with other people in the home, he has gotten into the last two fights while injured. I think his paw is infected and has something stuck in it. It is swollen and he is limping and will not let me even look.
I am an unemployed single-mom. This is killing me to not be able to take him to the cat clinic and have him mended and medicated, and neutered! My question is: Does anyone know of a vet in the Pasadena, Arcadia, or surrounding San Gabriel Valley who will provide services for a very small amount of cash during first visit. I am willing to make payments, but they won't be much until I am working. Thank you for taking the time to answer, have a nice evening.
By Monique C.
January 17, 2014
0

found this helpful
Best Answer
Check with local cat rescues and see what they can offer. Also the Humane Society. Usually it is free or $20. Vets in the PNW offer "Care Credit" where you can charge the procedure and pay it off on time interest free. Many Vets have a fund for needed care for people who cannot pay. Call around and you should be able to find one. Good luck.
February 4, 2015
0

found this helpful
There are an increasing number of organizations that help people pay vet bills so that they can keep their animals and so that their animals don't suffer just because their owner is low-income or has fallen on hard times. Check this out: http://www.felinediabetes.com/vetbills.htm
I need a low cost vet. My dog needs X-rays, but I can't afford much. I love my dog and don't want to cheap out, but I just can't afford hundred dollar X-rays plus additional expenses for whatever might be wrong
By Cindy from Riverside, CA
December 31, 2014
0

found this helpful
You need to be able to afford a Vet if you want to be a pet owner. Your local humane society will provide care for your dog at no cost to you. Then they will put the dog up for adoption. That might be your best bet. Letting your dog suffer wouldn't be a good choice.
April 11, 2016
0

found this helpful
Things happen. One day your fine the next day you lose your job and your world turns upside down. You don't need to be rude. People go through hardships. Pick on some else.
Does anyone know where a Pit puppy can be seen here in Stockton California? I believe the dog has a broken back leg/hip injury and it's owner can not afford to take the puppy to a vet hospital. I wrapped it with an ace bandage for now, but the poor thing can't walk. He literally just folds when we tried to stand him on all fours. Thank you for any advice you can share.
Pam for Blu Boy
June 24, 2015
1

found this helpful
Get the puppy to a no kill shelter where it can get help. If not treated right away injuries like the puppy has cannot be helped.
June 24, 2015
0

found this helpful
The owner really does just need to surrender the dog. Is there a pit bull breed rescue in your area? Google it. If there's one even in your state they may come far to pick up the puppy.
Since it is a puppy, the dog can get help and be fostered through the healing process and then adopted out.
You need to have a stern, serious talk with this friend of yours once this puppy is safely away. No more animals! If they can't afford: Vaccinations, spay/neuter, license, tags, and some put aside for emergency vet care, they can't afford a pet.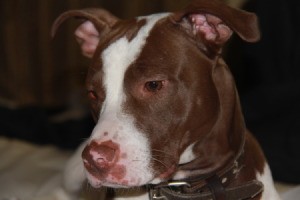 I have a 2 1/2 yr old Pit Bull that is the love of our lives. I just got laid off from my job. I think she has a foxtail in her nose or something. She has no energy and is sneezing a lot. Her nose keeps running and she is really hot. We had to move and barely covered our rent. Normally I could afford a down payment, but this had to happen after getting laid off. Help! I am single mom in Modesto.
By Tracy
October 21, 2013
0

found this helpful
Try calling your local ASPCA and explain your predicament. Ask if they can recommend someone who will help.
October 21, 2013
0

found this helpful
Your Dog needs Veterinarian attention..