Dolls are a popular collector's item. This is a guide about finding the value of Princess Diana dolls.
I am looking for two dolls made by the Franklin Mint. One is called 'Sophistication' and the other one is called 'Enchantment'. Anyone who might know where I can find one or both please let me know.

Rose from Glen Burnie, MD
Most Recent Answer
By fi_14_innit 1 Flag
June 11, 2013
Hi I have the princess Diana doll in a light blue dress. Will you be interested?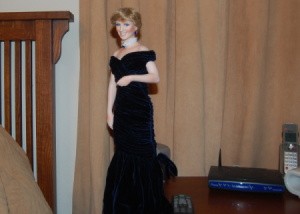 I would like to know how much my Princess Diana doll is worth. She is wearing her blue dress with her blue diamond earrings and necklace.
By Amanda
Most Recent Answer
June 16, 2015
Dear Amanda,
Thank you for your post and interest in Ashton-Drake dolls. Unfortunately, we no longer have a secondary market for retired dolls. You may want to check eBay or visit an antique/doll shop to get a value for your ballerina doll. Good luck! Thank you, Chris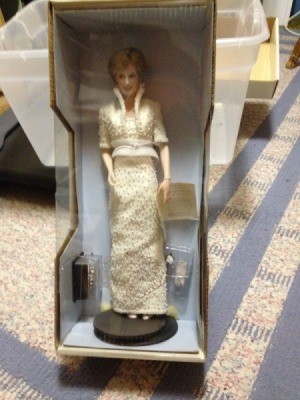 I would like to know how much the doll is worth. The doll is in perfect condition, still in the original box. I have all the original papers. The doll has never been removed from the box. There is a crown, a white long stem rose, and a white clutch purse all in the box with the Diana porcelain doll.
By Cindy
Most Recent Answer
January 14, 2015
There are many types of Diana dolls available - new and resale. You can try an online search for possible values, check EBay for prices etc. Most dolls, including the Princess Diana, are not worth much on the market as dolls are usually mass produced.
Try this site to start: http://www.dollinfo.com/faqs.htm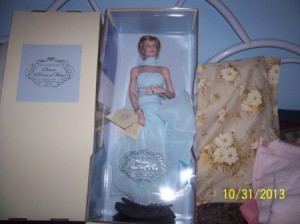 I have a porcelain Diana doll wearing a mint green gown called Princess of Elegance. It was purchased from Franklin Mint. Just wondering what it is worth
By Laurie W
Most Recent Answer
March 16, 2014
Hi - there are a lot of this type of doll on the Internet. Just check Google, eBay and Craigslist. Dolls are generally not worth as much as they cost originally and very expensive to ship.
My mother has a Princess Diana engagement doll that's never been out of the box and she is wondering how much is it worth.
By Cory W.
Most Recent Answer
October 25, 2013
You can look your doll up on eBay and Google for this information.
By reyannah 1
How do I find out how much the Princess Diana wedding doll is worth, including the prince and a flower girl?
By Reyannah from Fallon, NV
Most Recent Answer
By Latisha 1
I would like to know how much money I could get for a Diana porcelain doll? It has the dress on like Princess Diana wore and has the crown and shoes.
By Latisha from Dadeville, AL
Most Recent Answer
April 4, 2010
Go to eBay and look up your doll and see what others are selling for.
By haderman 1
I am trying to find the value of a J. Misa or Ashley Bell Princess Diana doll in black chiffon gown. It's here in this ad on Knoxville craigslist. The woman swears it's Ashton Drake; I know better.
http://knoxville.craigslist.org/clt/4978841524.html
I have a 18 or 20 inch bisque porcelain Princess Diana doll. There were only 5000 made. My doll is printed 1/6000. I have searched for years and found no info. It must be a misprint. It is Ashley Bell and the doll is 2000 limited edition 5000 made. Help me find the value and with how to find a buyer for the best offer. I bought this doll in '98.
By JM from St.Joe, MO
How much would I get for a Prince Charles and Princess Diana dolls in their wedding outfits? They are still in boxes, but have been opened.
By Lisa
I have had this Princess Diana porcelain doll since 1999. She's wearing a blue sapphire gown. The doll is in great condition with no box. I do have the certificate. I am curious on her value.
By Donna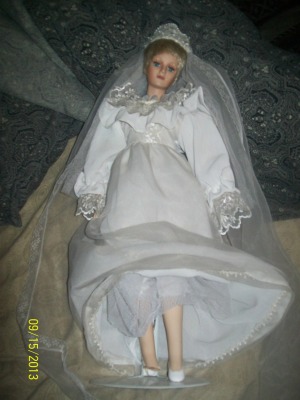 I have a Princess Diana porcelain doll, her right foot is broke, but other than that she is in good condition. How much would she be worth?
By Racheal K.