It is frustrating and confusing when your house trained dog backslides. This is a guide about what to do when a previously house broken dog has started pooping in the house.
At this point I'm really not sure what to do. I have a 10 year old pure bred Pug named Cookie. She's trained to do her daily business inside my home on newspaper, due to Pugs having problems with heat that could possibly cause a heat stroke in a very short matter of time.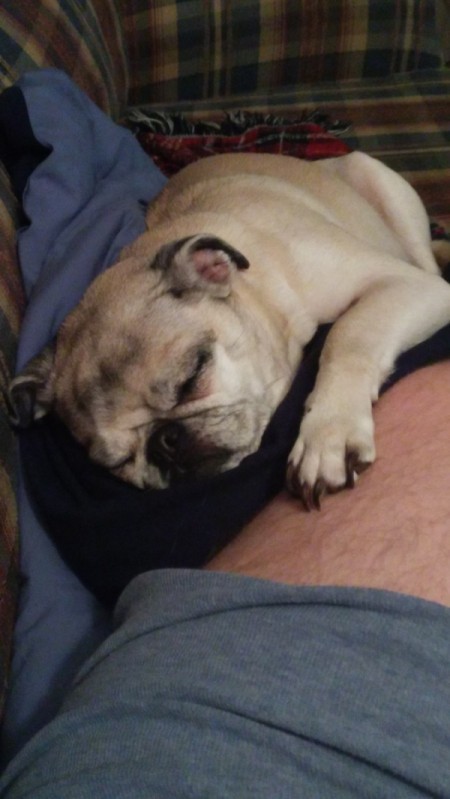 She's been wonderful doing so since we started training about 2 months after she was born. But recently, she just started pooping and peeing anywhere in the house. Could it possibly be depression? We had another pet Muffin, a Pekingese/Pug mix who has recently passed away going on three months June 11th 2016 due to old age. She was almost 13 years old. They were very, very close. Muffin was 3 years old when we brought Cookie home, and they were inseparable ever since. And once Muffin passed away she became slightly distant, and it just seems like she may of given up on life all together. She's not herself, the baby girl I know. She seems so miserable, and my heart is breaking for her. I don't know if it could be depression, or possibly an illness. I wanted to see if anyone would possibly know what could be happening, before I take her to the vet. I'm not ready for more bad news with my other baby. Please help me.
June 2, 2016
0

found this helpful
I would say this is depression. Dogs can grieve for lost companions. Your dog is at a disadvantage. She doesn't see other dogs that often because of your concern about heat would probably keep her from the dog park and such, and because she had a dog companion you probably didn't think to introduce her to many other dogs. Now that her only dog friend is gone she is naturally depressed.
If you don't plan on getting another dog now, socializing her with a neighbor's small dog might be an option. Dogs have "playdates" nowadays. My cat does with the neighbor's Maltese.
Read More Answers...
I have a Jack Russel who sleeps in the bathroom at night. My parents don't allow dogs in the bedrooms however they do let her inside. She is 7 years old. She is trained to do her business outside as I take her out regularly and tell her to do a wee and stay with her until she does one. It is also routine to go straight before bed. However, occasionally in the mornings we wake up to poo in the bathroom, never pee.
She normally goes into the bathroom around 10pm and is taken out around 6am. I normally feed her dry food in the mornings before 10am. How can I stop her from pooping in the bathroom? I thought this was just a puppy phase and she needed to get used to controlling her bladder and sleeping in the bathroom, but she's an adult now and still continues this habit.
March 26, 2016
0

found this helpful
I didn't notice this comment, sorry.
Okay, she's not alone, that's good. What are you feeding her? Foods that create more bulk will make some dogs have to go too frequently. You might try a grain free food on her. Most dogs can "hold it" for eight hours but too much fiber might make her need to go.
My cat goes twice a day on soy-free, grain free food. If your dog goes 4 or more times per day there is too much extra indigestible stuff in the food.
Read More Answers...
We rescued an 8 year old Chihuahua mix. She's been with us 3 weeks. She was outdoor potty and piddle pad trained by the foster mom. She never has an accident peeing, but a couple of times now she's pooped in the house. If she can't get out she uses the piddle pad to pee, but only once has she used the pad to poop. We get her outside often during the day. I'm a little concerned how do I reinforce her to either poop outside or use the pad?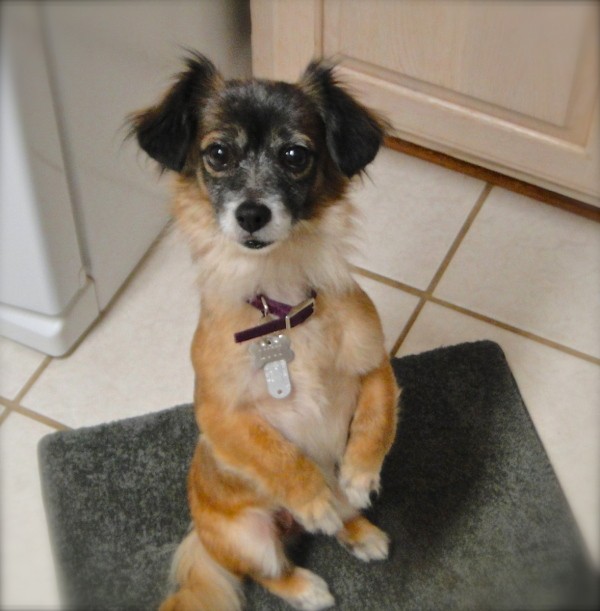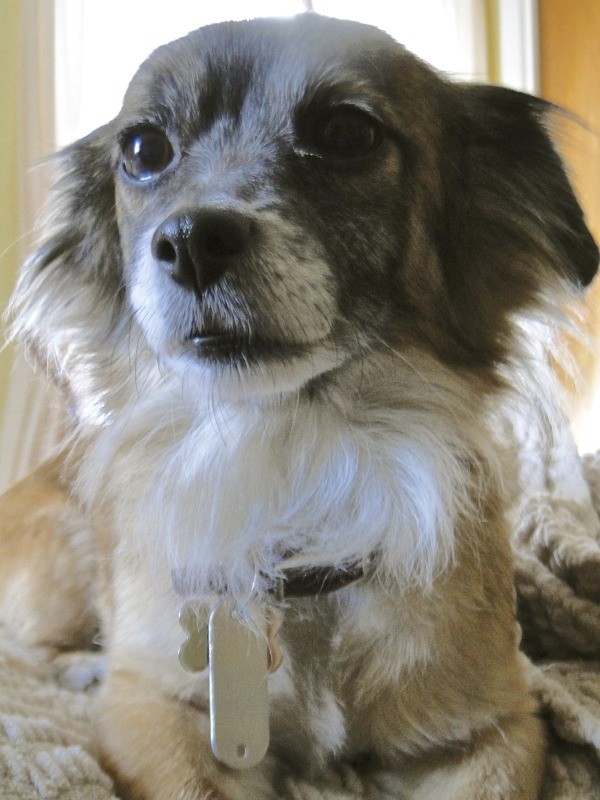 By Louise M.
April 4, 2014
0

found this helpful
Best Answer
Scoop up her poop and place it in the area of garden that you would like her to go - leave it there for a while - each time you take her out put her face near the poop to get the scent. After meals is a common time to poop , usually within 1/2 hr with my dog or during exercise.
Never physically punish the wee one as this may already of happened to it and she may fear you. By the look of this wee dog it will be well worth the trouble to keep her - it is adorable & will return the love you give it 10 fold.
Best wishes
We have a 5 year old American Cocker Spaniel, she was crate trained at 6 months to pee and poo in the guest toilet. Recently she has been pooping all over the house mostly right in front of us and sometimes with guests around. This is very confusing since she still pees in the right place. We changed her food a couple of weeks ago, could this be a reason? Any advise?

By Taniya
March 29, 2015
0

found this helpful
Best Answer
Dogs like a regular routine, If you feed them the same time every morning and no snacks between and go with them to toilet for a few weeks they will know what you expect. Have patience and don't yell if they forget. With consistency your dog should be fine.
My boyfriend moved in with me and my dog 3 weeks ago. Zoe is completely house broken and has been since she was 3 months old. She is now 20 months. When Rick comes home she quickly changes and tucks her tail almost like she is scared and drops poop. Rick has never done anything wrong in fact he hasn't even touched her, she won't allow it. She is not aggressive towards him, but appears scared and drops poop, while starring him down and staying away. Why?
September 19, 2015
0

found this helpful
This is a sign of fear.
It is possible that Rick is innocent, so don't show him the door just yet. One of your previous boyfriends might have harmed her psychologically.
Rick will have to be on board with this to straighten it out. His body language is probably all wrong. He should sit on the floor, hands relaxed and limp, and not look at the dog. Just near the dog. You can do this while watching tv if he doesn't get too distracted to remember: No broad gestures with hands or arms.
Eventually she'll get used to him just being there and not being harmful. But it might be a while for her to warm up to him.
He should NEVER: Try to pet her, lean over her, or talk directly to her. He should not try to play with her.
He should: Feed her whenever he's there and it's time.
Read More Answers...
We have 2 adult Boxers that we have had for 5 years and are very housebroken. We never had any issues with them pooping or peeing in the house. Except when they were like sick or something. A few days ago, my wife and I acquired an abandoned puppy. The puppy sleeps in our bedroom and the other 2 dogs sleep in their regular bed. The past several mornings I have woken up to find that the big dogs have pooped all over the kitchen and dining room area. They have never done this before. Are they "acting out" about the acquisition of the puppy? How do I stop this?
February 7, 2016
0

found this helpful
This is a territorial behavior. You introduced a new member to their pack and they're stressed out about it. They didn't even have any say in it and didn't realize it was going to happen. Basically, this is a new "baby" you just brought them.
I realize the puppy is little, but you need to get your dogs used to it. The scent especially. They can't accept it as one of their own if they don't have enough access to it. Try rubbing it with one of their blankets with the scent. As long as they don't appear to be trying to kill it the puppy needs to spend time with the "pack."
For the past 4 days, our 4 year old female terrier cross has been pooping inside, when the door to go outside has been open. She has been trained to do her business outside from 4 months of age, my dad is close to getting rid of our family pet. Does anyone have any ideas what may be wrong? We haven't moved houses in over a year, though they don't get out regularly due to me being in school, my dad working, and my brother is in college from 8:40 am to 3:30pm. She has different food every week, but the same brand. My Border Collie is fine, he'll go outside, but she will do it when no one is looking or they're out of the room. Please help!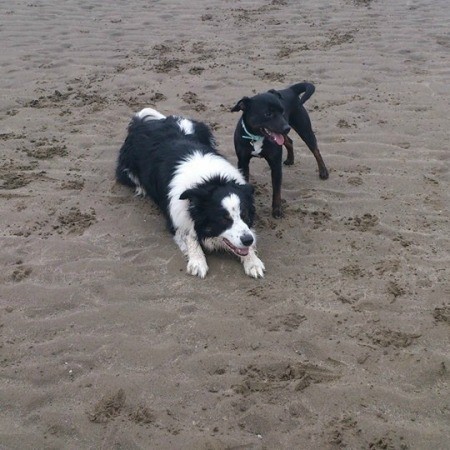 October 29, 2015
0

found this helpful
This is a tough one because you don't have a lot of control over what is going on. Can you be sure she gets out whenever you are home? Perhaps you can take her out yourself and play with her for awhile. Or your brother could see that she gets out when he 1st gets home. She should be able to wait between 8am and 3:30pm. Sometimes dogs just prefer to go in the house because they don't like going out in the rain. If someone goes with her she may stay longer and get the job done. Good luck. You sound like a great pet owner.
Read More Answers...
My almost three year old Boxer mix has been housetrained for the last two and a half years with no problems; until now. Over the summer, I let her out to potty, and she happened upon a cat in the shed. Of course, she chased it all over and ran it out of her territory, like every other instance a cat was in the yard. But, this time the cat who was guarding kittens, fought back, and they ended up in quite the tangle before I got them to stop it.
Since then, every time I let her out, she goes straight to the shed instead of doing her business. (No new household members, no medical problems, no moves or anything to stress her.) When I have taken her out, I've leashed her, chained her, tried to reward her with treats, stood with her, everything, but still, she only looks for cats. It's like she has the taste of blood now and that's all she wants. She's also become quite aggressive to other animals, even more so than before. I have no way to keep cats away, but I'm running out of ideas to make her stop.
It doesn't happen during the day much, but every night she potties on the kitchen floor. She knows it's wrong and hides and ducks her head and tail when she knows I am going to see it. I take her out 5+ times a day so she has ample opportunities. I don't have enough space for her to be crated since it has to be such a huge area, and she just jumped over or knocked down the baby gates. I don't want to give up on her because she is a great dog otherwise, but my landlord is going to make me "get rid" of her. I am not in a financial position to move so she has to stop. Any ideas?
I've been told to push her face into her mess and tell her no, then take her outside. That seems cruel to me. I don't want to lose her. She's a member of our family and we love her dearly.
By Ree
July 7, 2013
0

found this helpful
Totally agree with other posters about NOT putting the dog's face in the poo. If anything it will just make your problem worse. Even yelling at your dog when they are in the act can be bad because they think you don't want to SEE them poo (not that it's the location you're mad about), and they end up hiding from you, pooping in corners, etc. Then you create a fearful situation for your dog on top of the one you've already got.
Just stay calm & focus on how to fix the problem. Yes it's poop but it's also just poop - let's face it, you come into contact with some everyday. It can be cleaned. (I have worked at a hospital for 6 years.) I am fostering a dog who just had puppies - she's majorly pooped on my carpet several times in the past few weeks & I am so tired of cleaning up poop. I was going through housebreaking with my puppy this time last year. I KNOW how frustrating it feels. Give her plenty of time to walk outside, extra potty breaks if needed. Get your veterinarian to do a health check. Think about hiring a dog trainer for a few sessions. The BEST way to help your pet with behavioral issues is positive reinforcement and opening (not closing) the lines of communication. Praise your dog when she does what you want. Make sure you are interacting with her. Has anything changed - like a move or new person in your life, new work hours, etc?
Positive goes so much further, it just takes time and patience. Your dog wants to please you but your job as her owner is to help her understand how to do that. People who yell at their dogs or push their faces in their own poo aren't teaching the dogs anything but fear, nothing about WHAT TO DO. Puppy classes (& the dog trainers) helped me so much with potty training my puppy. Even now, fostering this stray dog who was living outside, she immediately started pooping on my floor at night. She didn't know what a leash was and wouldn't poop unless she could hide in the woods, especially not with me watching. She would just plop down and look at me. Eventually she couldn't hold it anymore and she'd have an accident overnight while I slept. Now 2 weeks later, she's actually waiting at the door and ready for her leash, having no problem doing #1 & #2 in the grass while I stand next to her. I've never yelled at her after going inside. I praise her when she goes outside with me. She still has accidents but they are becoming less and less frequent. I think her progress is amazing - like night & day. There is hope for you & your dog! Good luck to you!
Read More Answers...
My boyfriend just rescued an 8 year old Shih Tzu from someone we know. They took the dog from someone that was going to put her down. He has only had her for a week. She will pee outside, but has pooped in the house twice. She is also not eating her dry food.
I talked to the people who had her before him, and they said she would eat just about anything. I was thinking that maybe she is just being picky, or that it is her new environment. I tried mixing the dry food with the wet. She will pick out the wet and eat it. After a while when the dry food was in the liquid of the wet food, she did eat some of it.
I was wondering if anyone had any helpful tips or tricks? Thanks in advance!
By Brandi
January 23, 2014
0

found this helpful
Best Answer
My sister's poodle would only eat wet food or dry food that had sat in water. She took it to the vet and found out the dog had infected teeth. Maybe that's why your dog will only eat the wet food. I would have her teeth checked.
We got our 3 year old Rat Terrier rescue during the summer when our back door was always open, and he pooped and peed in the yard like a champ. Now that it's rainy and cold, he's pooping in the house and damaging the carpet. It's unacceptable. This is Seattle, it rains all the time. He is put outside to go plenty of times during the day, for long periods of time, especially after eating. I don't know what to do with him. Do I need to keep him kenneled any time he's in the house?
November 9, 2015
0

found this helpful
Have you tried using disposable "pee-pee pads"? My dog had the same issue, he wouldn't pee or poop outside if it was raining or if it had snowed. Last winter I almost gave him away, I was just so over mopping up dog pee and picking up dog $hit ALL DAY, EVERY DAY for 2 weeks until the snow finally melted! I bought these dog training/house-breaking "pee pee pads" (I think the brand was called Bulls-Eye) that have a pheromone in them that is supposed to attract the dog to it, making them (hopefully) want to do their business on the pad instead of on the carpet or hardwood floor. They were a steal at Kroger - marked down for clearance @ $2.50 for a 30 count bag!!! I bought all six bags left on the shelf lol. I will admit - it took my dog three days to learn to pee ON the pad - instead of AROUND the pad (he's not too bright) but it was worth it. Now - just in case - I keep two pee-pee pads on the floor where he would usually pee/poop. It is so much easier - and much cleaner - to simply pick up the soiled pad, toss it in the trash outside, and put down a clean pad or two. The pads don't leak, (they didn't for me, anyway) and so your carpet and home won't smell like dog $hit anymore. Just make sure you check the pad often, replacing when needed, and praise/reward the dog when he uses the pad instead of the carpet.
As soon as the ground outside was dry again, I encouraged my dog to do his business outside...so he didn't think that he was supposed to use the training pads 24/7.
Good Luck!!!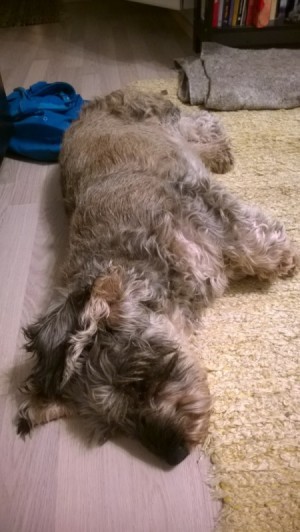 I have a 9 year old wire-haired Dachshund that was successfully potty trained as a puppy and has not had any issues with that until recently. Last summer she started to behave strangely until in September she completely lost her eyesight and was diagnosed with SARDS.
After this the problems started. She has somewhat learned to move around the house again independently and has gained a lot of activeness back, but she has also started doing her business in the house when we are at work or during nighttime. We take her out in the morning before work and right after getting back and she eats one meal a day around 6pm. Then she gets out once or twice in the evening, at least right before we go to bed. She doesn't ask to be taken outside at all anymore like she used to before. Recently she has pooped inside a couple of times even when we are home. She doesn't seem to have trouble pooping and the poop looks normal to me. There have been no notable dietary changes either.
I'm out of ideas what to do with her and my husband is starting to get fed up with this and wants to get rid of the dog. Any tips or guesses what could be wrong would be really helpful!
By Hanna from Finland
December 5, 2014
0

found this helpful
I lived with an old blind dog for many years. He could see shadows but not much else. He learned to go outside by himself, but it took awhile. The cat would walk up and down the stairs with him until he was brave enough to go on his own. It is an adjustment and does require some patience. Imagine the patience your dog requires to make this adjustment. My dog lived to be 17 years old and truly enjoyed life. Good luck to you.
Read More Answers...