We rescued an 8 year old Chihuahua mix. She's been with us 3 weeks. She was outdoor potty and piddle pad trained by the foster mom. She never has an accident peeing, but a couple of times now she's pooped in the house. If she can't get out she uses the piddle pad to pee, but only once has she used the pad to poop. We get her outside often during the day. I'm a little concerned how do I reinforce her to either poop outside or use the pad?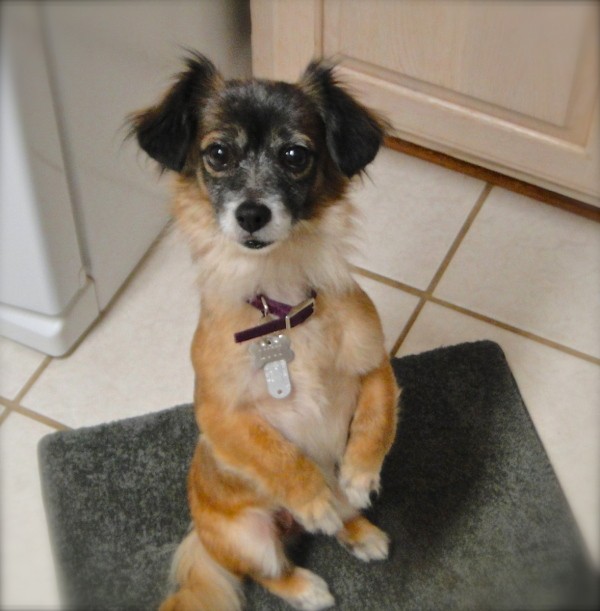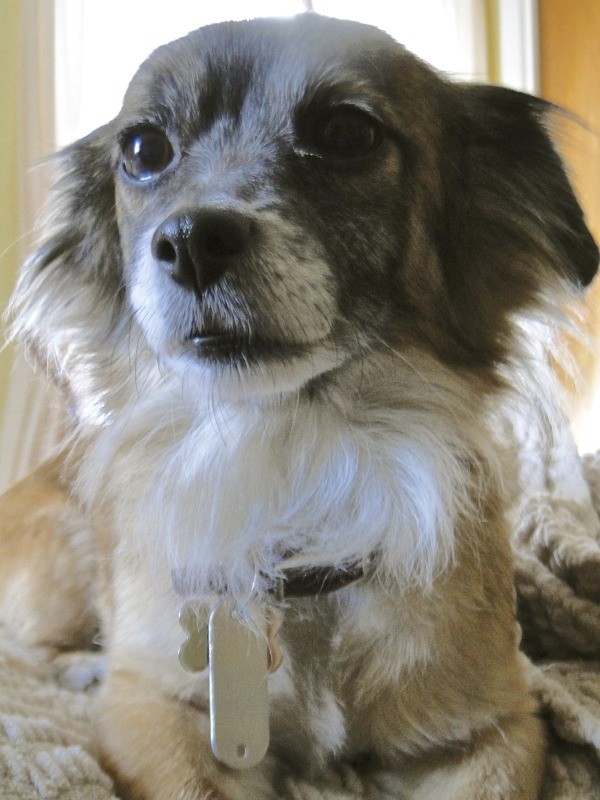 By Louise M.
April 4, 2014
0

found this helpful
Best Answer
Scoop up her poop and place it in the area of garden that you would like her to go - leave it there for a while - each time you take her out put her face near the poop to get the scent. After meals is a common time to poop , usually within 1/2 hr with my dog or during exercise.
Never physically punish the wee one as this may already of happened to it and she may fear you. By the look of this wee dog it will be well worth the trouble to keep her - it is adorable & will return the love you give it 10 fold.
Best wishes
We have a 5 year old American Cocker Spaniel, she was crate trained at 6 months to pee and poo in the guest toilet. Recently she has been pooping all over the house mostly right in front of us and sometimes with guests around. This is very confusing since she still pees in the right place. We changed her food a couple of weeks ago, could this be a reason? Any advise?

By Taniya
March 29, 2015
0

found this helpful
Best Answer
Dogs like a regular routine, If you feed them the same time every morning and no snacks between and go with them to toilet for a few weeks they will know what you expect. Have patience and don't yell if they forget. With consistency your dog should be fine.
My boyfriend moved in with me and my dog 3 weeks ago. Zoe is completely house broken and has been since she was 3 months old. She is now 20 months. When Rick comes home she quickly changes and tucks her tail almost like she is scared and drops poop. Rick has never done anything wrong in fact he hasn't even touched her, she won't allow it. She is not aggressive towards him, but appears scared and drops poop, while starring him down and staying away. Why?
September 19, 2015
0

found this helpful
This is a sign of fear.
It is possible that Rick is innocent, so don't show him the door just yet. One of your previous boyfriends might have harmed her psychologically.
Rick will have to be on board with this to straighten it out. His body language is probably all wrong. He should sit on the floor, hands relaxed and limp, and not look at the dog. Just near the dog. You can do this while watching tv if he doesn't get too distracted to remember: No broad gestures with hands or arms.
Eventually she'll get used to him just being there and not being harmful. But it might be a while for her to warm up to him.
He should NEVER: Try to pet her, lean over her, or talk directly to her. He should not try to play with her.
He should: Feed her whenever he's there and it's time.
Read More Answers...
We got our 3 year old Rat Terrier rescue during the summer when our back door was always open, and he pooped and peed in the yard like a champ. Now that it's rainy and cold, he's pooping in the house and damaging the carpet. It's unacceptable. This is Seattle, it rains all the time. He is put outside to go plenty of times during the day, for long periods of time, especially after eating. I don't know what to do with him. Do I need to keep him kenneled any time he's in the house?
November 9, 2015
0

found this helpful
Have you tried using disposable "pee-pee pads"? My dog had the same issue, he wouldn't pee or poop outside if it was raining or if it had snowed. Last winter I almost gave him away, I was just so over mopping up dog pee and picking up dog $hit ALL DAY, EVERY DAY for 2 weeks until the snow finally melted! I bought these dog training/house-breaking "pee pee pads" (I think the brand was called Bulls-Eye) that have a pheromone in them that is supposed to attract the dog to it, making them (hopefully) want to do their business on the pad instead of on the carpet or hardwood floor. They were a steal at Kroger - marked down for clearance @ $2.50 for a 30 count bag!!! I bought all six bags left on the shelf lol. I will admit - it took my dog three days to learn to pee ON the pad - instead of AROUND the pad (he's not too bright) but it was worth it. Now - just in case - I keep two pee-pee pads on the floor where he would usually pee/poop. It is so much easier - and much cleaner - to simply pick up the soiled pad, toss it in the trash outside, and put down a clean pad or two. The pads don't leak, (they didn't for me, anyway) and so your carpet and home won't smell like dog $hit anymore. Just make sure you check the pad often, replacing when needed, and praise/reward the dog when he uses the pad instead of the carpet.
As soon as the ground outside was dry again, I encouraged my dog to do his business outside...so he didn't think that he was supposed to use the training pads 24/7.
Good Luck!!!
Read More Answers...
My almost three year old Boxer mix has been housetrained for the last two and a half years with no problems; until now. Over the summer, I let her out to potty, and she happened upon a cat in the shed. Of course, she chased it all over and ran it out of her territory, like every other instance a cat was in the yard. But, this time the cat who was guarding kittens, fought back, and they ended up in quite the tangle before I got them to stop it.
Since then, every time I let her out, she goes straight to the shed instead of doing her business. (No new household members, no medical problems, no moves or anything to stress her.) When I have taken her out, I've leashed her, chained her, tried to reward her with treats, stood with her, everything, but still, she only looks for cats. It's like she has the taste of blood now and that's all she wants. She's also become quite aggressive to other animals, even more so than before. I have no way to keep cats away, but I'm running out of ideas to make her stop.
It doesn't happen during the day much, but every night she potties on the kitchen floor. She knows it's wrong and hides and ducks her head and tail when she knows I am going to see it. I take her out 5+ times a day so she has ample opportunities. I don't have enough space for her to be crated since it has to be such a huge area, and she just jumped over or knocked down the baby gates. I don't want to give up on her because she is a great dog otherwise, but my landlord is going to make me "get rid" of her. I am not in a financial position to move so she has to stop. Any ideas?
I've been told to push her face into her mess and tell her no, then take her outside. That seems cruel to me. I don't want to lose her. She's a member of our family and we love her dearly.
By Ree
July 7, 2013
0

found this helpful
Totally agree with other posters about NOT putting the dog's face in the poo. If anything it will just make your problem worse. Even yelling at your dog when they are in the act can be bad because they think you don't want to SEE them poo (not that it's the location you're mad about), and they end up hiding from you, pooping in corners, etc. Then you create a fearful situation for your dog on top of the one you've already got.
Just stay calm & focus on how to fix the problem. Yes it's poop but it's also just poop - let's face it, you come into contact with some everyday. It can be cleaned. (I have worked at a hospital for 6 years.) I am fostering a dog who just had puppies - she's majorly pooped on my carpet several times in the past few weeks & I am so tired of cleaning up poop. I was going through housebreaking with my puppy this time last year. I KNOW how frustrating it feels. Give her plenty of time to walk outside, extra potty breaks if needed. Get your veterinarian to do a health check. Think about hiring a dog trainer for a few sessions. The BEST way to help your pet with behavioral issues is positive reinforcement and opening (not closing) the lines of communication. Praise your dog when she does what you want. Make sure you are interacting with her. Has anything changed - like a move or new person in your life, new work hours, etc?
Positive goes so much further, it just takes time and patience. Your dog wants to please you but your job as her owner is to help her understand how to do that. People who yell at their dogs or push their faces in their own poo aren't teaching the dogs anything but fear, nothing about WHAT TO DO. Puppy classes (& the dog trainers) helped me so much with potty training my puppy. Even now, fostering this stray dog who was living outside, she immediately started pooping on my floor at night. She didn't know what a leash was and wouldn't poop unless she could hide in the woods, especially not with me watching. She would just plop down and look at me. Eventually she couldn't hold it anymore and she'd have an accident overnight while I slept. Now 2 weeks later, she's actually waiting at the door and ready for her leash, having no problem doing #1 & #2 in the grass while I stand next to her. I've never yelled at her after going inside. I praise her when she goes outside with me. She still has accidents but they are becoming less and less frequent. I think her progress is amazing - like night & day. There is hope for you & your dog! Good luck to you!
Read More Answers...