Many delicious main and side dishes can be prepared using pork. This page contains recipes using pork.
Ad
---
Solutions: Recipes Using Pork
Read and rate the best solutions below by giving them a "thumbs up".
Since I usually only cook occasionally for one or two guests at a time, I place wax paper between the extra uncooked patties, place them in a Ziploc bag and freeze them for future meals.
Ingredients:
2 1/2 lbs. ground pork
1 egg
1/4 cup fresh Parmesan cheese, finely shredded
2 Tbsp. Worcestershire sauce
1 1/2 Tbsp. extra virgin olive oil
1 1/2 Tbsp. minced garlic
1/2 heaping Tbsp. minced fresh onion
1 tsp. salt
1 tsp. pepper
Directions:
Preheat grill to medium high.
Mix all ingredients in a large bowl, roll into 8 equal sized balls and flatten into 1/2 inches thick patties.
Grill, turning once after 4 minutes, and cook until a meat thermometer inserted into the center reads 160 degrees F, about 3 to 5 additional minutes.
By Deeli from Richland, WA
Okay, I just can't help tweak recipes ;-) In this case I've switched out the choice of meat for the traditional French classic of 40 Clove Chicken by using pork and added pasta to the mix. Don't be afraid of the amount of garlic used because roasted garlic is a mild sweet flavored out of this world treat and even any leftovers (what are leftovers?) are delightful!
Ingredients:
3 small garlic bulbs
4 Tbsp. extra virgin olive oil, divided
1 lb. fettuccini
1 lb. pork tenderloin medallions, small dice (1/3 inch cubes)
1/4 tsp. salt
1/4 tsp. pepper
1 tsp. dried sage
1/2 cup dry white wine (if using cooking wine, omit the salt listed above)
1/2 cup low sodium chicken stock
1/2 cup fresh parsley, chopped
Directions:
Preheat oven to 375 degrees F.
Cut 1/2 inch off the top of each head of garlic. Place garlic bulbs, cut side up, each on a separate square of aluminum foil, evenly drizzle the 2 tablespoon of the olive oil over the top of each bulb, wrap each and bake until garlic is soft, about 45 to 60 minutes, remove from oven and let cool. Once cool use a fork to squeeze the cloves out of the skin.
Once the garlic has been removed from the skin begin to boil water for the fettuccini and cook al dente according to package directions, once cooked reserve 1/2 cup of the cooking water and drain the rest.
While the water is coming to a boil, heat the second 2 tablespoons of olive oil in a large pot over medium heat, add pork, season with the salt and pepper, cook until browned and cooked through, remove with a slotted spoon and set aside.
Stir the garlic cloves and sage into the pork pot and cook until fragrant, just a few seconds. Add the white wine, scrape up any remaining bits off the bottom of the pan, add the chicken broth and let the sauce cook, stirring occasionally, until it reduces by 1/3, about 7 to 10 minutes.
Return the pork to the pot, add pasta and parsley, toss to coat, "if needed" add the reserved cooking water a little at a time for a more moist consistency and serve.
By Deeli from Richland, WA
Pork and apples go great together! The pork is tender and very tasty; my kids love it.
One of my husband's favorite sandwiches.
Ingredients:
pork roast, cooked
2 Tbsp. drippings
1/2 cup ketchup
2 tsp. mustard
2 Tbsp. water
2 Tbsp. brown sugar
1 Tbsp. minced onion
1 Tbsp. Worcestershire sauce
1/2 tsp. salt
hamburger buns
Directions:
Slice roast very thin. Mix remaining ingredients together; bring to a boil. Put meat slices into hot sauce and simmer slowly for 15-20 minutes. Serve on hamburger buns. Adjust amounts of meat and sauce as needed. An excellent way to use leftover roast!
Cooking Time:
15-20 Minutes
By Robin from Washington, IA
Delicious, easy, doesn't heat up the house.
Ingredients:
small pork roast or 6-8 large chops
1 pkg 8 oz creamed cheese
2 cans cream of mushroom soup
1 chopped onion
1 package dry Italian salad dressing mix
rice
Directions:
Mix everything except the rice and pork. Place pork in crockpot. Pour mixture over the pork and set crockpot on low and cook all day. 20 minutes before serving, cook rice. Top rice with the pork and gravy.
Servings:
6
Time:
10 Minutes Preparation Time
8 Hours Cooking Time
Source: neighbor
By kmcb59
Pork loin roast smothered with a sweet pineapple, apple and Marsala glaze. This recipe is easy to follow, easy to prepare and has an amazing taste.
Ingredients:
3 1/2 lb. pork loin roast
4 baker potatoes, diced
5 carrots, skin on, diced
1 1/2 cups pineapple, diced
1 cup apple (delicious or gala), diced
1/2 cup applesauce (unsweetened)
3/4 cup light brown sugar
3/4 cup Marsala wine (may use 1/2 cup soy sauce as substitute)
Directions:
Slice pork roast down the middle. Start and end about 1 inch from the edges and only cut about 1/2 way down. Enough to create a pocket.
Mix pineapple, apple, 1/2 of the brown sugar and Marsala wine together in a bowl. Place pineapple mixture into the pocket of the roast.
Mix applesauce and other 1/2 of brown sugar together.
Place potatoes and carrots on both sides of the roast (this will prevent the roast from flopping open. Pour applesauce mixture over the potatoes, carrots, and roast.
Preheat oven and bake at 350 degrees F for 30 minutes.
Continue baking at 250 degrees for an additional 60-90 minutes.
Pictured with sauerkraut and unsweetened applesauce
Servings:
5
Time:
20 Minutes Preparation Time
120 Minutes Cooking Time
Source: This is an original recipe
By Dawn from Painesville, OH
One of the best cooking tips I ever received, was from a co-worker and friend. He told me to get a pork roast, place it in the crockpot, and pour a jar of pickled pepperoncinis (juice and all) over the roast. Cook until the meat falls apart. He said to serve it with warm tortillas. You could serve with rolls. Good eating!
By Terri from NV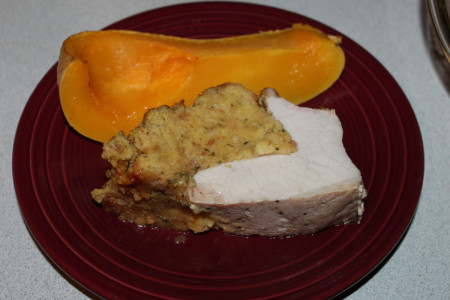 I purchased corn bread flavored Stove Top Stuffing at the store and a maple bourbon marinated pork loin for dinner. My kids usually only eat stuffing under duress, so I tried making it look a little more interesting by "stuffing the pork loin". They ate it right up :)
I cooked the Stove Top according to package directions, then cut a slit into the uncooked pork loin and "stuffed" it. Then cooked the pork loin according to package directions. We served it with butternut squash from the garden, but I think it would have presented better with green beans or something a little more colorful.
Directions:
Ingredients
2 lb. pork, chopped to 1 inch cubes
1 1/2 Tbsp.honey
2 oz. butter
2 grated onions
1/2 tsp. turmeric
1/2 tsp. ground black pepper
3/4 cup yogurt
grated peel of an orange
grated peel of a lemon
2 cloves garlic, crushed
4 ground cardamon seeds
1/2 tsp. cinnamon
1/4 tsp. ground mace
Directions
Heat a large saucepan and pour in the honey, stir until it sticks but is not caramelized. Add the butter and when hot add the pork cubes. Stir until brown for about 10 minutes.
Add 1 cup of water, season with salt, boil then simmer gently until pork is tender.
Meanwhile, mix the grated onions, turmeric, pepper, orange and lemon peel, garlic, cardamon, cinnamon and mace.
When the pork is done boil rapidly until the mixture has gone, add the mixed seasonings and toss. Cook again until the butter separates. Add half the yogurt and cook again until the butter separates. Add the rest of the yogurt and heat for about 5 minutes. Serve over a bed of rice.
Source: Wonderful ways to cook meats
By Raymonde from North Bay, Ontario
Here are tips for using leftover pork roast from ThriftyFun community.
Pulled Pork Sandwiches
Take your leftovers, toss 'em in the crockpot with a jar of salsa, and shred it up for pulled pork sandwiches. Cook on Low for 8 hours, or High for four.
You can also use a homemade BBQ sauce instead of the salsa; 1 cup ketchup, 1/4 cup sweet mustard, and 1/8 cup of honey or brown sugar.
By Althea
Add To Ramen
Leftover pork roast is very good added to the oriental flavored Top Ramen. A sprinkling of raw green onions in each bowl makes it even better. Some leftover green vegetables, like broccoli or green beans, are also nice in it along with the pork.
By Anna
Fajitas
I chop it up and season it a bit more with cumin, cayenne, taco like seasonings, and use it for fajitas. Also, if you have a meat grinder or even a food processor, grind it well, add some mayonnaise and maybe some relish for a yummy sandwich spread. Also, good, chopped up in scrambled eggs.
By Cavelady
Pork Stew
It is really good made into a stew, much better than beef stew. Potato, carrots, green beens, onion, celery.
Tacos
Makes great tacos. Chop of shred, mix with a little taco seasoning, put in taco shells or soft tortillas with lettuce, cheese, salsa, and sour cream and guacamole if desired.
By Linda
Breakfast Hash
Take the pork and cube it up along with a few medium sized potatoes. Toss them in a pan with some cracked black pepper, course salt, minced garlic, onions and green peppers (if desired). Cook until potatoes are done and onions are caramelized. Serve as is or topped with fried eggs for a breakfast hash.
By Suzanne S.
Golden Rice and Pork
2 Tbsp oil
1 cup raw rice
2 1/2 cups onion, sliced
1/2 tsp. salt
2 chicken boullion cubes( chicken soup base)
2 1/2 cup boiling water
2 tsp. soy sauce
2 stalks celery, sliced
1 shredded green pepper (I omit)
2 cups lean cooked pork, cut in strips
Heat oil in large fry pan. Add rice, onions and salt. Cook over med. heat until golden, stirring constantly. Remove from heat for 5 min. Dissolve cubes in boiling water. Pour over rice mixture. Cover and cook about 30 min. until rice is tender. Stir in celery, gr. pepper and pork. Cover and cook another 5 min. Stir in soy sauce and serve.
By Ann
Sweet & Sour Pork
Buy a quart of sweet and sour sauce, add onions, bell peppers and carrots and any other veggies you want. Serve over rice or ramen noodles. If you can't get the Chinese ones, use linguine. Other veggies, bean sprouts or sugar peas can be added. Have fun!
By Janet
Pork Barbecue Sandwiches
Use leftover pork tenderloin for what we call a 'Pork Barbecue'. Pull pieces of cooked pork into 'strings' (Keeping length about 2 to 2 1/2 inches). Pile into a casserole dish with a tablespoon of water in the bottom. Pour your favourite barbecue sauce over top, mixing pork around to coat nicely. Heat in oven at 250 degrees F till warmed and steam comes off when the top removed. Serve on buns with regular assortment of condiments you would use for a hamburger. Yummy!
By Wemarch
Make Egg Foo Yung
It's great with canned tomatoes, chop pork, can add onion and green peppers. Serve on rice. Also, super in Chinese egg foo yung. 6 lg eggs, 1/8 tsp. salt, can of bean sprouts, 1 cup chopped cooked pork, 1/8 tsp.. pepper, 1/2 cup chopped onions. Beat eggs, add rest. Fry in omelet pan, 1/2 cup per omelet. Serve with brown gravy (add soy sauce to pork gravy) and rice.
By Barbara
Quesadillas
Yummy chili cheese pork quesadillas: Brush both sides of a 2 flour tortilla with olive oil. Sprinkle tortilla's with salt, chili powder. Put shredded cheese, and bite-size pieces of your leftover pork roast in between the tortillas. Cook it on the grill or under the broiler until it starts to brown. I do this all the time with smoked chicken or pork.
By Nathan
Take A Break Stew
Heat up the crock pot, toss in your leftover pork, a can of potatoes, one can of carrots, and whatever frozen veggies you want. Leave it for an hour or 2. While it cooks: TAKE A BREAK! After dinner you only have a few bowls and your crock pot to clean, since everything comes from a can or bag. This works with beef too, even chicken.
By Melissa
Pork Bisquick Casserole
Chop up your leftover pork, any pork will do (any meat really). Get out your casserole dish. Dump in two cans of diced tomatoes (don't drain), two cans of fancy cut green beans (drain about half the juice), two cans of corn (drain about half the juice). Sprinkle cut pork over the top of vegetables, sprinkle some grated cheese over the top. Make a mix of bisquick and water, approximately 2 cups of bisquick and then add water until it is runny and pourable.
Pour bisquick over the top of the casserole. bake at 350 degrees F for about 30-40 minutes, until the bisquick is cooked and the top is turning light brown.
By Karen
Pork and Mushrooms
left over pork, cubed
2-3 Tbsp. olive oil
1-1.5 cups fresh, sliced mushrooms
1/4 cup sweet vermouth
1 tsp. sugar
Heat olive oil. Add mushrooms and sautee lightly. Add vermouth and sugar and cook until mushrooms are a nice golden brown. add pork. Stir until pork is heated through. Can be served over white or yellow rice. (03/29/2008)
By Allanna
Stew
My stew: I cut the pork into cubes, add a jar of salsa and 1 cup of water, chopped carrot and one chopped and lightly fried onion. Slow cook for 4-6 hours and serve with hassle back potatoes or cous cous.
Also you can cook in an oven pot and top with sliced potatoes. Slow cook. Just before serving add cheese on top so it melts and slightly browns.
This is my tasty pork cobbler!
By Sharlene
Do you have any ideas? Feel free to post them below!
Ingredients
2 lb. boneless lean pork, cut in 1 /2 inch cubes
1/3 cup flour
3 Tbsp. cooking oil
1 cup water
1 Tbsp. chicken soup mix
1/4 cup soy sauce
1 Tbsp. lemon juice
1 tsp. steak sauce
2 stalks celery, diced
1 large onion, sliced
1 1/2 tsp. sugar
1 1/2 tsp. ginger
1/2 tsp. chili powder
1/4 tsp. garlic, diced
1/8 tsp. cayenne pepper
1 green bell pepper, cut in thin strips
1 jar pimento
Directions
Mix flour and pork cubes together. Heat oil; brown well; remove pork, and set aside. Pour off and discard oil. Return pork to skillet. Add remaining ingredients except pepper and pimento. Bring mixture to a boil. Reduce heat. Cover and simmer until pork is tender, 15-20 minutes. Add green pepper and pimento 5-10 minutes before serving. Serve over hot cooked rice or noodles.
By Robin from Washington, IA
Ingredients
1 package pork steaks (these are cheap)
1 onion, chopped
1 clove garlic, crushed
2 medium potatoes, sliced
1 cup mushrooms, sliced (or small can)
1 can cream of mushroom soup, plus half can of water.
Directions
Brown pork in a little hot oil and place in 9 x l3 inch pan. Saute onion for a minute or two and add to pork. Add garlic, potatoes and mushrooms and pour soup diluted with water over all. Cover dish with foil and bake in 350 degree F oven for one hour and l5 minutes, or until potatoes are cooked. Serve with salad and/or green vegetable. (4 servings)
By Joan from Chesterfield, MI
Give a "thumbs up" to the solution that worked the best! Do you have a better solution? Click here to share it!
Questions
Here are questions related to Recipes Using Pork.
I would appreciate recipes for using canned pork.

Jayhawk from Lawrence, KS
AnswerWas this interesting? Yes No
Ad
---
---
Most Recent Answer
By Lee Harris F. 1 10/31/20130 people found this helpful
I buy canned pork at Walmart.
---
Archives
Thrifty Fun has been around so long that many of our pages have been reset several times. Archives are older versions of the page and the comments that were provided then.