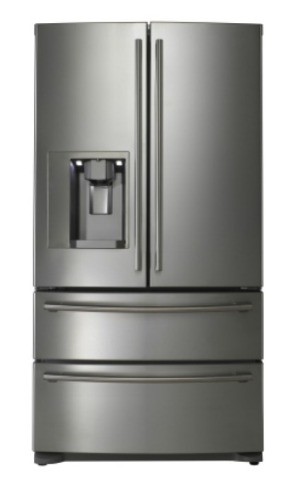 Your refrigerator's ice maker may stop making ice, requiring you to troubleshoot the cause before it can be repaired. This is a guide about a refrigerator's ice maker not making ice.
Questions
Here are questions related to Refrigerator's Ice Maker Not Making Ice.
I have a side by side fridge, with a built-in ice maker. One has to open the freezer to get the ice. Anyway, I get frozen hunks of ice along with the ice cubes that drops into the ice bin. I have to use an ice pick to break up the clumps of ice. What causes this and how can I correct this problem without calling the repair man? Also, It continues to make ice and If I do not remember to lift the arm that stops ice forming it will fall out of the full ice bin and go all over in the freezer.

Thanks in advance,

Mary from Mendenhall, Mississippi
---
Most Recent Answer

By Carla J. Sanders [3]01/24/2007
It sounds like your freezer isn't cold enough. It is allowing a tiny bit of melting in the heat of the day and then it freezes everything into blocks when the freezer doesn't have to work so hard to stay cold. See if adjusting the temp colder by a little bit helps.
The plastic teeth on the ice maker got hung and the ice maker quit working. I fixed the piece and now the ice maker will not start.
By Ken
My ice maker is not getting an electrical signal. It does not tell the maker to make ice at the water valve.
By J Maggio from MD
Our refrigerator is a Frigidaire and we just replaced the water filter, but now it is not making ice, any clues? It is a Pure Plus water filter. I'm thinking is the filter is on too tight. My husband replaced it, but I cannot turn it that is why I am thinking it might be too tight. Also, when he took it off there was water in filter holder cup.
By Rose D
I've seen this question asked many times before, but never paid much attention because it didn't apply to me - now it does! What do I need to check before calling a repairman? Thanks very much!
By caseye
---
Most Recent Answer

By bratley2408/13/2013
Several have already mentioned but the hair dryer worked wonders for me. My fridge would dispense water but would not fill the ice tray and dispense. I opened the freezer door and pointed the hair dryer to where the ice tray fill line comes in for a few minutes and it worked like a charm. Later the motor on the ice machine stopped working and using the hair dryer on it thawed it out as well. Haven't had a problem since.
I have a Whirpool Elite refrigerator and freezer on bottom. It's 2 years old. I put in a new water filter and checked the water line. Water is being dispense from the refrigerator. The model #795-71062 010. Before I buy a new ice maker, any suggestions?
By GK
---
Most Recent Answer

By Hunny Bun02/23/2013
Check to see if an ice cube is jammed in the tray. If so work it out and the Ice Maker will work properly. Mine does this once in a while. Hope this helps.
The crushed ice works well, but shaved ice delivers faint sound when dispenser is pushed, but no ice?
By NRS
My ice maker would not make any ice. I replaced the ice maker and still no ice. I have replaced the filter too. I hit the reset button on the fridge side, but I have a red light flashing on the ice maker control switch in the freezer. I have turned it to the "off" position and the red light is still flashing. I have no clue what to check next. What do you think is wrong?
By Glenda
---
Most Recent Answer

By Mary Lou [14]07/08/2012
Biggest question: Do u have a manual for your fridge? If you do, there is usually common troubleshooting near the back. It should also have manufacturer's address and toll free number. If no manual, Try the manufacturer's name with .com added and you might get a website with a forum where other owners could help u. and get a manual you could print out on your computer.
I have a GE Profile Arctica, Model# PSS25NGMD WW. There is no ice in the bin, I put power to fill solenoid, tray filled and dumped a batch of ice, but does not want to take over and repeat the cycle on its own. To me the bin switch looks in the call for ice position. I need advise and thanks you. Frosty.
By Harland O
---
Most Recent Answer

By mary knight [20]05/14/2012
Welcome to the world of fixing your own fridge. I saved a lot of $ by doing so. You can download the schematic and manual for your fridge using the model #, then go to PartsPlace.com or an appliance parts website and order the part yourself.

For no ice, it could be a number of things. Youtube even has some good diagnostics! What really clinched it for me was asking a friendly technician that I knew who was able to pinpoint my issue; we ordered the parts from a local place, then drove 13 miles (each way) to pick up the part, installed ourselves.

We saved about $400 by placing parts ourselves on our GE Side by side. I'm sorry I don't have a specific answer for your specific question though.
My ice maker quit making ice. I changed the filter and water came out of the water dispenser but nothing for ice making
By Penny
---
Most Recent Answer

By littlegamma [7]07/23/2011
The water line to the icemaker is probably clogged or even has frozen. Find where it is attached (you can look online for your make or your appliance booklet} and remove the tube, clean, or melt the ice buildup.
My GE ice maker has stopped making ice. There is water in it, its just not freezing. By Joseph
I bought an ice maker kit from the local Menard's. I hooked it up and it is still not working. The water dispenser inside of the fridge gives out water but I only get 1 or 2 cubes per cycle, if I'm lucky.

Brian from Hamilton, MI
---
Most Recent Answer

By LuvMyGingerKids [45]03/17/2008
I'd bring it back !
Solutions: Refrigerator's Ice Maker Not Making Ice
Do you have knowledge about this guide topic? Feel free to share a solution!
Archives
Thrifty Fun has been around so long that many of our pages have been reset several times. Archives are older versions of the page and the feedback that was provided then.
I have a GE Profile side by side refrigerator that has an ice maker that keeps overfilling the tray. It just keeps cycling water. I just recently replaced a small gear inside the ice maker housing that had several teeth missing. That did not correct the problem. I have been told that I may have to replace the head assembly, or the switches that control the fill cycle. I do not not know where these are located. Can someone help me fix this problem?
By cranemanok from Oklahoma City, OK
---
RE: GE Ice Maker Overfilling Tray
I have to ask you if this has happened since you first got the fridge, because I had the same thing happen and in a "Duh" (or "Voila" if you prefer) moment I realized that there is a little bar just above the ice catcher tray/holder that you push to stop the ice flow and pull back out to restart the release of ice. If this happens to be the case for you, please let me know and I promise I will not laugh at you, but rather laugh with you.
Deeli (06/11/2009)
By Deeli
I have a Kenmore 22 refrigerator. The ice maker will fill the tray, but will not completely shut off and it overflows. Can you help? Thank you.
By Charles from Athens, AL
---
RE: Refrigerator Ice Maker Overfilling Tray
I am sorry there have been no answers here for you and I truly don't know what to tell you either other than contacting the manufacturer or a refrigerator repair person. (02/01/2010)
By Deeli
RE: Refrigerator Ice Maker Overfilling Tray
This sounds like a warranty problem. Has it always done this? Maybe there is just something stuck in the works. At the very least, contact Sears repair and they will tell you whether or not you are covered. Perhaps there was a service bulletin on this problem. If it does cost to repair, it may not be much. Call Sears. (02/01/2010)
By Thrifty Me