Trouble With a Refrigerator's Ice Maker
Questions
Ask a QuestionHere are the questions asked by community members. Read on to see the answers provided by the ThriftyFun community or ask a new question.
My refrigerator is making ice, but not dispensing any. It will dispense, but only every now and then.
By Elaine from Uniontown, AL
Answers
May 4, 2016
0

found this helpful
Best Answer
When the refrigerator ice cube maker doesn't dispense ice, it could be a calcium buildup problem in the ~ 16 ice cube chambers of the unit. Vinegar is the answer! Even though you have a water filter in the refrigerator, the filter doesnt remove calcium.
The normal operation of the ice maker is: Once the ice cubes are made, the heater element heats the ice cubes enough to allow them to drop down into the ice storage area in the refrigerator.
Any calcium buildup in any one of the 18 chambers prevents ice from dropping in that chamber, and when the ice tray goes back to normal position it drops more water onto the ice cubes left, along with filling up the other empty ice chambers. There is now excess water filling into the ice maker chambers which will either overflow or add ice onto ice in all the chambers.
A day or two will make a chunk of the whole tray.
Even if only one ice cube fails to drop, there will be excess water put into the tray and will end up messing up the normal tray operation.
In my Kenmore, there is only one front screw and one electrical connector. The ice maker will then pull out of the two channels. It takes about one minute to remove the one screw and pull the connector apart, removing the ice maker. You can feel the calcium in the bottom of the ice cube maker. A tiny roughness tells you theres a buildup. I've done this twice and it lasts a couple of years until another calcium buildup. Put the empty ice cube maker on the counter and fill the EMPTY 18 little ice cube containers with white vinegar and let sit overnight. Rinse in the morning and put back into refrigerator.
The repair places wont tell you this little thing to do and want to charge you $120 or so for a new ice cube maker because of a little calcium in the maker.
Answer

this Question

...
My ice cubes keep fusing together at the bottom of the ice cube holder. There is no problem with making the cubes and spitting them out, but we keep having to break up the ice after it has been in the bin a little while. The fridge is about 2 years old.
Answers
December 28, 2018
0

found this helpful
You may be having issues with the evaporator plate. Hopefully it is still under warranty.
December 31, 2018
0

found this helpful
Make sure your refrigerator & freezer doors are closing properly. If your refrigerator is still under warranty, you can have a service tech come check out it out!
January 13, 2019
0

found this helpful
Could it be that your freezer temperature is set a bit too high? You could put a thermometer in the ice bin to determine the temperature and adjust the freezer thermostat accordingly.
Answer

this Question

...
I have a 2015 Frigidaire side by side with ice and water in the door. After dispensing crushed ice it will spit out some ice on the floor. Is there anything to use to catch this ice?
Answers
October 26, 2018
0

found this helpful
You may have set the freezer too cold. You may also want to use a wider mouth glass or other container and hold it up higher
October 26, 2018
0

found this helpful
My mother in law usually has us use a wide mouth pitcher to fill with ice then take to the table for glasses. We count to 10 after shutting off the flippy thing then we can move the pitcher. It's a habit now :)
October 26, 2018
0

found this helpful
It's all about aiming and timing. You may want to use a different cup when you dispense the ice and wait before leaving.
Answer

this Question

...
This is a page about ice maker won't stop making ice. An ice maker that won't stop making ice can make a real mess in your freezer and lead to other problems.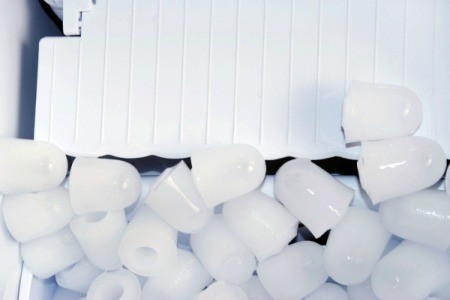 Sometimes your refrigerator ice maker makes ice, but does not dispense it. This is a page about ice maker not dispensing ice.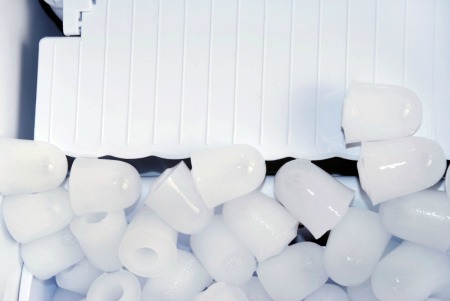 It is bewildering when your refrigerator ice maker begins to dispense only crushed ice, even when you select cubes. This is a page about ice maker only dispensing crushed ice.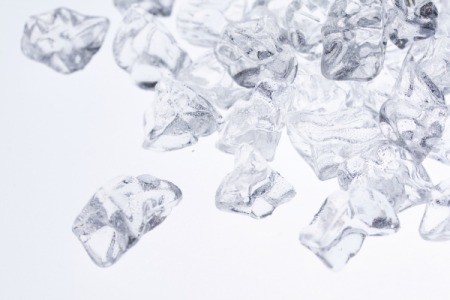 If your refrigerator ice maker is leaking water, the first step is to locate the source. This is a page about refrigerator's ice maker leaking water.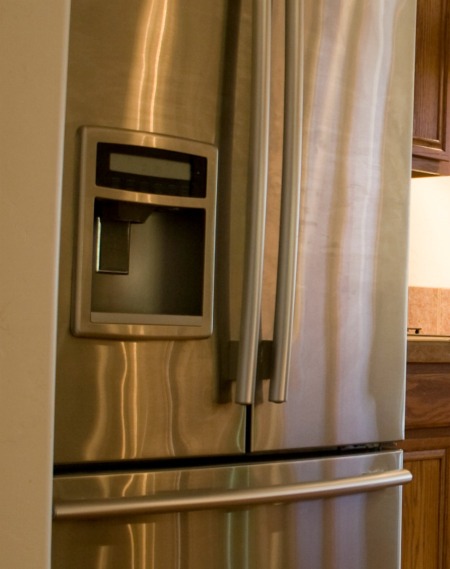 A common reason your ice maker is not making ice is because water is not getting to it. This is a page about refrigerator ice maker not getting water.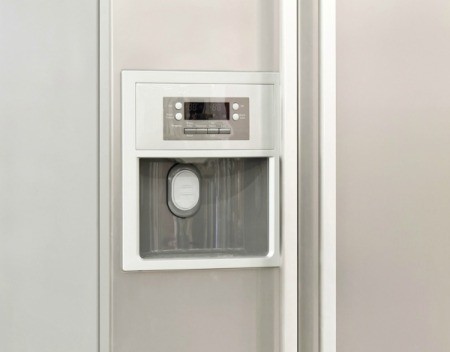 This is a page about a refrigerator's ice maker not making ice. Your refrigerator's ice maker may stop making ice, requiring you to troubleshoot the cause before it can be repaired.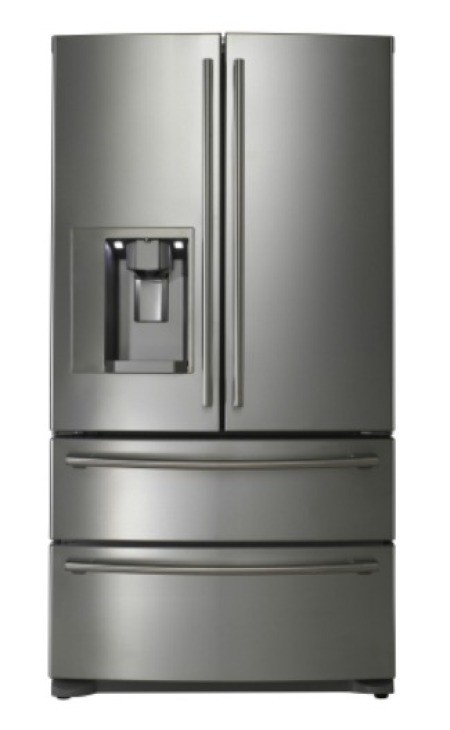 Archives
ThriftyFun is one of the longest running frugal living communities on the Internet. These are archives of older discussions.
My Frigidaire ice maker makes ice, it just doesn't drop the ice into the bin. The wire arm, when manually turned off waits about a minute, then manually re-setting the arm, it will break the ice free, move it to a staged position (on top of wiper) or drop 1 load of ice, refill and stay that way until the arm is reset again. Is this an adjustment problem or does the whole works need replacing?
Ken from Tampa, FL

Answers:
Trouble with Refrigerator Ice Maker
Automatic ice makers are nice when they work, but after a while they will malfunction. That's the main reason why I make ice cubes the old fashioned way, by filling up the ice cube trays and putting them in the freezer. It sounds like you will have to call in an appliance repairman. (11/26/2007)

By Marjorie
Trouble with Refrigerator Ice Maker
If your ice maker bin and mechanism has a shelf/tray over it/them, be sure the tray is not pushed back too far. This was causing our ice not to fall into the bin (since there was no room to maneuver!). The kids stored the ice cream on the shelf and they always seemed to shove it back. By moving the ice cream, and pulling out the shelf a bit, that solved our problem.
Also, check your manual, if you have one. Look in troubleshooting to see if the bar needs to be cleaned or reset. If you don't have a manual, they can usually be found online (jot down the model and serial # before you start looking). There is also a great website for tips on doing repairs yourself. They even will answer your questions and help you order parts (if needed) at very reasonable rates. It is: http://www.repairclinic.com/.

Good luck! (11/29/2007)

I'm trying to repair an ice maker on a side by side refrigerator. I can get water to the front dispenser, but not to the ice maker. It was working before, but just stopped. I was hoping to repair it without removing the unit. I don't know the model number, but the ice maker lays across the front of the freezer and dumps ice forward into the ice box.
By russel from Pasadena, MD

Answers:
Trouble With Refrigerator Ice Maker
Using the make and model, go to the manufacturer's web site and they usually have trouble shooting, or ask a tech which you can do for free. I have repaired numerous appliances this way. (04/17/2010)

By dakota
I have a Frigidaire side by side, model PLHS237za. The ice maker quit on me. The water supply is good, I unplugged it for awhile, no good. It has a new filter. The arm is down, any ideas?

By burt from West Islip, NY


Answers:
Trouble with Refrigerator Ice Maker
Check the fill valve, usually found on the back down at the bottom on the right side it may not be working. The ice maker calls down to the fill valve to open up and let the water come in. If you are not getting any water to the ice maker then it is probably the fill valve. And the reason you don't have any ice. (09/08/2009)