Ice Maker Only Dispensing Crushed Ice
My Kenmore side by side with the ice maker in the door dispenses crushed ice even when it's on cubed. It then clogs the shoot and nothing comes out.
Answers
December 1, 2019
0

found this helpful
Best Answer
Only crushed ice
Step 1
Rod is in the wrong position
Step 2
Frozen solenoid
Step 3
Switch at dispenser in wrong position.
December 2, 2019
0

found this helpful
Best Answer
Many times if there is too much ice in the bin this one will happen. The rod could be frozen or even blocked and this will cause the problem. I would empty out the bin completely and let it start over again. Check it after the bin starts to fill up with ice again. If this still happens there could be a piece in the machine or a sesor that needs replacing.
December 2, 2019
1

found this helpful
Best Answer
There's probably a freeze-up in the area of the chute, causing only crushed bits to come out. Remove the drawer and see if there is a blockage in the chute.
Answer

this Question
14 More Questions
Ask a QuestionHere are the questions asked by community members. Read on to see the answers provided by the ThriftyFun community or ask a new question.
My Kenmore 795.7106 bottom freezer has a refrigerator door icemaker. Soft buttons on the door allow changing from ice cubes, to crushed ice, to water. The control is stuck in crushed ice mode. How can this be fixed?
Answers
August 3, 2016
0

found this helpful
Thank you for the tip luckywinks! I removed ice maker tray, cleared all ice from tray and on closer inspection, noticed pieces of crushed ice jammed into the chopper blades. So cleared all of those, made sure the auger was free moving and put everything back. Works like new.
November 13, 2016
2

found this helpful
My ice maker is stuck on crushed. How do I fix this other than just touching the ice cube button?
May 19, 2018
0

found this helpful
I don't have your icemaker but basically, they're all pretty similar. I also had my icemaker making just crushed ice. I washed out the bin, removed anything frozen onto it and ALSO made sure there wasn't ice stuck in that (usually) square hole behind where the bin goes in... the hole is where the rod part of the ice bin fits into your fridge. There is a toggle in there and it was being held in one place by a stray ice cube. I turned off the power and nabbed that piece of ice with a needle nose pliers and pulled it out, Returned clean bin and cubes, turned the power back on. Done. Works great.
March 10, 2019
3

found this helpful
Fridge only produced crushed ice...after reading these replies I fixed it in 30 seconds after a year long problem. I took the ice tray out. The picture is looking towards back of fridge. The little plastic piece circled must freely move up and down. I just wiggled it and it broke free. Put ice tray back in and We have cubed (whole) ice again.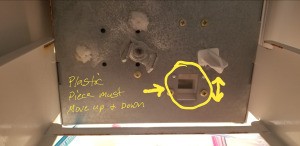 Read More

Answers
My Frigidaire model "FPS23LH5DW0" side by side refrigerator's icemaker will only dispense crushed ice now. I replaced the filter yesterday and cleaned out the ice bucket and now it will not give ice cubes, only crushed. Any advice on how to fix?
By Michael from Palm Springs, CA
Answers
November 11, 2011
0

found this helpful
I also had this problem with my Frigidaire Gallery fridge. I was following the instructions that Nancy from Tampa FL gave above. When we removed the mounting bracket and spiral rod assembly, we noticed a spring fell out. What we found was the E Ring Solenoid was missing. With a trip to Home Depot and the purchase of a 50 cents E Ring Solenoid (3/16 in), we now have cubed and crushed ice.
By Karen from Houston TX
August 2, 2016
0

found this helpful
I changed the silinoid . Still don't change from cruched to cubed why
Read More

Answers
We have a Kenmore fridge model 106.580. Our ice maker dispenses crushed ice, but will not dispense cubes. Does anyone one know what could be wrong?
Answers
January 14, 2016
0

found this helpful
I've experienced that before and it ended up being a frozen water line... defrost your freezer and it might fix your problem.
Read More

Answers
I can only get crushed ice even when I push to get cubes.
By James

Answers
February 20, 2015
0

found this helpful
You can contact the manufacturer online or phone for help or request a service repair company check and recommend a repair.
May 18, 2016
0

found this helpful
This post helped lead me to a solution which I fixed myself... No need for a repairman. I simply removed the tray and ran hot water through both sides of the elements. I had just emptied my ice maker the night before so I knew something was up. Where could the "e ring solenoid" have gone? Really?! How could have it burned out on an 18-month old fridge? I rarely use my ice dispenser and it seems it just got hung up in there, stuck on "crush." Once I looked up the part and determined it was part of the carrier, I knew it wasn't part of the electronic panel. Thank you for all the prior posts. I hope my post is helpful to your situation and stay cool!
July 30, 2016
0

found this helpful
I have a elderly neighbor who has a kenmore side-by-side refrigerator that only dispenses crushed ice, even when set on cubed setting. He found a solid brass pin with hole in end laying on the floor in front of refrigerator. I was not able to locate any missing parts in dispenser. Unable to determine source of pin or cause of dispenser not dispensing cubed ice. Any suggestions?
September 16, 2016
1

found this helpful
Hi! If you take out the dispenser in the back where the rod under neath the dispenser slides in the hole there is a plastic part that moves up and down. If that is frozen in place take a hair dryer and heat up the area until you can manually move the plastic piece up and down. This is what controls the rod on the dispenser. Also make sure that the ice in the dispenser isn't frozen or frosted in place at the bottom of the dispenser as that will make it crush ice to get it out. I just fixed my frigidaire standard refrigerator this way and it not dispenses cubes. Learned this trick from an appliance repairman. Hope this helps.
Answer

this Question
I have a through the door ice maker with a switch for crushed ice or whole cubes. No matter which setting is selected the ice comes out crushed. What do I need to look for or do to fix?
By John
Answer

this Question
Our Kenmore refrigerator can dispense cube ice or crushed ice. There are buttons to press to choose which you want. We have it set to dispense cube ice however, nothing but crushed ice will come out, no matter which button we press.
By Robert B.
Answers
June 6, 2011
0

found this helpful
This is undoubtedly a solenoid problem. You will have to call a refrigerator repair person.
Answer

this Question
My side by side refrigerator will only make crushed ice, even when the setting is for cubed ice.
By Ed

Answers
December 29, 2013
0

found this helpful
This also happened to our side by side, several years ago...just now got it fixed. Repairman found the solenoid that regulated the switch movement from one mode to the other was burnt out. He replaced it, no easy task because of the interior work, and it works like it's supposed to now.
Answer

this Question
My ice maker is working, but it won't change over from crushed to cubes. The light on the front lights as though the cube option is working, but all we get is crushed. What do I need to do to fix it?
By Val D
Answer

this Question
In my Kenmore model 106.9551711 the ice dispenser stopped crushing ice and was very noisy. I replaced the unit and now it only dispenses crushed ice. Moving the selector on the door has no effect. It will not dispense cubes. Did I not install it right?
By Jim S. from Duncanville, TX
Answer

this Question
Archives
ThriftyFun is one of the longest running frugal living communities on the Internet. These are archives of older discussions.
I have a Kenmore side by side refrigerator model number 106.9512810. I can only get crushed ice from the icemaker, no cubed.
Read More...
I have a side by side Kenmore ice dispenser that is only making crushed Ice. It will not switch back to whole cubes?
Read More...
Our Frigidaire ice maker only puts out crushed ice from the dispenser. We can't get cubes; is something bent that I can unbend? I am getting tired of bagging the tray with cubed ice.
Read More...
My ice maker makes ice well, but only dispenses crushed ice. How do I get cubes?
Read More...
Published by ThriftyFun.
© 1997-2021 by Cumuli, Inc. All Rights Reserved.
https://www.thriftyfun.com/Ice-Maker-Only-Dispensing-Crushed-Ice-1.html