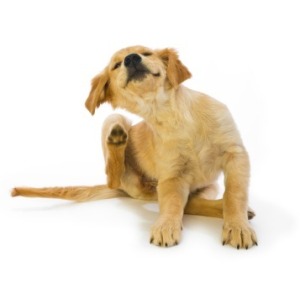 It is advised for you to contact your veterinarian concerning your pet's health issues. This guide is about remedies for pet's dry skin.
Ad
---
Solutions: Remedies for Pets' Dry Skin
Read and rate the best solutions below by giving them a "thumbs up".
Our Beagle starts scratching anywhere he can reach by late summer. Other than scratching for him, we found at least a helpful solution. Add 1 to 2 teaspoons of mineral oil at feeding time. It may not stop the itches entirely, but will stop the constant irritation. Happier pet, happier owner.
By sandies from Torrington, CT
Give a "thumbs up" to the solution that worked the best! Do you have a better solution? Click here to share it!
Questions
Here are questions related to Remedies for Pets' Dry Skin.
I need something for my Chihuahua's, dry skin. I've tried fish oil, vitamin E oil, and just about everything over the counter. It's not fleas; he's on a monthly flea pill. He's the only one effected out of the 4 Chihuahuas I have. I bought some sulfur cream that's for dry itchy scalp and it says I can use it as often as needed. The vet gave me steroids, but that's $50.00 a month, a little costly.
By Ethel from Boyd, TX
AnswerWas this interesting? Yes No
Ad
---
---
Most Recent Answer
By Yunsung L. 1 07/24/20150 people found this helpful
Shower With Organic oatmeal soap then when dry massage With coconut oil. It works and it's natural.
---
I have been feeding my dog different foods which say they contain essential fatty acids, but they did not help with the flaky skin they have. I bought hemp seed oil which was recommended by this site http://www.oilfordogs.com, but I am not sure what to do. Krill oil is bit cheaper than hemp seed oil, but does it really matter?
By Mark S. from Berlin
AnswerWas this interesting? Yes No
Ad
---
---
Most Recent Answer
By Pam 6 09/19/20130 people found this helpful
Fish oil is what my vet told me to use on my dog who had dry skin. Just use one capsule in food every other day until you see a change .Then give only one capsule every three to four days.You can go to the dollar store and get it. Hope this was helpful!
---
I am looking for a treatment for dry skin for my pet cat.

Deb from Terre Haute, IN
AnswerWas this interesting? Yes No
---
Most Recent Answer
By sara 1 03/01/20100 people found this helpful
You can try buying fish oil pills from the local pharmacy (Wal-Mart, RiteAid, etc.), cut one open and drain it on your cats food once per day. They not only like the taste it also helps with the dryness. One possible side effect is a change in the color of their coat. I had one orange cat change to a much darker orange, but the other three (orange, chocolate and white, and a calico) didn't change color at all. This really improved their itching and they are great for you to take too.
---
Can you use dry skin moisturizer or dry skin lotion for a dog that has dry skin? Thanks.

Larry from Snellville, GA
AnswerWas this interesting? Yes No
---
Most Recent Answer
By Ariela 33 265 03/18/20090 people found this helpful
We have a toy poodle.. he only weighs 7 lbs and eats such a small amount of food (Iams Mini Chunks) that it worries me and I wouldn't have any idea how much olive oil to spray on. By small amount I mean about 2-3 tablespoons morning and night if I'm lucky. But the Vet says hes healthy and in good form. So how much Olive oil would I spray on. He scratches like mad! P.S. hes 11 months old.
---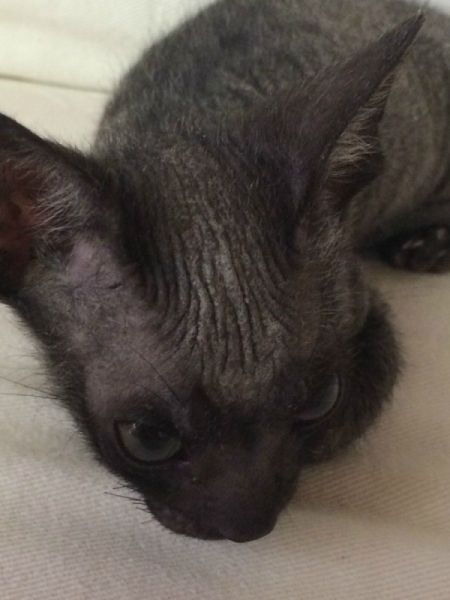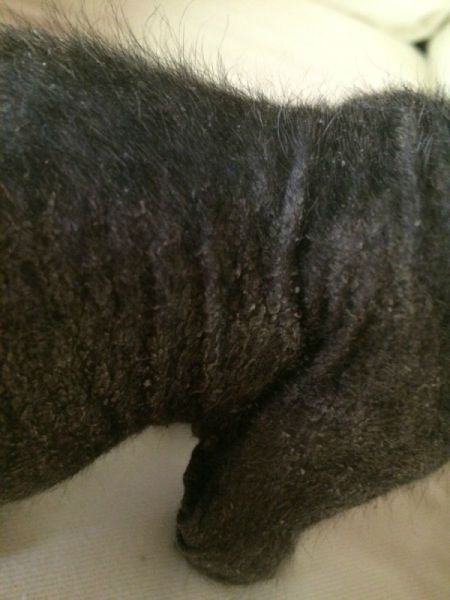 I have a domestic hairless male kitten of 9 weeks age. His skin is very dried and sometimes some powder like substance spreads over it. I think he was a day or two old when I found him in my yard. I fed him milk replacement formula until ten days ago. From that time up to now he eats from his dish formula milk, chicken soup, and chicken.
Some ten days ago he suffered from digestive issues since he accidentally ate from our lunch dish which had green peas mixed with potatoes and cream in it.
The jumping kitty lost energy and could hardly walk, but ate his food well. The vet prescribed one CC of Ranitidine syrup every eight hours, one CC multivitamin syrup per day, and one third of a sorbitol powder pack solved in water at wake up time. The prescription was prescribed for one week. The vet also suggested we mix the liquid of an Omega 3 in his chicken soup for his skin and hair and overall health. And he mentioned not to wash or wet his skin during medication period. The kitty is feeling healthy now, but the same white powder like substance has increased over his shoulders. It looks like dried skin. His skin condition has become worse since his digestive problem.
It's very hard to find a vet around where I live and the one we found, prescribed the medicine through a phone call. I have not been able to reach the vet for sometime.
I attached a photo of the white powder shape like and the kitty's pictures for people who may be a great help to this lovely kitty.
Thanks.

AnswerWas this interesting? Yes No
---
Most Recent Answer
By Lizzyanny 9 1,219 09/24/20150 people found this helpful
What a beautiful kitten. Abigail gave you very good advice. I think you need to find a vet who can diagnose your problem. There are many things that look like what you cat has. It will be hard to choose the treatment until you know exactly is wrong. Bless you for making a home for this little girl.
---
I have a standard size Dachshund and a Chi- Winnie. The Dachshund is always licking his paws, they both shed a lot, so would fish oil help with these issues and if so how much do I give and how often? The Dachshund's weight is 21 and the Chi-Winnie 14.
By Deburto [1]
AnswerWas this interesting? Yes No
---
Most Recent Answer
I have a Chihuahua with chronically dry skin. Is there anything I can do that works to remedy it?
By Carolyn from Jacksonville, FL
AnswerWas this interesting? Yes No
---
Most Recent Answer
By Abigail A. 13 920 09/27/20140 people found this helpful
He needs a food that contains added oils, such as fish oil or avocado oil. If you can't afford these foods, ask your vet about safely adding oils to his diet.
I have a 5yr old Pit. I have never had a problem with his skin being this dry until we moved about six months ago. He doesn't have fleas and I haven't changed anything. He's always been very well taken care of, with vitamins and a good diet. So I was thinking of using a little mineral oil. Please let me know if this will help my poor baby.
By Telina A.
AnswerWas this interesting? Yes No
---
Most Recent Answer
By Ce 4 118 10/04/20130 people found this helpful
An excellent product is "Royal Coat Express". This stuff is great and I give it to my three dogs every day. It is very concentrated so a little goes a long way. You can get it at www.arknaturals.com Click on dog then click on skin and coat. Hope this helps you and your pet.
Can I use sweet almond oil on my dog to help with dry skin?
By Krissy B
AnswerWas this interesting? Yes No
---
Most Recent Answer
By edward1956 1 27 08/20/20110 people found this helpful
I've never heard of using that. But I would recommend fish oil. You can break it up in half and pour it on top of your dogs food. It works great.
Archives
Thrifty Fun has been around so long that many of our pages have been reset several times. Archives are older versions of the page and the comments that were provided then.
My recipe is for pets that have dry skin and itch a lot. In a spray bottle (I got at Walmart in beauty supplies) add 1/3 cup of baby oil, 1/3 cup of original Listerine and 1/3 cup of warm water. Shake the bottle to mix and spray on pet. Works well especially on dogs with dandruff and really dry skin. Rub it in. The pet's fur will not be oily, but sure makes him feel better. It is really good for dogs that get hot spots. Always shake mixture before spraying pet.
By Rettasue from Cleveland, TN
---
RE: Remedy for Pets Dry Skin
I just wanted to let you know that your remedy is the best thing I have ever used. Our three Bearded Collies have had an ongoing problem with hot spots. As a matter of fact, just before you posted your suggestion, Ruby's lower back was covered with scabs and she was miserable. There was no way for me to get to the skin to apply medicine to the affected areas. After massaging the solution into those areas. I was able to use a small plastic comb to remove the flakes a little a a time. With that, the skin can now be treated and Ruby is doing so much better, all without having to pay for a visit to the vet.
The other problem with long haired dogs like ours is the matted and tangled fur. Today when I worked on Ruby again, I noticed that a matted area right about where I had put on your remedy was so easy to comb out. After that I applied some remedy to any matted stuff and had her coat looking great in a matter of minutes. Before this, it would take forever to brush and comb. I thought about how grateful I was that you were kind enough to post this tip.
Many thanks, Elsbeth
Many more thank yous from Farley 12, Toby 6 and Ruby 4. (04/11/2006)
By elutz
My dog has dry itching skin to the point that he has begun chewing on him self. Is there a home cure for this?
By Red from Frankfort, IN
---
RE: Remedy for Pets Dry Skin
Our vet recommended oatmeal shampoo found at pet stores, but this can not get into their eyes. We've also used human quality cooking oats (quick oats) and added them to a tub full of warm water and worked them onto his fur. Just rinse well after you have bathed the dog. (11/30/2009)
RE: Remedy for Pets Dry Skin
Tried the Baby Oil, Listerine and water for dry skin on my dog. Works immediately but my dog is not real wound up about me applying it to him. Not real sure how often to apply it to him and can't see anything anywhere in hear on that issue. (12/01/2009)
By James
RE: Remedy for Pets Dry Skin
Our vet had us use Ivory dish soap to wash our puppies in. I had a kennel and had to wash them once a week at times to get pictures and never had a problem. It didn't hurt their eyes but I was careful and washed their heads with a cloth. The photo is of Max drying off on my lap. Who wouldn't love that Bullmastiff face? (12/02/2009)
By latrtatr
RE: Remedy for Pets Dry Skin
I would spritz him with extra virgin olive oil and massage it into his skin. It is also a skin softner for adults or children with dry skin, I use it mostly during the winter months when furnace makes my skin dry and itchy. (12/02/2009)
By Paula Jo
RE: Remedy for Pets Dry Skin
Also just add dry cooking oatmeal into a tube sock and use that to wash doggie with. Brewer's yeast is good for dog's coat so I give my doggie one tablet daily and he likes it. I get mine at WalMart, as the price is the best there. (12/03/2009)
By meoowmom
RE: Remedy for Pets Dry Skin
Yes! Diet! Internally, once in awhile, (depending on the dogs size about once a month or so,) I cook an egg or two for my dogs. Also, have you checked out the brand of dog food you feed your pet? My vet only recommends 3 brands of dog food, and there are many brands on the markets.
I have a dog with arthritis, and after many talks with the Vet,(and expensive shots,) I have him on one omega 3-6-9 capsule a day. It alleviates the arthritis, and helps his coat. His coat was kind of oily, and actually got less oily, and softer when I put him on one Omega 3-6-9 capsule (the kind we buy for ourselves.)
Even though everyone knows that getting too much fats in the system are bad, there are good fats, and those fats can help the skin and coat, and alleviate arthritis pain.
Also, in the winter, when we are using a furnace, the air is much drier, and I like using a humidifier to help moisturize the air. It could be that simple. Also, I give my dogs table scraps, like drained hamburger, turkey, chicken (no bones,) I never just let them eat dry (cereal) food. I also let them eat some veggies--like green beans, corn, sweet potatoes, regular potatoes, and peas, and carrots. I've heard that garlic, onions, mushrooms, grapes, can really mess up their metabolism to the point of needing an emergency vet, or worse.

I hope this helps your dogs itchy skin and chewing. Even though a dogs metabolism is different from ours, they still need some good oils in their system.

Since all of the expensive (30 dollar shots every two weeks) for our dog with arthritis, he is happy with one omega 3-6-9 capsule a day, no more shots, however, he does weigh in around 40-50 pounds. So, you really need to consult your Vet about your dogs dry skin. It really isn't just a matter of bathing, it really could be a matter of what the dog is getting to eat and not getting in their diet.

Dry winter air does cause dry skin, but diet is really important when it comes to dry skin. And if a pet isn't getting the right nutrients to begin with, a ton of oatmeal in the bath won't solve the problem. I'm not knocking people that have found relief with oatmeal, I'm saying it may not be the solution, like with my dog who has to have an omega 3-6-9 for arthritis, and the strangest to me, is that my dog had oily skin and fur prior to the omega 3-6-9, then when I put him on the omega 3-6-9,(which is a type of oil,) his fur stopped being oily, and became soft. Really nice and soft. Instead of oily, and he hasn't complained about his arthritis anymore. (12/08/2009)

By Carol L.
Feed plenty of good whole foods, such as turkey, chicken, beef, black beans, kidney beans, green beans, yogurt, part of bananas, pumpkin (canned), squash, sweet potatoes, Mayo, and infant vitamins.