I have a domestic hairless male kitten of 9 weeks age. His skin is very dried and sometimes some powder like substance spreads over it. I think he was a day or two old when I found him in my yard. I fed him milk replacement formula until ten days ago. From that time up to now he eats from his dish formula milk, chicken soup, and chicken.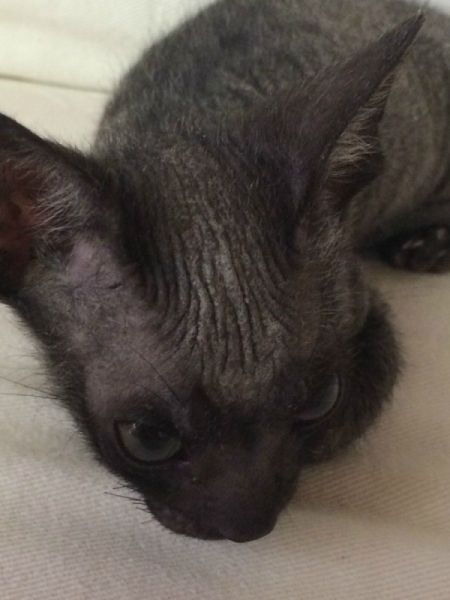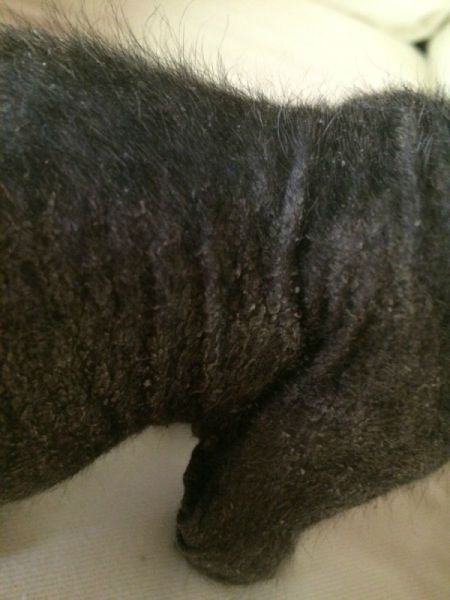 Some ten days ago he suffered from digestive issues since he accidentally ate from our lunch dish which had green peas mixed with potatoes and cream in it.
The jumping kitty lost energy and could hardly walk, but ate his food well. The vet prescribed one CC of Ranitidine syrup every eight hours, one CC multivitamin syrup per day, and one third of a sorbitol powder pack solved in water at wake up time. The prescription was prescribed for one week. The vet also suggested we mix the liquid of an Omega 3 in his chicken soup for his skin and hair and overall health. And he mentioned not to wash or wet his skin during medication period. The kitty is feeling healthy now, but the same white powder like substance has increased over his shoulders. It looks like dried skin. His skin condition has become worse since his digestive problem.
It's very hard to find a vet around where I live and the one we found, prescribed the medicine through a phone call. I have not been able to reach the vet for sometime.
I attached a photo of the white powder shape like and the kitty's pictures for people who may be a great help to this lovely kitty.
Thanks.

February 15, 2016
0

found this helpful
I would say this is demodectic mange - black mange. He needs tablets for about 3 months and weekly baths with special shampoos. That´s why he has the "elephant skni" look. He needs to be spayed as this disease is genetic. My dog had it, it does not spread to other animals or humans, but he needs the treatment or he will get secondary skin infection.
Black mange, also called demodectic mange and demodicosis, is a skin disease that appears in dogs and cats alike. Although this infection is relatively common in canines, it's significantly rarer in felines. Black mange is caused by the microscopic demodex mite. It's not contagious to people or other pets.
Demodex Mites
Black mange in dogs is brought on by a mite called Demodex canis. Demodex canis mites reside in the hair follicles. Different Demodex mites cause black mange in cats. They are Demodex gatoi or Demodex cati. The former mites reside on the skin's outside layer while the latter mites reside inside of the hair follicles. Demodex parasites are external parasites that people cannot view without the help of a microscope.
Black Mange and the Immune System
Minimal amounts of Demodex mites are often seen on pets' bodies, even when they're in perfectly good health. Dog and cat mothers transmit these mites to their offspring post-birth during the lactation process. These mites often don't trigger noticeable health issues. Animals who have weakened immune systems, however, may experience various conspicuous symptoms. Black mange is particularly prevalent in young puppies who have immune systems that aren't fully advanced, for example. The skin disease is especially prevalent in elderly dogs who have immune system suppression. When an animal is working with an immune system that's unable to properly handle the amount of mites on his body, the amount increases and black mange occurs.
Common Symptoms of Black Mange
Common signs of black mange in pets include the following:
Loss of hair
Scabs and crusting
Sores that hurt
Swelling of the skin
Redness of the skin
Black mange sometimes brings on secondary bacterial infections that cause severe itchiness, as well.
Generalized and Localized Black Mange
This skin disease exists in both generalized and localized types. Generalized black mange appears on significant segments of dogs' and cats' bodies and frequently causes secondary infections. It's sometimes an indication of other medical conditions in older animals, specifically heartworm disease, hypothyroidism and cancer. Localized black mange, on the other hand, happens when Demodex mites are limited to a couple of compact parts of the body, often just one. Localized black mange appears frequently in young dogs.
Veterinary Diagnosis and Treatment
If you have any reason to think your pet has black mange, schedule an appointment with the veterinarian immediately. If the vet diagnoses your animal with the skin disease, the exact treatment plan will be based on factors such as his general condition and health. Generalized and localized black mange cases often call for different treatment plans, too. Vets diagnose this disease by performing skin scrapings and evaluating the mites using a microscope.
If a pet's mange is associated with an overarching health ailment, the vet will treat that first potentially resolving the problem. Typical black mange treatment choices include dips, medicated benzoyl peroxide shampoo baths and broad spectrum antiparasitic medicines. Pets who develop secondary skin infections often receive antibiotic treatment.
Tip
Pets who have black mange are vulnerable to bacterial skin infections. If your pet has black mange, help protect him from bacterial skin infections by maintaining a meticulously clean living space for him. When he comes back indoors after being outside, rinse his body off thoroughly too.