Removing Musty Odors from Wood Furniture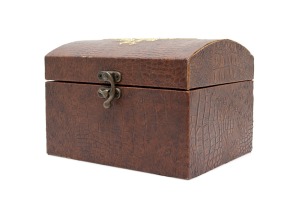 Old wood furniture or pieces that may have been in storage can develop a musty smell. This is a guide about
removing musty odors from wood furniture.
Solutions
Share on ThriftyFunThis guide contains the following solutions. Have something to add? Please share your solution!
December 12, 2016
0

found this helpful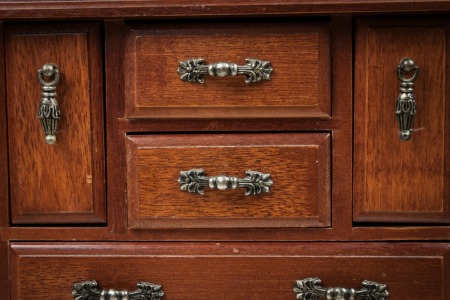 This is a guide about cleaning a musty antique dresser. Although antique furniture can be beautiful, it can also be tricky to clean and deodorize.
Read More...
Questions
Ask a QuestionHere are the questions asked by community members. Read on to see the answers provided by the ThriftyFun community or ask a new question.
My wooden cupboard with dividers for trays and cookie sheets smells bad. It is a combination of rancid odor and mustiness. The odor has permeated the wooden serving trays.
So far I have used soapy water and Lysol inside of the cabinet. We washed the wooden trays and set them out in the sunshine. We are considering rubbing them with fresh lemon juice to remove odor.
What would you suggest?
By John from Phoenix, AZ
April 1, 2010
0

found this helpful
Best Answer
Spray them with pine oil and water. Mix 1/4 cup in a spray bottle with water (Windex) or get one from Dollar store for a dollar. I use it all the time in kitchen, good luck.
April 3, 2010
0

found this helpful
Best Answer
The lemon juice won't hurt but I suggest spraying a test spot with Easy Off oven cleaner. Wait a few minutes and if you see a cleaner spot when you wipe it off you will know that your wood has absorbed grease from your years of cooking.
April 3, 2010
0

found this helpful
Best Answer
I would try white vinegar and water solution, perhaps mix in a few drops of dish soap. Give it a good cleaning. Then I would place white vinegar in a bowl or if the drawers are small a votive holder and leave it in overnight. (Close up the drawers when you do this.)
July 14, 2010
2

found this helpful
Best Answer
You might want to try this. Go to your nearest pet store and buy a package of activated charcoal (used in aquariums). Place an opened package in your cupboard overnight or longer, with the doors closed. The charcoal should absorb the odors.
Read More Answers
June 22, 2004
0

found this helpful
I bought a cabinet, that is old, for my bathroom and there is a musty odor inside. I have tried baking soda and vinegar and it didn't work. Please help.

Robinson in NC
By guest client (Guest Post)
June 23, 2004
0

found this helpful
Best Answer
I have had luck with charcoal briquets in the back corners of a musty shelf, DO NOT use the self lighting charcoal
By guest (Guest Post)
October 1, 2004
0

found this helpful
Best Answer
I have a great old wooden hutch/cabinet that was musty. I tried baking soda in a pan, then a baking soda/water paste scrub, then ground coffee and nothing worked. THEN, AHA! I sprayed the entire inside surface with cedar oil and no more musty smell! The cedar smell faded but the musty odor did NOT come back.
By guest (Guest Post)
April 17, 2006
0

found this helpful
Best Answer
I found that if you put a container of Damp-Rid in your cabinet and empty often, then refill as needed with the granules, it will take out the musty smell. Try putting a clean cloth with vanilla (real extract) and it should also help. Also there is a carpet/freshener that is a powder vanilla scent that works great on carpet, could sprinkle that inside, it is made by Glade Carpet & Room deodorizer.
By guest client (Guest Post)
June 24, 2004
0

found this helpful
You could stuff it full of crumpled clean old newspaper for a while. I would spray OUT on the Paper. I get this in jugs at WalMart in the pet department. It smell like vanilla extract.
I think I read somewhere that using cottonballs or wads of paper towels with vanilla extract on them would fix something like this too.
Yep, see Related Links, vanilla balls & newspaper for odor removal.
Read More Answers
I am going to a little place in the country (nothing fancy, so no point in talking to the management) for a much-needed, once-a-year holiday at the end of this week. The only bedroom furniture is a very old, wooden (maybe pine, not sure) dresser. The drawers are always terribly musty-smelling; it's suffocating!
I always end up having to leave them ajar, trying to air them out (it doesn't work!), and I hate putting my clothes in there. Please help! Does anyone know how to definitely get those drawers un-mustified so I can actually use them, this year? Thanks very much in advance.
By Anna
August 4, 2011
0

found this helpful
Charcoal helps with this but I think it takes a while to work.
August 4, 2011
1

found this helpful
Bring along some of those products used for cancer patients to remove odors and spray drawers so room smells OK, but keep your clothes in your suitcase, just ask for a suitcase stand or set up on top of dresser. If I'm on retreat the look of the room is not the most important thing on my list. just "vegging" out. Oh yes, be sure to open the windows wide to air out the room, too. Fresh air does wonders for the soul, too.
August 4, 2011
0

found this helpful
What if, weather permiting, you set the drawers outside to air out for the night when you first get there, then sprinkle them with your favorite powder, or use a dryer sheet like Pinska suggested.
August 4, 2011
0

found this helpful
Charcoal, dryer sheets, baking soda, and good old free sunlight work. But like the other poster, just don't put your clothes in there. Best of luck to you on your trip!
Read More Answers
August 6, 2013
0

found this helpful
I have a china cabinet that smells like something died in it. What can I use to get the odor out of the wood, without damaging the wood?
By Trish
August 7, 2013
1

found this helpful
Sam's Club sells a product called "OdoBan" ... this will work great to remove the odor. I had an chest that wreaked of cigarette smoke and I used it straight out of the bottle to the wood and had no damage what so ever. I've recommended the to several friends and they've all sent "thank you"s.
March 15, 2017
0

found this helpful
I have a wooden kitchen table that smells like cigar smoke and old wood smoke. It was also covered in pet hair. The oder is terrible. It is a finished table. How do I get the smell out? What do I clean it with?
January 27, 2015
0

found this helpful
I have an antique mahogany table and an antique chest; I am not sure what type of wood it is. These items were stored for several years in an area that became damp and moldy. The table has what looks like mold spots trying to bleed through. The chest has a bad odor, but I don't notice any mold spots. These are over 100 years old and I can't just dispose of them. Can you give me some ideas? Thanking you in advance.
By Patsy B
I have a table leaf that got wet on one end. I didn't notice until it was bad. Any help?
By Dawn J
How do I get rid of a musty ordor in wood hatch?
By ro
September 16, 2014
0

found this helpful
How do I remove a very strong musty odor from a wooden hutch?
By CA
April 22, 2014
0

found this helpful
My daughter kept some African masks in her basement and they now smell of mildew badly. How can we get rid of the mildew odor and ever use them in our home once again?
By goflos
Related Content