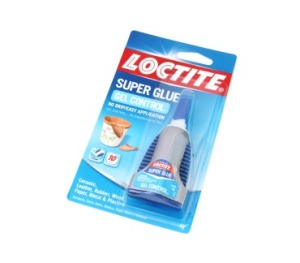 Super Glue is a very strong bonding product, not a good thing if you get some on your clothes. This is a guide about removing Super Glue from clothing.
Ad
---
Questions
Here are questions related to Removing Super Glue from Clothing.
I am in a jam. My grandson has spilt some super glue on a fabric sofa. Can I get any of the products to remove it in the UK?
By myraanne
AnswerWas this interesting? Yes No
Ad
---
---
Best Answer
By Frugal Sunnie 11 1,654 02/24/20140 people found this helpful
Hiya from Scotland:)

Have you tried 'freezing' the glue off? Take an ice cube, hold it against the gloop of glue for a minute (a real 60 second count, you're trying to freeze the glue) then try to flick the now frozen gloop from the upholstery using the edge of a credit/debit card or a loyalty card (Boots, Tesco, NectarPoints, etc).

Once you've got that big gloop off (lol, been-there/done that, it's never a small spot, is it?) any remaining gloop should come off using an acetone based nail lacquer remover, or mineral spirits. Although I've never had those products strip colour from a piece of upholstery, always test the product in a section that isn't seen before using on the spot to be sure your fabric won't strip.
I recently spilled Krazy Glue on my favorite silk black dress. How can I get the glue out without hurting the fabric or fading the color? Is there any hope for my dress? Thank you very much.

Jennifer
AnswerWas this interesting? Yes No
Ad
---
---
Most Recent Answer
By Enter your namesandra england (Guest Post) 03/13/20070 people found this helpful
thank you got glue on lycra sport trousers, brand new. used nail polish remover, thank god, or 35 quis wastes x
---
How do you remove super glue on track suit bottoms? They are mixed fabric, nylon/cotton.

Ramon from England U.K
AnswerWas this interesting? Yes No
---
Most Recent Answer
By Cornelia 45 72 09/24/20090 people found this helpful
There is a superglue removal liquid you could try. It's usually right next to the superglue in the store.
---
My husband is a fan of Super Glue, he flipping uses it for just about everything. He got some on his suit trousers, grrrrr. I'm afraid if I use acetone it will take the color out. Any suggestions?
By Susie
AnswerWas this interesting? Yes No
---
Most Recent Answer
By Maggie R. 7 03/06/20150 people found this helpful
It says on the label to use cooking oil if it gets on your skin, not sure if that would be good idea for fabrics. Have you tried freezing the clothing & trying to scrape it off? Like w/ gum. Best Wishes & buy that man an apron! Ha!
I spilled some super glue all over the black leather part of my Taxi 12s. And I noticed that the glue left white marks over the black leather part of my Jordan 12s. How can I remove the stain? Please help!
By Gio M. from Manila, Philippines
How do I remove super glue from jeans?
By Joe from Denver, CO
How do I remove Krazy Glue from the rhinestones on my shoes?

By Joy from Evergreen, CO
Solutions: Removing Super Glue from Clothing
Do you have knowledge about this guide topic? Feel free to share a solution!
Archives
Thrifty Fun has been around so long that many of our pages have been reset several times. Archives are older versions of the page and the comments that were provided then.
How can I get dried CRAZY GLUE out of a white shirt?
I spilled some crazy glue on my sweatpants. Any advise is greatly appreciated on how to remove it.
Jade from Ventura, CA
---
RE: Removing Crazy Glue
Warm some vinegar and use it to remove unwanted crazy glue. It takes a bit to soften the glue, but seems to work extremely well. (01/07/2008)
By rabbit10mom
RE: Removing Crazy Glue
I think the lesson that we all learned here, is that we should beware super glue! I sprayed some all over my metal work counter, fingers and the thing I was trying to fix. Fixed it all with vinegar and canola oil.(02/03/2008)
By MathKing
RE: Removing Crazy Glue
From www.krazyglue.com (quote)Instant Krazy Glue® can be removed with acetone. However, acetone is a pretty powerful solvent and can damage some types of plastic. A safer solvent is nitromethane that can usually be found at specialty hobby stores. Look for products called "de-bonders" containing the nitromethane component. Always be sure to test whatever solvent you choose on an inconspicuous area first to check for compatibility issues.(/quote) (02/08/2008)
By Hilo
Acetone works!
I just used acetone on my bathroom counter and my hands! It removed all the krazy glue! $10 at Home Depot! (02/10/2008)
By Ken
I want to know how to remove crazy glue from the screen of my cellphone?
Mely
---
RE: Removing Crazy Glue
I got crazy glue in my hair today and my mom said that the lady on the er line said to rub shampoo or conditioner into it. Any kind will work. It will break it down. (08/12/2008)
By martin
RE: Removing Crazy Glue
I got a little bit of crazy glue on my fingers. I tried Vinegar, then Canola oil, then Olive oil. My skin feels kind of rough but it's not very sticky anymore. (10/22/2008)
By Drew
RE: Removing Crazy Glue
Spilled Krazy Glue on a nylon jacket then tried everything from GOO GONE to WD-40 to get it out. I went out and brought the Acetone and the glue came right off. (11/22/2008)
By Cashiano
RE: Removing Crazy Glue
I've just spilled some super glue on my fingers and counter top.
To unglue fingers, just soak them in warm soapy water. The skin remains rough but at least the fingers won't remain glued together. I then used acetone to remove the dried glue from my fingers as I did for the glue on the counter top. Acetone is a strong solvent for most plastics and synthetic fibers. So don't use it on any plastic, rubber or varnished surfaces.
Hope this helps (11/25/2008)
By JN
RE: Removing Crazy Glue
I tried the suggestion to use shampoo and to my amazement, it removed the glue! I put the shampoo on, no water. Let it sit for a minute, then scrubbed some. It left the crazy glue spots on my ceramic tile floor rough. I used my fingernail and with a few light strokes, scraped up the glue. (12/22/2008)
By muqdah
RE: Removing Crazy Glue
My friend says Extra Virgin Olive oil works great on fingers and even helps with the itch! (01/31/2009)
By Guest
I would like to know how to remove dried Crazy glue from a microfiber sofa.
By bill7 from NY
---
RE: Removing Crazy Glue
Being a fiber, you'll want to test this on an inconspicuous portion of your sofa first, but what removes Crazy Glue is acetone nail polish remover. Make sure it's acetone and not non-acetone. I would try first with placing it on a soft cloth and gently rubbing but, being fabric, you might want to 'rough up' the fabric a tiny bit with a very soft toothbrush after applying the acetone to the fabric.
Acetone easily removes Crazy Glue from all other surfaces so I don't see why it wouldn't work on fabric too. I hope this helps you. (10/09/2009)
By Deeli
RE: Removing Crazy Glue
Hobby stores usually sell a product that is made for removing crazy glue; uncure or debonder. (10/09/2009)
By dayzfan
RE: Removing Crazy Glue
Crazy Glue actually dissolves plastic a bit. Microfiber is a type of plastic polymer fabric, and will most likely dissolve or turn slick if you use Acetone. I used to use Acetone to clean heel marks on lighter shoes and could count on losing finish so I had to work quickly and gently, most often living with the damage!
I'd call the mfg. or store where you bought the furniture first. Have you checked online for "Microfiber chemical damage repair?" You may have to settle for a type of "suede cleaner" and a suede brush that is fine wire, in the conspicuous area underneath first. Use a light touch and gentle hand in short brush strokes, regardless. Good luck and God bless you. :) (10/10/2009)
By lyndagayle62
How do I get Crazy Glue off of rhinestones on shoes? I was trying to keep them from falling out, but it made them dull looking.
By Darlene from Port St. Lucie, FL