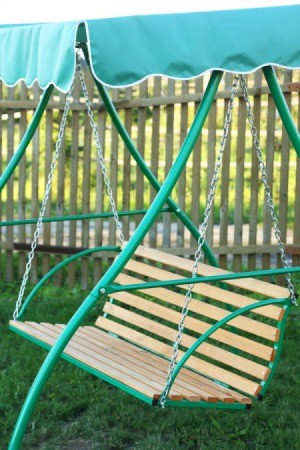 Time and the elements can take their toll on the fabric canopy of your outdoor swing. Rather than purchasing an entirely new swing you can replace the canopy. This is a guide about replacing canopy on a patio swing.
Ad
---
Solutions: Replacing Canopy on a Patio Swing
Read and rate the best solutions below by giving them a "thumbs up".
I have an old aluminum lawn swing which needed a new canopy. The cushions were easy to replace but I need a canopy. I went to a hardware store and bought a vinyl roll up shade (could be bamboo) and placed it over the top of the swing. I tied it down with plastic slip ties. It has lasted over three years now and is easy to keep clean.

By Mary C. from Newark, CA
Give a "thumbs up" to the solution that worked the best! Do you have a better solution? Click here to share it!
Questions
Here are questions related to Replacing Canopy on a Patio Swing.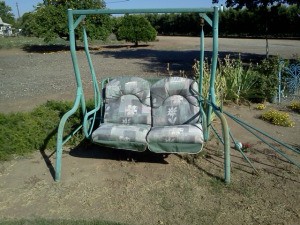 Does anyone know an easy inexpensive way to replace the canopy that goes over a swing? Mine fell apart from just normal sun/weather exposure. The frame and rest of the swing is fine. I don't really want to have to replace the whole thing (too expensive) if I don't have to. Help!
By Michelle
AnswerWas this interesting? Yes No
Ad
---
---
Most Recent Answer
By ERP 2 14 06/28/20110 people found this helpful
I bought an inexpensive large piece of oil cloth (heavy table cloth covering in what ever pattern or color you chose) slightly larger than the width of the frame. Since it does not fray etc., simply cut out to fit around the corners, fold the edges and ends over and either glue, sew or use velcro to attach to frame. I used a plain darker color that complimented my seat cushions for mine and it worked great and looked good!
---
I am trying to find the canopy frame for the Garden Treasures Baja Swing purchased from Lowe's a few years back. Jeri
AnswerWas this interesting? Yes No
Ad
---
---
Most Recent Answer
By crystalwhite 1 10/06/20090 people found this helpful
You may also want to check out www.gardenwinds.com, they have huge selection of replacement canopies for different kind of swings. They sell cushions too!
---
I am looking for a replacement canopy for a three-seat hammock swing that I purchased from Walmart a few years ago. The canopy top resembles a gazebo top. It is stationary (does not pivot) and angles up from the four sides to a flat top in the center similar to a roof.
By Kathy D.
AnswerWas this interesting? Yes No
---
Most Recent Answer
By Ida M. 1 16 05/31/20120 people found this helpful
My canopy wore out on my swing. Well I had bought some twin fitted sheets a long while back very cheap. What I did was take two twin fitted sheets and take out the corners and hem with rubber off long side of each fitted sheet and I measured the canopy frame. Then I sewed the two pieces together. I was trying to make a new fitted sheet for my pillow top mattress.

Well, I couldn't get the flat sheet to fit right so I accidentally tried the new fitted sheet on my canopy frame and it fit perfectly. So now I have a cover again and I can change the pattern anytime I want. My frame happened to be the same size as my pillow top mattress. I was a little time consuming to tear out the old seams, but saved me a lot of money for a replacement.
How do you sew a cloth outdoor swing cover and a valance?
By Max from Bemidji, MN
AnswerWas this interesting? Yes No
---
Most Recent Answer
By Susan Mickelson 6 40 08/03/20100 people found this helpful
If you still have the old one, use it as a pattern or draw a pattern using the dimensions. I used shower curtains from thrift store/Goodwill to make cushion covers for my outdoor chair cushions. Maybe a tablecloth would work.
Where can I purchase a durable top for an outdoor double glider? The frame over the glider is wood and is flat with a slight curve in the middle. The frame is 46" by 94". It is Amish made if that helps.
By Sharon K. from Central FL by Ocala
Where would I find a canopy for my two man recliner swing?
By Marjorie
I have a 6 foot x 12 foot worn/torn area on the front edge of my deck roll out canopy and need help. Can anyone come up with suggestions or a solution to repair it?
Thank you.
By Ang