There are no fees when selling items on Craigslist, but there are other things you should keep in mind. This guide is about selling items on Craigslist.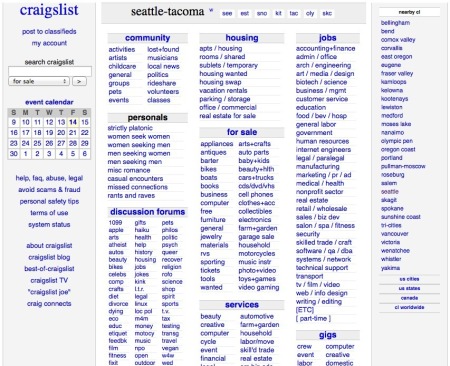 Many people are now selling on Craigslist and on Facebook swap sites. I can't get over how many of the photo ads show the item for sale covered in dust and in a filthy setting. If you are selling an item and it looks like this, people are going to naturally assume that you didn't take good care of it, and will not want to give you top dollar.
Clean the item before taking the picture and make sure it is in a clean setting. If I want to buy a TV, I want to buy a clean one, not one covered with dust and with a dirty litter box beside it and a diaper on top of it in the picture. If you are selling electronics, make sure the item is clean, with no dust between keys or in air vents. If the item is fabric (clothing, curtains, or bedding) make sure it is clean and well aired out, not smelling musty, or smelling like animals or smoke.
When you go to meet your buyer, don't have them come to your home unless you know them. Instead, meet them in a public place, such as Walmart or McDonalds in the parking lot. Women, take a man with you, even if it is the neighbor, for safety reasons. Specify to the seller you are selling for cash only, no checks, and that you will not have change, so they will have the correct amount.
By April from NW, MO
If you have a few items that are in good shape and want to sell, try Craigslist.com. It's a community based website where you list your items with photos for free and people in your area look for items. I have sold a ton of my stuff here.
By Carol from Massachusetts
Editor's Note: Click on the link above, do not post things for sale in the feedback at ThriftyFun. They will just be deleted.
We buy a lot of items on craigslist and if the listing doesn't have a picture attached then we usually just pass it by. So, when selling something on Craigslist always include a picture of the item you are selling. As the saying goes "A picture says a thousand words."
By Sharon from Modesto, CA
How do I know if someone wants to buy my things? I've recently posted things on Craigslist. I don't have an account and I put my email as private. I believe I've done everything right on there. I just want to know if they will b able to contact me even though Ii didn't give my #?
By Erika A.
---
Most Recent Answer
By Sandi/Poor But Proud 466 2,132 Flag
March 2, 2013
All are good points. I used to live next to a KFC and would meet people there. No one should see your email address unless you unclick that option.
And yes, if the person has poor grammar, and makes over blown comments like "I have cash and must get it now" then you are better off ignoring them. Here's what will happen
They will have your email, and send you a response like this "Don't sell your precious items...visit this website to make money at home..."
Nothing is worse when you are trying to sell something than to think you have someone interested, only to find out you are being spammed.
Also, never offer to send something before it's paid for, 2nd party deals, or things CL doesn't recommend you agree to.
Here is my philosophy for your consideration.
Selling heavy stuff or things one has to drive away (sometimes you just have to tell people where you are but always have someone with you), are better for CL. You get cash, it's free and it's local so there is all that.
But say you have a bunch of jewelry you want to sell. Ebay might cost you a little money but more people see it than just the people in your town. It's light to ship, your money is instant and it's done.
You might also want to try other sites like tophatter.com and this google search
http://www.similarsitesearch.com/alternatives-to/ebay.com
Good luck. Sandi/PBP
---
I have several new items that I'd like to sell on Craigslist. I've been told that photos need to be of almost professional quality so that the items will sell quickly. Since I have an average digital camera, but no lighting equipment, do any TF members have some good pointers for how I can take good photos? Thanks for your help!
By Casey E from Allen, TX
---
Most Recent Answer
By Frugal Sunnie 11 1,695 Flag
February 4, 2012
I've never sold anything using online pictures, but I have created a number of tutorials for my sewing students, using a cheap digital camera. I've learned (LOL) that even with the macro setting, the very best pics that cheap camera manages are the ones taken right by the window on a strongly lit day, or best of all, outside.
Even with flash and excellent artificial lighting inside, my cheap camera doesn't take a good indoor shot at all! I could upgrade but I like the camera.
I keep the sewing machine in a cabinet table by the southern exposure window so the lighting there is outstanding for 'on-the-machine' shots. But if I have something that isn't under the needle, I use the extended area to the left of my machine for the shots.
For anything I photograph outside needing to be seen under the needle, I use one of my vintage hand crank models. The outdoor snaps are actually rather charming to my sewing students-a couple of them have printed some of the snaps and put the prints up in their sewing rooms.
A previous poster is right, a lot of those online photos are rubbish, lol. Anything you can do to improve the lighting conditions, and the display value (as in 'oh how cute, I want that!') of the piece will be a huge draw.
---
By Linda 1
How do I sell used appliances on Craigslist?
By Linda
---
Most Recent Answer
October 7, 2010
I use CL all the time to buy and sell.Just be careful as you have to do anywhere now. I do not put my phone # in my adds or my address. They can reply to an ad through CL and give you their contact info. If someone is coming to your home, have someone else there with you. Never let a stranger in if you are alone. When posting, do not post your address, only the area that you live in. Have fun, but use common sense also. Kathy Lea
---
How do I present items for sale on Craig's list?
By JPH
---
Best Answer
---
Someone mentioned Craigslist on the ThriftyFun website. I went there and am having so much fun. I want to thank whoever gave that suggestion to go there to find something you are looking for.
I have sold over $100 on items I've picked up at the curb. I fix it, stain it, or just clean it and then sell it on Craigslist.org. It's local so people search for their state and then the city near them and then do their shopping.
All communication is done through e-mail unless one or the other chooses to give out their phone #. I always meet them at a mall or restaurant to exchange $ and the item they bought. I take someone with me if I can for security sake. It's a way to get rid of bigger items that didn't sell at your garage sale.
Of course you wouldn't want to sell clothing or small items. I don't think people would waste their time driving for them. Unless it's an unusual item like collectibles. Anyway, I just wanted to share that with all you Thrifty Fun, frugal living friends on this website. Thanks again!
By jes-real 1
Could you walk me through step by step to download pictures of my equipment that I have for sale to Craigslist or eBay?
By jes-real from Ft. Lauderdale, FL
---
Best Answer
By Babette 36 233 Flag
February 17, 2015
It is very easy once you fine your picture on Craig's list just right click select copy image than paste it in a document. Or in Photoshop or you can do a screen capture hold down alt then click print screen then paste either in a document or Photoshop. But if you do print screen you will get everything that is on the screen and you'll need to edit it.
I have posted on Craigslist before with no problems. Now, after I fill in the details of items to sell and then I upload pictures, but there is: no "continue", "done" or for that matter anything at the top or bottom of the page to finalize my posting.
I have tried to contact CL help numerous times, but they are of no use and their phone number contact is also not helpful.
I have asked this question about a week ago, but the answers were to scroll down to the bottom of the page or to look for "I'm done" or "continue" and click. Perhaps the readers missed that those options were not available to me. Nor was there a tab to click to take me to the next page.
Please help. Thank you.
Please don't ask me to contact Craigslist help or to call them, neither option is any help. The help desk keeps sending me an auto response with no connection to my question.
By Tony
---
Most Recent Answer
By Gloria Z 10 256 Flag
September 16, 2012
If you recently downloaded the latest upgrade from Firefox that's probably the problem. Go back & delete it. Or, turn off your popup blocker. Or, worse yet you've picked up a nasty virus or Malware bug. That's what happened to me.
---
I have posted on Craigslist before with no problems. Now, after I fill in the details of items to sell and then upload pictures, there is no "continue" or "done", on the page to finalize my posting. I have tried to contact CL help numerous times, but they are of no use and their phone number contact is also not helpful. Any suggestions?
By Tony
---
Most Recent Answer
September 10, 2012
They have now made it a 2-page process. the second page is for the images, after which you click on ""done with images" or something similar, then scroll down to the bottom for the "continue" and then another page comes up saying you are finished.
---
How do you start when you sell an item on Craigs list?
By James
---
Most Recent Answer
By Charlieanne 19 Flag
January 13, 2014
http://www.craigslist.org/about/help/how_to_post
This will give you a step-by-step how to. Very good idea to show pictures of your item.
The instructions start out saying, "Follow the steps below to submit a free post to craigslist without using an account." (It is better to have an account, which is free, so you can edit your ad as needed).
I sold my car on Craigslist. You might sell your item fast, it might take weeks or not at all. You have to repost every so often. Also, you can either have people call you or text or email. Specify in detail what you want. NEVER except a check , only cash! Beware of letting strangers in your home, try not to be alone, or keep them outside. I wasted a couple of weekends waiting for people who called about coming to see my car, and never showed, didn't answer their phones when I tried to call back.
Hope this helps, good luck!
I want to sell 2004 Baja Mini Bike with new tires, acto, color green. How do I sell it online?
By Ralph S.
How do I place items on Craigslist that I want to sell?
Charles
Feedback:
RE: Selling On Craigslist
It is very easy. Go to craigslist.org, and click on your state. Then go to the left hand side. It says, Post Classified. Then follow the directions. It is very easy. (07/07/2008)

By Ifsm963
RE: Selling On Craigslist
To be successful in selling on Craigslist it helps to be in a area that is heavily populated. And where others know about and use Craigslist themselves. Of course, if you have an item that others really want to purchase, it does help you find that new forever home for your item. (07/08/2008)
RE: Selling On Craigslist
When you are ready to sell, make sure you have really good photos. They don't have to be professional, but if your item is small enough to fit on a scanner screen, it makes a nice shot. If you have a digital camera, you can sometimes edit for a closer detail of a shot too large to fit on your scanner. For instance, you may want to shoot a chair, then lay a cushion from it on the scanner so people can see a close up of the fabric, etc. When you post, your account remains in your account mailbox for 45 days free.

You can go back and edit, delete if the items sells, add more text, etc. When you find you have perhaps made a mistake on the photos, you can delete them and download the right one, with little effort. Keep in mind, that if you have a prickly person out there, who wants you off the "competition", they can be "flagged" and that means that someone can delete your items. I have had this happen a few times. Sometimes, say you have a lot of crafts or clothes or such to sell, you may get some feedback from people saying that you should just set up a website and invite them all to it, etc.

I have even gotten flagged, because I was looking for a piece of Tupperware, and people sell that stuff all over the place. Who knows. You will have to put in the "code" that they give you, and click on the submit or post button, and you can't just push the enter button, or you will keep getting wrapped back to that same screen. Good luck. (07/08/2008)

(08/15/2008)

By Laurel_admin
Is selling on Craigslist national or for your state only?
By Nysha Monique from McComb, MS
Feedback:
RE: Selling On Craigslist
You can either post or read a craigslist ad for national, or a big city closest to you or any city or country. When you log on to www.craigslist.com you'll automatically be taken to the craigslist USA national site. Then you have to click on a city or country to go there. They are listed on the right-hand side of the page. I've seen people list all over the country.

Usually people that list in multiple cities that aren't close to their living area are running scams, but not always. You can find out by clicking and copying the exact wording for the ad you're interested in, then Googling those exact words. I did this by accident for an embroidery sewing machine and I found the guy had listed basically the same ad all over the US. He said he was local, but he was actually running the scam from Canada. (ie. "Send your money now and I'll send you this machine". Yeah, right!). You never send money till you see and test out the product! And that also goes for home and car repair.

Unfortunately there are some shady characters that ask for half down (to buy supplies, or so they say) then they run off with the down payment and never even begin the work! Sadly, there are quality contractors that could really use the half down to buy supplies, but now the bad have ruined it for the good guys and now no one can trust contractors they find on craigslist. I found a wonderful retired electrician to run the 220 for my kilns and he did a great job, but I had to first weed out the bad guys by calling their references. You also get a feel for who stands by their word and who doesn't. Usually, the older semi-retired guys are top notch and trustworthy. (08/13/2009)

By Cyinda
RE: Selling On Craigslist
Usually, for me it's worked this way. I only post to the city closet to me. If someone is interested, we meet at a local mall or parking lot during the day to exchange money for the item. I've never had any trouble. If it's a large item I cannot haul, I allow them to come to my house only after talking to them over the phone and being sure someone is going to be home with me when they arrive. (08/13/2009)

By LITTLE SUZY
How do I sell my car on craigslist?
By Jermaine from Thomasville, GA
Feedback:
RE: Selling On Craigslist
You go to Craigslist.com and pick an area in which you are a part or close to. For example I am in Tazewell, TN and I use the listing under Knoxville, TN. You click on the icon for posting a listing. Leave a detailed description of the vehicle you are trying to sell with the amount you are asking. Pictures are nice to post of the vehicle if you have them. You can post anonymously. Craigslist will assigned a mailbox to you and forward any emails to your normal email. You can also leave a phone number in your posting if you would rather get calls from perspective buyers. I'm not sure if Craigslist charges you for any sales that are finalized, but read the website information. That is the best way to know the details of their service. (08/10/2010)

By Suntydt
RE: Selling On Craigslist
Here's my method: For example: if I want to sell a "tool chest"!
I do a search for "tool chest" and view all of the popups, and see which category is the most displayed; which I see as "Tools".
Select: "Post".
Select: Tools [as the category].
Now, what you type in as the main heading is what will be found when someone searches for "tool chests", so you want to capture that description in the main title. [Acme Tool Chest, 8-drawers, mint].
I would advise you to ask just a little more than what you're willing to take. Amazing how many responses you get asking "How much cash are you willing to take?
Be sure to think about shipping costs, you can either say "includes shipping", or "shipping is extra" [someone from 5 states away may want it and shipping may be more than from the next town over].
Adding pics should be a must, everyone wants to know what they're going to buy.
Once you've completed the advert, you will have to "accept their agreement"; then you'll receive an email from CL; open it and review your ad; if all is OK, you will have to select: Publish.
Keep that email; this is the ONLY way you can go back and review/edit/delete the ad!
Add a folder to your email program titled "CraigsList", then a sub-folder titled "Inquirers", [here you can keep the incoming emails of those who you think are sincere buyers].
Use cash or Paypal only! (08/12/2010)

By Cajun62234
RE: Selling On Craigslist
Very carefully! (08/12/2010)

By yoder178
RE: Selling On Craigslist
I forgot to mention one important thing, especially regarding selling an automobile:

Make sure you indicate "as is" somehow/someway on the sales receipt and the new owner initials recognition of the fact. You don't want it to be driven away and returned with mechanical problems that the new owner created. (08/17/2010)

By Cajun62234