Selling Items on Craigslist
There are no fees when selling items on Craigslist, but there are other things you should keep in mind. This guide is about selling items on Craigslist.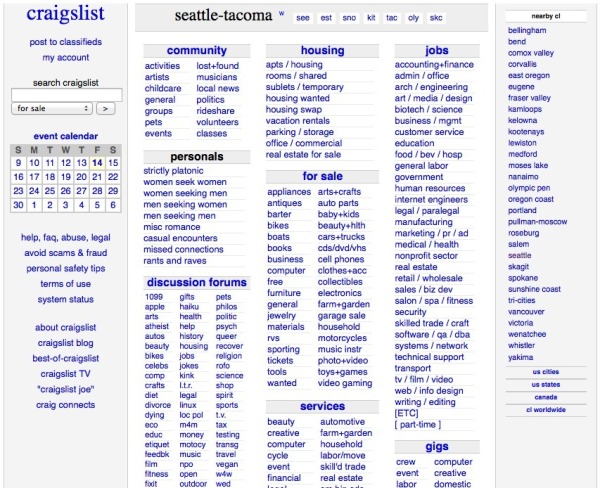 Filter

: All Articles
Sort

: Relevance
Many people are now selling on Craigslist and on Facebook swap sites. I can't get over how many of the photo ads show the item for sale covered in dust and in a filthy setting. If you are selling an item and it looks like this, people are going to naturally assume that you didn't take good care of it, and will not want to give you top dollar.
Clean the item before taking the picture and make sure it is in a clean setting. If I want to buy a TV, I want to buy a clean one, not one covered with dust and with a dirty litter box beside it and a diaper on top of it in the picture. If you are selling electronics, make sure the item is clean, with no dust between keys or in air vents. If the item is fabric (clothing, curtains, or bedding) make sure it is clean and well aired out, not smelling musty, or smelling like animals or smoke.
When you go to meet your buyer, don't have them come to your home unless you know them. Instead, meet them in a public place, such as Walmart or McDonalds in the parking lot. Women, take a man with you, even if it is the neighbor, for safety reasons. Specify to the seller you are selling for cash only, no checks, and that you will not have change, so they will have the correct amount.
By April from NW, MO
How do I present items for sale on Craig's list?
By JPH
January 6, 2015
1

found this helpful
Best Answer
Easy!!! Just go to Craig's List and follow the directions. However, I have a wikihow answer as well:
January 8, 2015
0

found this helpful
Go to the Craigslist in your area.You will have to set up an account with them in order to post.It's free.When you are ready to post,go to the area that you want your ad to appear in,furnitue,free,materials,etc.In the top right you will see a 'Post" .Click on this,then you will have to sign into your account.Follow directions from there.I suggest that you also post a picture for the buyers to see the item.Good Luck!
Could you walk me through step by step to download pictures of my equipment that I have for sale to Craigslist or eBay?
By jes-real from Ft. Lauderdale, FL
February 17, 2015
0

found this helpful
Best Answer
It is very easy once you fine your picture on Craig's list just right click select copy image than paste it in a document. Or in Photoshop or you can do a screen capture hold down alt then click print screen then paste either in a document or Photoshop. But if you do print screen you will get everything that is on the screen and you'll need to edit it.
How do I know if someone wants to buy my things? I've recently posted things on Craigslist. I don't have an account and I put my email as private. I believe I've done everything right on there. I just want to know if they will b able to contact me even though Ii didn't give my #?
By Erika A.
March 2, 2013
0

found this helpful
Hi - the only information anyone looking on Craig's list will be able to see is the info in the ad. Contact for any information goes to Craig's list and is forwarded to you. Then you decide how you wish to answer - if at all.
At lease that is how it works for me.
March 2, 2013
0

found this helpful
All are good points. I used to live next to a KFC and would meet people there. No one should see your email address unless you unclick that option.
And yes, if the person has poor grammar, and makes over blown comments like "I have cash and must get it now" then you are better off ignoring them. Here's what will happen
They will have your email, and send you a response like this "Don't sell your precious items...visit this website to make money at home..."
Nothing is worse when you are trying to sell something than to think you have someone interested, only to find out you are being spammed.
Also, never offer to send something before it's paid for, 2nd party deals, or things CL doesn't recommend you agree to.
Here is my philosophy for your consideration.
Selling heavy stuff or things one has to drive away (sometimes you just have to tell people where you are but always have someone with you), are better for CL. You get cash, it's free and it's local so there is all that.
But say you have a bunch of jewelry you want to sell. Ebay might cost you a little money but more people see it than just the people in your town. It's light to ship, your money is instant and it's done.
You might also want to try other sites like tophatter.com and this google search
http://www.similarsitesearch.com/alternatives-to/ebay.com
Good luck. Sandi/PBP
Read More Answers...
We buy a lot of items on craigslist and if the listing doesn't have a picture attached then we usually just pass it by. So, when selling something on Craigslist always include a picture of the item you are selling. As the saying goes "A picture says a thousand words."
By Sharon from Modesto, CA
If you have a few items that are in good shape and want to sell, try Craigslist.com. It's a community based website where you list your items with photos for free and people in your area look for items. I have sold a ton of my stuff here.
By Carol from Massachusetts
Editor's Note: Click on the link above, do not post things for sale in the feedback at ThriftyFun. They will just be deleted.
How do I sell used appliances on Craigslist?
By Linda
October 5, 2010
0

found this helpful
Please be careful - there was a story on the news in Milwaukee of a guy who was selling a big screen TV on craigslist. He made an appointment for a man to meet him at his home at 6:00 pm when he got off work to look at the TV. When he got home, the person had broken into his home and stolen the TV. I'd look and see if there is a local yahoo group selling in your area or something that might be safer. A woman was recently on Oprah whose boyfriend posted an ad on her on craiglist and she was raped and beaten - that caused someone to order them to remove their adult section. Don't you have a local paper to advertise in?
October 7, 2010
0

found this helpful
I use CL all the time to buy and sell.Just be careful as you have to do anywhere now. I do not put my phone # in my adds or my address. They can reply to an ad through CL and give you their contact info. If someone is coming to your home, have someone else there with you. Never let a stranger in if you are alone. When posting, do not post your address, only the area that you live in. Have fun, but use common sense also. Kathy Lea
Read More Answers...
I have several new items that I'd like to sell on Craigslist. I've been told that photos need to be of almost professional quality so that the items will sell quickly. Since I have an average digital camera, but no lighting equipment, do any TF members have some good pointers for how I can take good photos? Thanks for your help!
By Casey E from Allen, TX
February 3, 2012
0

found this helpful
Thanks so much for your responses; appreciate your taking the time to do so!
Blessings...
February 4, 2012
0

found this helpful
I've never sold anything using online pictures, but I have created a number of tutorials for my sewing students, using a cheap digital camera. I've learned (LOL) that even with the macro setting, the very best pics that cheap camera manages are the ones taken right by the window on a strongly lit day, or best of all, outside.
Even with flash and excellent artificial lighting inside, my cheap camera doesn't take a good indoor shot at all! I could upgrade but I like the camera.
I keep the sewing machine in a cabinet table by the southern exposure window so the lighting there is outstanding for 'on-the-machine' shots. But if I have something that isn't under the needle, I use the extended area to the left of my machine for the shots.
For anything I photograph outside needing to be seen under the needle, I use one of my vintage hand crank models. The outdoor snaps are actually rather charming to my sewing students-a couple of them have printed some of the snaps and put the prints up in their sewing rooms.
A previous poster is right, a lot of those online photos are rubbish, lol. Anything you can do to improve the lighting conditions, and the display value (as in 'oh how cute, I want that!') of the piece will be a huge draw.
Read More Answers...
I have posted on Craigslist before with no problems. Now, after I fill in the details of items to sell and then I upload pictures, but there is: no "continue", "done" or for that matter anything at the top or bottom of the page to finalize my posting.
I have tried to contact CL help numerous times, but they are of no use and their phone number contact is also not helpful.
I have asked this question about a week ago, but the answers were to scroll down to the bottom of the page or to look for "I'm done" or "continue" and click. Perhaps the readers missed that those options were not available to me. Nor was there a tab to click to take me to the next page.
Please help. Thank you.
Please don't ask me to contact Craigslist help or to call them, neither option is any help. The help desk keeps sending me an auto response with no connection to my question.
By Tony
September 15, 2012
0

found this helpful
Tony, I just posted something on the Long Island Craigslist and had no problems. Perhaps you just need to change the resolution of your screen? I have had to change the resolution on some websites I visit because the image they present is too large for my screen, so I click on the button at the bottom of the screen that says "100%" with the arrow next to it, and reduce the image to 85% or 75% or whatever makes it fit - you can customize the zoom to any number you like. Maybe this is why you don't see the "continue" button at the bottom? The alternate way to reduce the image is to click on "View", then "Zoom", then move your cursor to the %.
I had to click on a link in an email from Craigslist after I finished my posting, and had no problem there either - did you get a message and skip this step?
The last thing I can think of, is perhaps you could try another browser - sometimes I can do things in Interet Explorer 8 that I can't do with Chrome, and vice versa.
Hope this helps. If not, instead of Craigslist help, try eHow, or Answers.com, or else Googling your problem.
September 16, 2012
0

found this helpful
If you recently downloaded the latest upgrade from Firefox that's probably the problem. Go back & delete it. Or, turn off your popup blocker. Or, worse yet you've picked up a nasty virus or Malware bug. That's what happened to me.
I have posted on Craigslist before with no problems. Now, after I fill in the details of items to sell and then upload pictures, there is no "continue" or "done", on the page to finalize my posting. I have tried to contact CL help numerous times, but they are of no use and their phone number contact is also not helpful. Any suggestions?
By Tony
September 9, 2012
0

found this helpful
When you have done all the uploading, it should say Continue, Edit Text or Edit Images. When you hit Continue, your next page gives you the "your posting can be seen at..." then it's the link to what you just did. Every once in a while, they get a hickup like any other site.
Sometimes I forget that you now have to scroll down to the bottom of the screen, where as before you didn't have to.
As for contacting them, yeah, that is a joke.
Good luck.
September 10, 2012
0

found this helpful
They have now made it a 2-page process. the second page is for the images, after which you click on ""done with images" or something similar, then scroll down to the bottom for the "continue" and then another page comes up saying you are finished.
How do you start when you sell an item on Craigs list?
By James
January 13, 2014
0

found this helpful
http://www.craigslist.org/about/help/how_to_post
This will give you a step-by-step how to. Very good idea to show pictures of your item.
The instructions start out saying, "Follow the steps below to submit a free post to craigslist without using an account." (It is better to have an account, which is free, so you can edit your ad as needed).
I sold my car on Craigslist. You might sell your item fast, it might take weeks or not at all. You have to repost every so often. Also, you can either have people call you or text or email. Specify in detail what you want. NEVER except a check , only cash! Beware of letting strangers in your home, try not to be alone, or keep them outside. I wasted a couple of weekends waiting for people who called about coming to see my car, and never showed, didn't answer their phones when I tried to call back.
Hope this helps, good luck!
Someone mentioned Craigslist on the ThriftyFun website. I went there and am having so much fun. I want to thank whoever gave that suggestion to go there to find something you are looking for.
How do I sell my car on craigslist?

By Jermaine from Thomasville, GA
Answers:
Selling On Craigslist
You go to Craigslist.com and pick an area in which you are a part or close to. For example I am in Tazewell, TN and I use the listing under Knoxville, TN. You click on the icon for posting a listing. Leave a detailed description of the vehicle you are trying to sell with the amount you are asking. Pictures are nice to post of the vehicle if you have them. You can post anonymously. Craigslist will assigned a mailbox to you and forward any emails to your normal email. You can also leave a phone number in your posting if you would rather get calls from perspective buyers. I'm not sure if Craigslist charges you for any sales that are finalized, but read the website information. That is the best way to know the details of their service. (08/10/2010)

By Suntydt
Selling On Craigslist
Here's my method: For example: if I want to sell a "tool chest"!
I do a search for "tool chest" and view all of the popups, and see which category is the most displayed; which I see as "Tools".
Select: "Post".
Select: Tools [as the category].
Now, what you type in as the main heading is what will be found when someone searches for "tool chests", so you want to capture that description in the main title. [Acme Tool Chest, 8-drawers, mint].
I would advise you to ask just a little more than what you're willing to take. Amazing how many responses you get asking "How much cash are you willing to take?
Be sure to think about shipping costs, you can either say "includes shipping", or "shipping is extra" [someone from 5 states away may want it and shipping may be more than from the next town over].
Adding pics should be a must, everyone wants to know what they're going to buy.
Once you've completed the advert, you will have to "accept their agreement"; then you'll receive an email from CL; open it and review your ad; if all is OK, you will have to select: Publish.
Keep that email; this is the ONLY way you can go back and review/edit/delete the ad!
Add a folder to your email program titled "CraigsList", then a sub-folder titled "Inquirers", [here you can keep the incoming emails of those who you think are sincere buyers].
Use cash or Paypal only! (08/12/2010)

By Cajun62234
Selling On Craigslist
Very carefully! (08/12/2010)

By yoder178
Selling On Craigslist
I forgot to mention one important thing, especially regarding selling an automobile:

Make sure you indicate "as is" somehow/someway on the sales receipt and the new owner initials recognition of the fact. You don't want it to be driven away and returned with mechanical problems that the new owner created. (08/17/2010)

By Cajun62234