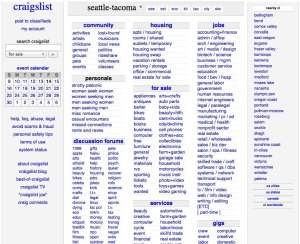 There are no fees when selling items on Craigslist, but there are other things you should keep in mind. This guide is about selling items on Craigslist.
Ad
---
Solutions: Selling Items on Craigslist
Read and rate the best solutions below by giving them a "thumbs up".
Many people are now selling on Craigslist and on Facebook swap sites. I can't get over how many of the photo ads show the item for sale covered in dust and in a filthy setting. If you are selling an item and it looks like this, people are going to naturally assume that you didn't take good care of it, and will not want to give you top dollar.
Clean the item before taking the picture and make sure it is in a clean setting. If I want to buy a TV, I want to buy a clean one, not one covered with dust and with a dirty litter box beside it and a diaper on top of it in the picture. If you are selling electronics, make sure the item is clean, with no dust between keys or in air vents. If the item is fabric (clothing, curtains, or bedding) make sure it is clean and well aired out, not smelling musty, or smelling like animals or smoke.
When you go to meet your buyer, don't have them come to your home unless you know them. Instead, meet them in a public place, such as Walmart or McDonalds in the parking lot. Women, take a man with you, even if it is the neighbor, for safety reasons. Specify to the seller you are selling for cash only, no checks, and that you will not have change, so they will have the correct amount.
By April from NW, MO
We buy a lot of items on craigslist and if the listing doesn't have a picture attached then we usually just pass it by. So, when selling something on Craigslist always include a picture of the item you are selling. As the saying goes "A picture says a thousand words."
By Sharon from Modesto, CA
Someone mentioned Craigslist on the ThriftyFun website. I went there and am having so much fun. I want to thank whoever gave that suggestion to go there to find something you are looking for.
I have sold over $100 on items I've picked up at the curb. I fix it, stain it, or just clean it and then sell it on Craigslist.org. It's local so people search for their state and then the city near them and then do their shopping.
All communication is done through e-mail unless one or the other chooses to give out their phone #. I always meet them at a mall or restaurant to exchange $ and the item they bought. I take someone with me if I can for security sake. It's a way to get rid of bigger items that didn't sell at your garage sale.
Of course you wouldn't want to sell clothing or small items. I don't think people would waste their time driving for them. Unless it's an unusual item like collectibles. Anyway, I just wanted to share that with all you Thrifty Fun, frugal living friends on this website. Thanks again!
If you have a few items that are in good shape and want to sell, try Craigslist.com. It's a community based website where you list your items with photos for free and people in your area look for items. I have sold a ton of my stuff here.
By Carol from Massachusetts
Editor's Note: Click on the link above, do not post things for sale in the feedback at ThriftyFun. They will just be deleted.
Give a "thumbs up" to the solution that worked the best! Do you have a better solution? Click here to share it!
Questions
Here are questions related to Selling Items on Craigslist.
How do I present items for sale on Craig's list?
By JPH
Ad
---
---
Best Answer

By Dinah Ackerson [2]01/06/2015
Easy!!! Just go to Craig's List and follow the directions. However, I have a wikihow answer as well:

http://www.wikihow.com/Sell-Items-on-Craigslist
Could you walk me through step by step to download pictures of my equipment that I have for sale to Craigslist or eBay?
By jes-real from Ft. Lauderdale, FL
Ad
---
---
Best Answer

By Babette [35]02/17/2015
It is very easy once you fine your picture on Craig's list just right click select copy image than paste it in a document. Or in Photoshop or you can do a screen capture hold down alt then click print screen then paste either in a document or Photoshop. But if you do print screen you will get everything that is on the screen and you'll need to edit it.
How do I know if someone wants to buy my things? I've recently posted things on Craigslist. I don't have an account and I put my email as private. I believe I've done everything right on there. I just want to know if they will b able to contact me even though Ii didn't give my #?
By Erika A.
---
Most Recent Answer
By Sandi/Poor But Proud [424]03/02/2013
All are good points. I used to live next to a KFC and would meet people there. No one should see your email address unless you unclick that option.
And yes, if the person has poor grammar, and makes over blown comments like "I have cash and must get it now" then you are better off ignoring them. Here's what will happen
They will have your email, and send you a response like this "Don't sell your precious items...visit this website to make money at home..."
Nothing is worse when you are trying to sell something than to think you have someone interested, only to find out you are being spammed.
Also, never offer to send something before it's paid for, 2nd party deals, or things CL doesn't recommend you agree to.

Here is my philosophy for your consideration.

Selling heavy stuff or things one has to drive away (sometimes you just have to tell people where you are but always have someone with you), are better for CL. You get cash, it's free and it's local so there is all that.

But say you have a bunch of jewelry you want to sell. Ebay might cost you a little money but more people see it than just the people in your town. It's light to ship, your money is instant and it's done.

You might also want to try other sites like tophatter.com and this google search
http://www.similarsitesearch.com/alternatives-to/ebay.com

Good luck. Sandi/PBP
How do I sell used appliances on Craigslist?
By Linda
---
Most Recent Answer

By Kathy [3]10/07/2010
I use CL all the time to buy and sell.Just be careful as you have to do anywhere now. I do not put my phone # in my adds or my address. They can reply to an ad through CL and give you their contact info. If someone is coming to your home, have someone else there with you. Never let a stranger in if you are alone. When posting, do not post your address, only the area that you live in. Have fun, but use common sense also. Kathy Lea
I have several new items that I'd like to sell on Craigslist. I've been told that photos need to be of almost professional quality so that the items will sell quickly. Since I have an average digital camera, but no lighting equipment, do any TF members have some good pointers for how I can take good photos? Thanks for your help!
By Casey E from Allen, TX
---
Most Recent Answer

By Frugal Sunnie [11]02/04/2012
I've never sold anything using online pictures, but I have created a number of tutorials for my sewing students, using a cheap digital camera. I've learned (LOL) that even with the macro setting, the very best pics that cheap camera manages are the ones taken right by the window on a strongly lit day, or best of all, outside.

Even with flash and excellent artificial lighting inside, my cheap camera doesn't take a good indoor shot at all! I could upgrade but I like the camera.

I keep the sewing machine in a cabinet table by the southern exposure window so the lighting there is outstanding for 'on-the-machine' shots. But if I have something that isn't under the needle, I use the extended area to the left of my machine for the shots.

For anything I photograph outside needing to be seen under the needle, I use one of my vintage hand crank models. The outdoor snaps are actually rather charming to my sewing students-a couple of them have printed some of the snaps and put the prints up in their sewing rooms.

A previous poster is right, a lot of those online photos are rubbish, lol. Anything you can do to improve the lighting conditions, and the display value (as in 'oh how cute, I want that!') of the piece will be a huge draw.
I have posted on Craigslist before with no problems. Now, after I fill in the details of items to sell and then I upload pictures, but there is: no "continue", "done" or for that matter anything at the top or bottom of the page to finalize my posting.
I have tried to contact CL help numerous times, but they are of no use and their phone number contact is also not helpful.
I have asked this question about a week ago, but the answers were to scroll down to the bottom of the page or to look for "I'm done" or "continue" and click. Perhaps the readers missed that those options were not available to me. Nor was there a tab to click to take me to the next page.
Please help. Thank you.
Please don't ask me to contact Craigslist help or to call them, neither option is any help. The help desk keeps sending me an auto response with no connection to my question.
By Tony
---
Most Recent Answer

By Gloria Z [7]09/16/2012
If you recently downloaded the latest upgrade from Firefox that's probably the problem. Go back & delete it. Or, turn off your popup blocker. Or, worse yet you've picked up a nasty virus or Malware bug. That's what happened to me.
I have posted on Craigslist before with no problems. Now, after I fill in the details of items to sell and then upload pictures, there is no "continue" or "done", on the page to finalize my posting. I have tried to contact CL help numerous times, but they are of no use and their phone number contact is also not helpful. Any suggestions?
By Tony
---
Most Recent Answer

By mary [4]09/10/2012
They have now made it a 2-page process. the second page is for the images, after which you click on ""done with images" or something similar, then scroll down to the bottom for the "continue" and then another page comes up saying you are finished.