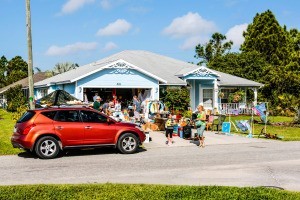 There was an internet meme going around recently that read: "See that clutter in your home? It used to be money." That simple statement was a wow moment for me. OUCH!
All of my life, I have worked very hard for my money and where did most of it go? Like most "good consumers", it went big box stores to pay for something that was supposed nourish me, help me, amuse me, or to enrich my life. Some things met those needs, but then there was a whole list of epic fails and unnecessary items.
I frequently got to the point where I looked around the house and saw a medicine cabinet, linen closet, laundry shelf, pantry, and window sill overflowing with "stuff". It pained me that each item used to be a Washington, Lincoln, Hamilton, Jackson, Grant, and or even a Franklin, that was now gone.
So, what do I do when this happens? I have an annual yard sale and occasionally set up a table at the local flea market to recoup some of my losses. While losing favor in some places, if they are still popular in your town, there is money to be made in the resale world; you just have to match your "stuff" to your potential buyers' needs.
I can honestly tell you that buyers DO NOT want grandma's heirloom dishes and glassware, the pretty "collector edition" dolls, your Beanie Babies, or your well-loved, brown furniture. Nope, they want everyday items at an awesome price.
Below are the lucky 13 everyday items that consistently sell at every sale I've had over the past 20 years. While you won't get rich, you may be able to put some lost dead presidents, I mean money, back into your pocket:

Laundry detergent that I used once and hated how my clothing smelled (paid $6--sold for $1.50)

Almost full, large box of dryer sheets that I bought right before my dryer died (I did not replace the dryer) (paid $5--sold for $1.25)

Barely used bottles of shampoos and conditioners that did not make my hair shiny OR bouncy (paid $3 to $5--sold for 75 cents each)

Hand lotions that smelled amazing in the store and terrible when I got home (paid $8 to $10--sold for $1 to $2 each)

Chewable multi-vitamins that had a terrible aftertaste and the ones that had a weird gummy texture (paid $4-$8--sold for 75 cents to $2 each)

The lipsticks, blushes, and perfumes that no longer worked for me (paid $5-20--sold for 75 cents to $5 each--yes USED!!)

Spices that were only used in one dish (paid $4 to $5--sold for .50 to .75 cents each)

The unopened box of cereal where I had to buy two, to get the BOGO price and found it way too sweet for my taste (paid $2--sold for .75 cents)

Batteries that fit nothing in the house and my receipt when I went to return them was nowhere to be found (paid $5--sold for $1 a pack)

Colorful candles and candle holders that were too pretty to use (paid $1 to $10 each--sold a boxed lot of 20 pieces for $6)

The duplicate and triplicate hammers I bought when I couldn't find mine (paid $2 each at a yard sale--sold for $3 at my sale)

The boxes of nails I bought for one project where I just needed a few nails (paid 25 cents for the box at a flea market--sold at my sale for 50 cents)

Oodles of plant babies--especially spider plants, kalanchoe, and jades--that I kept propagating (paid $5 to $10 for the parent plant--sold the "babies" for $1 to $5 each depending on size)
While you will never get full retail value for your used items and you won't be able to retire on the sale proceeds, in many cases you may be able recoup some of your money. In my world, a little "green" in my pocket is much better than something turning green with rot in my house.
Be sure all of your items are clean, still have good expiration dates, and are kept out of the sun during your sale.
Don't want to invest the time a have yard sale or set up at the flea? I have had success selling boxed lots of "like" items on Facebook Marketplace, not the national version, but my local Sale Want Trade sites. Depending on your town, you may see them listed as [city name] SWT or FSOT--which is Sale Want Trade OR For Sale Or Trade, respectively.
You can find these sites using Facebook's search engine and type in your town name and these abbreviations above OR if nothing turns up, try your town name and the phrases "yard sale" or "flea market".
Select a few groups to join, gather your items together (for example, put 4-5 shampoos and conditioners together in a clean, sturdy box, take a few good, clear photos, write up a brief description, set your price, and post the items for approval on the sites.
For small items (under $25), I do what is called "porch pick up" sales. This is where I post my items on my local Facebook FSOTs, give my zip code, tell potential buyers that the item will be on my porch ready for them to pick up during daylight hours, and I ask them to private message me when they are on their way.
I am very specific that the items are sold on a first come, first serve, no holds, no deliveries, and when they are on the way, I send them the address in a private message.
I have a covered porch where I can tuck things out of street view and in a place where they will not get wet if it rains or have the sun beating down on them. When I give the address, I request that the buyer leave the cash (I do not take checks) in a secure place on my porch. I don't even have to be home for the sale, which is the best part.
If you are doing a porch pick up sale, I encourage you to always look at the person's profile BEFORE you answer and follow your gut reaction if something feels off. You are not obligated to sell to the person if you are not comfortable. You can simply tell them that someone else is on the way, then you can go in to Facebook and block their profile so they wont see your posts.
Out of close to 50 porch pick up sales, I have only been "burned" once by someone who left less than I asked without an explanation. I was not happy, but then I thought, if they needed the item that bad and that was all they could pay, I will give them the good karma to keep it without question. For the record, I did block the person from my Facebook so they can no longer see my posts.
Where I am, sales are typically safe and go along without issues. HOWEVER, knowing the lay of YOUR land is important for your sale's success and your own protection. In the spirit of SAFETY FIRST and in light of the new normal of general 21st century world madness, I respectively ask that you approach all sales with awareness and caution. Be aware of your surroundings, listen to your gut, and if you ever feel threatened or unsafe, call 911 or your local authorities.
Also, be sure to know your community's rules and regulations for sales. My town has no restrictions, but some towns and communities require you to have a permit or pass before you set up shop.
Wishing you safe and easy sales turning your household "fails" back into cash!