Thrifty and Quick Ribs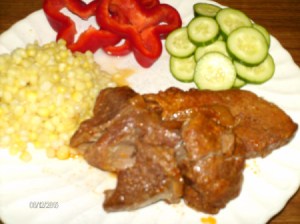 My family loves ribs, either slabs or "country style". I purchased several packages of these a few months ago when they went on sale for $1.59 a pound and wrapped them tightly for the freezer. I got these out yesterday so we could have ribs on a rainy night without heating the kitchen up too badly with the oven.
They come out fork-tender and completely delicious! My family loved them.
Total Time: 20 minutes prep, 35 minutes cook-time
Yield: Serves 5-6
Source: Personal Experience
Ingredients:
3-4 lb "Country-Style" ribs
1 Tbsp bacon grease
2 cups broth (I used Sweet and Sour broth from the local insurance salvage store)
1/2 cup barbeque sauce
2 Tbsp cider vinegar
1 Tbsp Worcestershire sauce
1/2 tsp seasoned salt (we like a little kick so I used Tony's)
1 Tbsp (heaping) brown sugar
1/2 tsp liquid smoke
1/2 medium onion, slice into rings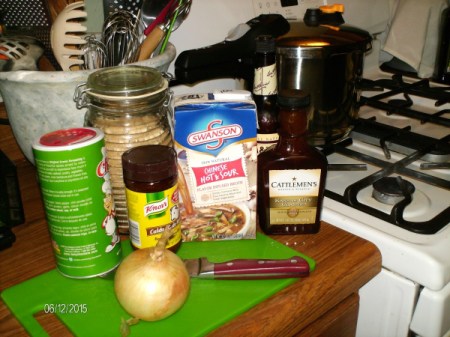 Steps:
Heat kettle of pressure cooker over medium and drop in bacon grease. Brown meat a couple of pieces at a time on each side.

While doing that, put your cooking liquid together by adding rest of ingredients, except onion slices, together in a medium bowl.
When all of the pieces are seared, place all meat back into the kettle, pour sauce over, and place onions slices on top. Place lid of pressure cooker on top and seal.
Heat according to your pressure cooker's instructions.* With mine I heat it until steam is coming out rapidly and steadily, and then drop the flame back to low, so that steam continues to come out of the vent slowly and steadily for the entire cooking time.

Set your timer for 35 minutes. At this point I make the rest of dinner while the meat is cooking. Last night it was peaches and cream corn from last year's garden, sliced pepper rings, and cucumbers from our greenhouse.
When 35 minutes is up remove the cooker from the heat and vent the steam according to your cooker's directions.
This recipe would also be really good with rice, it you have one of the "fat-strainer" measuring cups so you could separate the sauce from the fat that cooks out of the meat quickly.
*If you are not familiar with pressure cookers please, please read the directions. ALWAYS open the lid after you have vented the steam properly, and always open the lid away from your face! They are much safer now than they were in "Grandmas day", but you can still get a really nasty burn if you do not use caution and follow directions!
Add your voice! Click below to comment. ThriftyFun is powered by your wisdom!
Add your voice! Click below to comment. ThriftyFun is powered by your wisdom!
Related Content