I want to cook some spareribs. How long do I bake them and what is a good simple dry rub for flavor?
By elena sipkins from White Plains, NY
Answers
August 8, 2009
0

found this helpful
Best Answer
Bubba's Ribs
Wash ribs
I cut them into 3-5 bone width - easier to handle
Sprinkle lemon-pepper on both sides
Lay face down (bone ends up) on SARAN wrap
Fold to the inside of rib
Lay face down on Reynolds Aluminum Foil - Shiny side OUT
Fold to the inside of rib
Pre-heat oven to 350 degrees F
Place on cookie sheet on center self location
Cook for two (2) hours
LEAVE IN OVEN (NO HEAT) FOR 30 Minutes
Place on a cutting board at the sinks edge
Make a BOAT out of the foil
Slip the SARAN wrap from around ribs
Juice will stay in foil
Twist bones and pull out
Cut up meat and place in a bowl
OR
Place on grill for smoke flavoring - NO DIRECT HEAT
Lock your door so the neighbors can't get in
Enjoy.
August 31, 2009
0

found this helpful
Best Answer
Bubba's Ribs Additional Information
Saran wrap is thicker than the other brands of wrap. I can assure you that the Saran wrap will not melt, if it is placed inside the Reynolds Aluminum Foil. I have been using this recipe for over 12 years and I have never, not even once, had the Saran wrap melt.
September 1, 2009
0

found this helpful
Best Answer
Bubba, plastic wrap releases cancer causing toxins when heated. I truly hope you stop using it for cooking and just use two pieces of foil for your ribs instead.
February 5, 2011
0

found this helpful
Best Answer
Here is a great recipe for spare ribs that I have been using for years. Enjoy!
Ingredients
3 pounds pork spareribs or pork baby back ribs
3 tablespoons lemon juice
2 tablespoons honey
2 tablespoons canola oil
1 tablespoon soy sauce
1 tablespoon dried minced onion
1 teaspoon paprika
1 teaspoon salt
1/2 teaspoon dried oregano
1/8 teaspoon garlic powder
Directions
Cut spareribs into serving-size pieces. Place ribs, bone side down, on a rack in a shallow roasting pan. Cover and bake at 350° for 1 hour. Drain.
Combine all the remaining ingredients; brush some of glaze on ribs. Bake, uncovered, 30-45 minutes longer or until meat is tender, brushing occasionally with remaining glaze. Yield: 4 servings.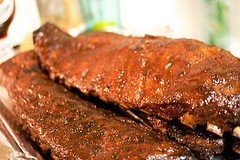 Answer

this Question

...
Put about 3 inches of water in your steamer OR use a large turkey roaster. You can balance a broiling rack on 4 wadded up balls of aluminum foil in lieu of a steamer. Add crushed garlic cloves and cut onion to water (you can substitute beer for water if you like). Bring to a rolling boil, cover and turn to medium - low. Cooking on low will minimize shrinkage. Steam your rack of pork ribs until tender. Babybacks take about 2 hours.
Remove ribs and cool enough to handle. Cut into individual ribs and baste liberally with your favorite sauce. Place in hot (400 degree F) oven. Convection ovens work well for this. Baste after 10 minutes. Cook another 10 minutes or until ribs are coated with cooked in sauce
Tip: you can put these on a hot BBQ instead of baking
Use the water in the steamer (pork broth by now, lol) to cook rice or potatoes or freeze in 1 quart baggies for later use as stock.