August 8, 2009
0

found this helpful
Best Answer
Bubba's Ribs
Wash ribs
I cut them into 3-5 bone width - easier to handle
Sprinkle lemon-pepper on both sides
Lay face down (bone ends up) on SARAN wrap
Fold to the inside of rib
Lay face down on Reynolds Aluminum Foil - Shiny side OUT
Fold to the inside of rib
Pre-heat oven to 350 degrees F
Place on cookie sheet on center self location
Cook for two (2) hours
LEAVE IN OVEN (NO HEAT) FOR 30 Minutes
Place on a cutting board at the sinks edge
Make a BOAT out of the foil
Slip the SARAN wrap from around ribs
Juice will stay in foil
Twist bones and pull out
Cut up meat and place in a bowl
OR
Place on grill for smoke flavoring - NO DIRECT HEAT
Lock your door so the neighbors can't get in
Enjoy.
August 31, 2009
0

found this helpful
Best Answer
Bubba's Ribs Additional Information
Saran wrap is thicker than the other brands of wrap. I can assure you that the Saran wrap will not melt, if it is placed inside the Reynolds Aluminum Foil.
I have been using this recipe for over 12 years and I have never, not even once, had the Saran wrap melt.
September 1, 2009
0

found this helpful
Best Answer
Bubba, plastic wrap releases cancer causing toxins when heated. I truly hope you stop using it for cooking and just use two pieces of foil for your ribs instead.
February 5, 2011
0

found this helpful
Best Answer
Here is a great recipe for spare ribs that I have been using for years. Enjoy!
Ingredients
3 pounds pork spareribs or pork baby back ribs
3 tablespoons lemon juice
2 tablespoons honey
2 tablespoons canola oil
1 tablespoon soy sauce
1 tablespoon dried minced onion
1 teaspoon paprika
1 teaspoon salt
1/2 teaspoon dried oregano
1/8 teaspoon garlic powder
Directions
Cut spareribs into serving-size pieces.
Place ribs, bone side down, on a rack in a shallow roasting pan. Cover and bake at 350° for 1 hour. Drain.
Combine all the remaining ingredients; brush some of glaze on ribs. Bake, uncovered, 30-45 minutes longer or until meat is tender, brushing occasionally with remaining glaze. Yield: 4 servings.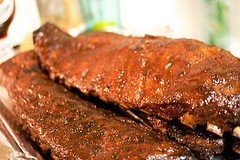 February 1, 2011
0

found this helpful
Thrifty-Fun site is terrific! I have learned so much and enjoy reading the helpful advice. It's like having a smart and knowledgeable neighbor to rely on. The recipes given are grand.
Especially the Chickpea veg burgers and ribs without the BBQ. I chose to make a sauce with suggestions from other posted notes. I have found that reading all the posts for recipes is most helpful and perhaps then taking suggestions from each. Thanks All.
February 3, 2011
0

found this helpful
Go to bakeporkchopsrecipe.com for a simle dry rub recipe for spare ribs and also go to ehow.com for steps to use to bake ribs. Just type your question in the search. I hope this helps.