Cleaning Your Burner's Drip Pans
The drip pans on your range can get really messy. Once the spills burn on you have a challenging cleaning job ahead. This is a guide about cleaning your burner's drip pans.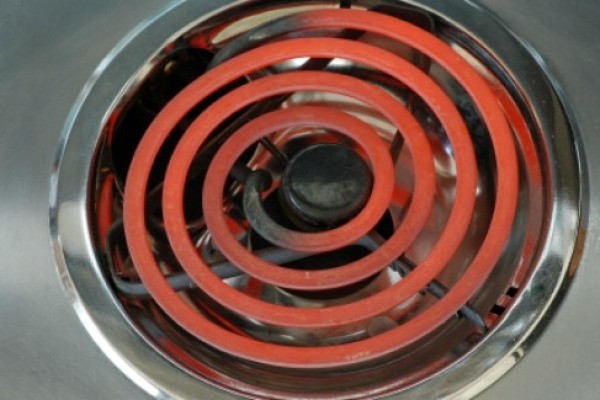 Filter

: All Articles
Sort

: Relevance
To clean the really cruddy drip pans from your stove, put them in a large pan with vinegar and boil the stuff off. Works like a charm, Just drop them in soapy dishwater and the come clean with very little work.

By Duckie from Tell City, IN
I have tried to remove the drip pans from the electric stove to clean them, but unfortunately it looks like the heating elements and drip pans may be one unit. Any ideas on how to clean them? I can't put them in hot water and soak them and yet I can't get under the burner to lift it up to clean them. Help!
March 28, 2016
0

found this helpful
The burners and drip pans may look like one unit (mine do) but they're probably not. If you look closely, you'll see where the burner plugs into the unit. Push on the opposite side of the burner and it will loosen. Then lift it up and off. Reverse the process to put them back in.
April 21, 2016
0

found this helpful
Some times the burner can be pulled out from the burner than just lift pan out. Mine were like that. When finished cleaning put drip pan back in place and plug burner back into place.
July 27, 2016
0

found this helpful
I need help the drip pan under my electric burner r attached +am wondering any suggestions on how to get burnt drippings off
I would like to get all the black burnt on crud off my drip pans. I have tried ammonia and bleach but not together. I tried soaking the pans, but nothing is working. Any advice would help me please. I also live in an apartment complex, too.

By Rebecca L.
June 11, 2016
0

found this helpful
Collinsherron beat me to it :-)
June 26, 2016
0

found this helpful
The first thing is dont let the Drippings stay on as when you cook again that only burns the food on it and harder to remove.Always soak your trays at once and then you will find that it will come off real easy.
July 21, 2016
0

found this helpful
Ammonia and bleach together can be deadly. Use one or the other but not together
This works great. I bought several sets of drip pans before I discovered this EASY way to do it.
Put your dirty drip pans in individual zip lock bags (1 drip pan in each bag) Put 3 tablespoons regular household ammonia and seal bag leave overnight. In the morning, simply wipe the dirty drip pans clean.
This also works with electric burners. It's so easy and it's worked every time for me.
Source: Neighbor
By Dana from Katy, TX
Place drip pan in sink. Sprinkle on powdered dishwasher detergent. Pour boiling water on top. Carefully place drip pan directly on top of stovetop burner. Bring to boil, then reduce heat to low and leave it there for about 15 minutes. Let cool, scrub and rinse. All the debris will come right off!
This method means less elbow grease and better results when your drip pans are so disgusting you are about to throw them away.
Put 1/2 cup of any powdered dishwashing soap into a roaster pan full of water. Stir; then add the burner pans. Bring to a boil and let simmer for 30 minutes.
Read More...
How do I clean burner pans?
By Karen from Parker Dam, CA
October 16, 2010
0

found this helpful
The best thing is to clean them regularly in dish detergent, and maybe scrub with a Brillo pad, so that food drippings don't cook on. If they're in bad shape, try soaking a few hours in the sink in water with dish detergent and about 1/2 cup water softener, then scrub with plastic scrubbers. I discovered, the hard way, that if you don't clean them often enough, the cooked on drippings will spoil the chrome finish; you can get them clean, but not shiny. After I replaced my (ruined) old ones, I've been washing the new ones more regularly. Even so, I got to one too late and some of the chrome is ruined again.
October 16, 2010
0

found this helpful
I just toss them into my dishwasher weekly.
January 22, 2016
0

found this helpful
That's lovely, if you have a dishwasher!
I am looking for an easy way to clean stove top drip pans.
By Joanne T. from Athens, AL
September 4, 2015
0

found this helpful
When all else fails use Barkeepers Friend the powdered version and steel wool. A little elbow grease and they are clean.
I have enamel drip pans or trays under my burners on my gas stove and occasionally normal cleaning methods don't remove all the burned-on gunk if I have been careless while cooking.
Read More...
How does one get the burned on food off of an electric stove burner drip pan? I've tried everything to remove the gunk!
By Ginger M.
May 27, 2012
0

found this helpful
Oven cleaner. It will take the shine off of them but they will be clean.
Related
© 1997-2016 by Cumuli, Inc. All Rights Reserved. Published by
ThriftyFun
.
Page
generated on September 26, 2016 at 5:26:00 AM on 10.0.0.57 in 5 seconds. Use of this web site constitutes acceptance of ThriftyFun's
Disclaimer
and
Privacy Policy
. If you have any problems or suggestions feel free to
Contact Us
.