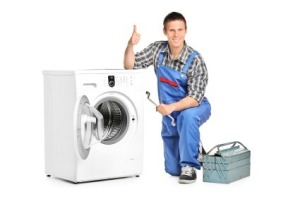 A clothes washer's softener dispenser can develop a build up and become pretty gunky. This guide is about cleaning a fabric softener dispenser.
Ad
---
Questions
Here are questions related to Cleaning a Fabric Softener Dispenser.
I have a Bosch Nexxt Essence Front Loader. I have odor and mildew issues that I have "sort of" been able to control. My problem now is that, although I do not use softener in my washer, the dispenser is filled with water and I can't figure out how to drain it.
I am afraid it is going to get stagnant, hence yet another avenue for odor and mildew. Anyone know how I can drain it? There is nothing about it in the manual.
By nicksrobin from OH
AnswerWas this interesting? Yes No
Ad
---
---
Most Recent Answer
By Jennifer Nelson 1 314 11/05/2009 Flag
White vinegar "unclogged" my dispenser, although it took a few attempts.
Jennifer Norther Virginia
---
I have a washer and dryer I just purchased from a good friend. They're both very clean and don't have a lot of use. But the washer has a removable fabric softener "bowl" that fits in the middle of the agitator.
To make a long story short the bowl/cup that's removable had about 1/8th of a inch of softener buildup, along with the bottom of the agitator tower. Nothing seems to cut this stuff. It's like wheel bearing grease.
Help?
By Aaron
AnswerWas this interesting? Yes No
Ad
---
---
Most Recent Answer
By Marty Dick 166 965 02/08/2014 Flag
When I bought my new washer about 3 years ago I decided not to gunk it up with all those softener concoctions. I use white vinegar in both my wash cycle to replace bleach and I put it in the softener thingy in the middle of my agitator for the best softener ever.
---
How to you clean a fabric softener dispenser in a 10 year old Whirlpool clothes washer?
By Linda
AnswerWas this interesting? Yes No
---
Most Recent Answer
By Grandma J 54 1,040 12/29/2010 Flag
I have a 10 year old Maytag too. I take a bucket with lots of hot sudsy water, start pouring it quickly into the dispenser. Then take a wet washcloth and rub around the inside. Keep doing this a couple times THEN take a dry washrag which helps remove the final. You should clean this often, getting the gunk off. As you fill your washer with water before adding the clothes, this can be done, then it runs into the washer and just wash!
---
How do I remove the fabric softener dispenser to clean it? I'm afraid I may not get it back in correctly?
By Helen
AnswerWas this interesting? Yes No
---
Most Recent Answer
My washer has a fabric softener dispenser that does not come off. How do I clean it?
By jmy
AnswerWas this interesting? Yes No
---
Most Recent Answer
By jellybeans64 3 12 09/29/2014 Flag
Did you try pouring some white vinegar into it a few times? This may work. I swear by the stuff!
Terri
How do I remove Downy buildup in the washing machine?
By Norris from Anderson, IN
Someone recently gave me an Amana washer. I'm not sure how old it is, but when I got it the fabric softener dispenser was gunky looking and nasty. I don't know how to go about cleaning it. How do I clean this?
By Janna
How do I clean the Downy dispenser in a front load washer?
By S P
Lately, I have noticed water is left in fabric softener dispenser after the load is complete. Why would that happen?
Solutions: Cleaning a Fabric Softener Dispenser
Do you have knowledge about this guide topic? Feel free to share a solution!
Archives
Thrifty Fun has been around so long that many of our pages have been reset several times. Archives are older versions of the page and the comments that were provided then.
I have a Kenmore washing machine, and the fabric dispenser is either clogged or broken. Does anyone know how to clean these. I can't get the fabric softener out of the dispenser.
Feedback:
RE: Cleaning Fabric Dispenser
When I had my old machine I would take the fabric softener thing off and wash it by hand. Use really really hot water to melt the fabric softener. I also used a toothbrush to scrub the container. If that doesn't work you could call Sears and order a new one. Good luck. (01/22/2003)

By cindonmill
RE: Cleaning Fabric Dispenser
I throw mine in the dishwasher.
(06/08/2004)

By Khirstie
RE: Cleaning Fabric Dispenser
I soak mine in really hot water for 5-10 minutes, then I use an old toothbrush with either Dawn (dishwashing liquid) or plain old white vinegar to scrub out any remaining residue. It always comes out squeaky clean, no matter which one I use. Good luck! (04/28/2005)

By MainyP
RE: Cleaning Fabric Dispenser
I am having the same problem. The part that holds the softener can come off. So I then took it and soaked it overnight in Javex and water. Then I scrubbed what I could with an old tooth brush.
Just when I thought I was done, I was running hot water through the top, and all this mold and gunk came out. An hour later I am still running water, and gunk is still coming out.
I think I might invest in one of those Downy balls (07/09/2007)

By Ann
RE: Cleaning Fabric Dispenser
I have a Kenmore washer, too. I take the fabric softener dispenser off occasionally and soak it in a sink or dish pan with hot water and white vinegar. You may need to use an old toothbrush to help scrub it. You will be amazed how much comes off and out of it! (10/28/2007)

By J
How do I disassemble the fabric softener cup on a 10 year old Kenmore washing machine? It needs cleaning out.
By Duane from Minneapolis, MN
Feedback:
RE: Cleaning Fabric Softener Dispenser
I am not able due to arthritis to disassemble the dispenser for cleaning (it's on top of the agitator). I clean mine with a toothbrush and a mixture of bleach and water. Be sure that you rinse the cup thoroughly and make your next load whites that you would normally bleach. (09/03/2010)

By GrannyGoff