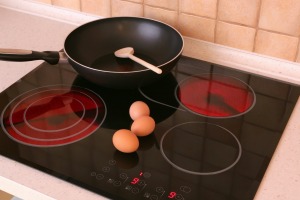 The smooth top stove has eliminated the dreaded job of cleaning burners and drip pans. However, this surface does have its own challenges and precautions for cleaning. This is a guide about cleaning a smooth top stove.
Ad
---
Solutions: Cleaning a Smooth Top Stove
Read and rate the best solutions below by giving them a "thumbs up".
This is a warning for anyone that has a glass ceramic cook stove. If you cook anything with a lot of sugar in it and it boils over onto your stove, get it off IMMEDIATELY or the food will eat into the glass top. This happened to me last Christmas when I boiled over fudge. I got most of it off, but before I could get it all off, it ruined the stove. It now has permanent marks on the top and the stove is not that old.
By laniegirl from IA
There are two products that work the best. Softscrub (with bleach or lemon) or Proforce Oven, Grill and Fryer Cleaner.
The Softscrub is excellent. You have to shake the container vigorously before applying and then wait 5-10 minutes. Use the abrasive side of a sponge or an abrasive pad and gently rub, increasing force gradually.
The Proforce is a spray and is more liquefied than the Softscrub. You do use rubber gloves. Spray on and wipe away with paper towel after 5-10 minutes. Be sure to wipe the stove top thoroughly.
The smudges can be tiresome, but I like the Softscrub the best.
Source: A small vial of the Soft Scrub came with the stove when they installed it.
By Chris C. [1]
Instead of buying the expensive cleaner to clean my glass top stove, I keep a shaker jar of baking soda (like the jars you would use for grated cheese or sugar) beside the stove and shake it on any spilled food. Use a damp cloth and a little scrubbing, then wipe clean with a towel and it comes up sparkling clean.
By chevygirl1224 from West Brandywine, PA
Give a "thumbs up" to the solution that worked the best! Do you have a better solution? Click here to share it!
Questions
Here are questions related to Cleaning a Smooth Top Stove.
Where can I get a "razor blade" scraper specially designed for glass-ceramic cooktops?
By Elaine from Woodridge, IL
Ad
---
---
Most Recent Answer

By Carol03/14/2010
I bought mine at Home Depot in the appliance department. It came in a kit with the cook top cleaner. Good luck!
I have black marks on a glass stovetop. How do I remove them?
Ad
---
---
Most Recent Answer

By Linda (Guest Post)02/17/2009
You can use a small piece of a magic sponge (Mr. Clean I think). That works wonders -- on lots of stuff, even your glass stove top.
How do I clean an electric smooth top stove top?
---
Most Recent Answer

By Toni-Michelle B.12/12/2013
Use ice and a straight blade on a angle as not scratch surface. Let ice sit for about a hour and then go back and forth with blade going back to icing. Wipe down in between.
We accidentally wiped a cotton dish towel across our new, black glass cooktop when it was hot and a baked-on residue formed.
Suggestions? Thanks!
By Bob P.
---
Most Recent Answer

By Crystal10/30/2012
I had a glass top electric stove. Use glass top cleaner and a rag that has been dampend with hot tap water to scrub it away.
While cooking, I stupidly grabbed a dry J-cloth to remove food off a still hot element and now there is melted J-cloth on my glass top stove. I have tried all the normal tricks for cleaning, such as the cleaner and letting it soak. Does someone have any suggestions?
By Lynn from Saskatchewan
---
Most Recent Answer

01/25/2011
I am not sure but I would think carefully using a sharp razor blade to lift it up would work. Angle it like you would when removing paint from a window.
What is going on with my stove top? I recently moved and my new place has a white electric stove top that's seamless (ie., completely flat surfaced). The problem is, whenever I use it, huge black marks (they look like burn marks) show up on the stovetop. I thought it was from my cheap pots and pans so I got new ones and it did no good!
What is going on? And how can I clean them?
By Jennie from Tempe, AZ
---
Most Recent Answer

By Nan Corpe [6]09/13/2010
I have the same stove. It's a ceramic stove top. It will stain each time you use it, but it is not burn marks. Do not scrape it. Try a Mr. Clean eraser which works quite well, and also a scotch brite scrubber for stubborn stains. There is also a cleaner for this that you can buy which cleans it easily.
I am looking for info for cleaning glass stove top with sugar cubes. Need info on how. Suppose to be able to remove burnt and messes, without scratching.

Jo from CT
---
Most Recent Answer

By Heidi T.12/25/2013
Cleaning with a sugar cube is one of the cheapest, easiest and best ways I've found to clean the surface of a glass cooktop. Always try your best to clean up messes as soon as possible. (Sometimes its best to wait til the stove top cools a bit though, as I have melted cloths on the element before and it's not fun to clean that off) so what I do is a dampen a wash cloth with super hot water and wipe down the whole surface.

Just enough to make the top damp, not wet. (If its too wet the sugar cube just melts away.) Take note of the stubborn stains and scrub the cube over those areas until completely cleaned away. For clean up of the sugar on the surface just use the same clean damp cloth to wipe it down. It's that easy. For day to day cleaning of lighter stains I use Cermabrite (not sure of the spelling) with the scrub pad privided or just a regular cloth. Hope this helps!
How can I get the burnt bottom of the tea kettle off my glass top stove?
By Mary
---
Most Recent Answer

By jean99 [6]09/29/2014
Spray the stain with the Easy Off oven cleaner, or similar brand. Cover it with a glass pot lid or any pot lid that can withstand the heat. Turn on the burner until it gets red hot, then turn it off after four or five seconds. Let it sit until the burner cools. Then uncover and wipe off with a scrubber or you can use the razor blade. It should come right off.
I have tried everything, baking soda, a razor, and cook top cleaner. I am left with this big black stain that won't budge. Now what do I do? There has to be something that will remove it. Believe it or not I have even tried oven Easy Off. Anyone have any answers? Please help. I wonder if hot steam would do any thing?
By Susan from Longmont, CO
---
Most Recent Answer

By jean99 [6]07/09/2012
Spray the stain with the Easy Off. Cover it with a pot lid. Turn on the burner until it just gets red hot, then turn it off. Let it sit for about a half hour. Then uncover and wipe off with a scrubber or you can use the razor blade. It should come right off.
Does anyone know of a homemade cleaner for flat top (glass top) stoves?
By JC from Seattle, WA
---
Most Recent Answer

By Candy Killion [9]04/20/2010
My glasstop is about three years old and still looks great even though I do a lot of cooking; we don't buy anything special for it, though.

When the stovetop is off and the burners have all cooled down, we're in the habit of just dipping a sponge scrubber in clean, hot dishwater ( we use Dawn detergent) and scrubbing/wiping, then giving it a squirt with glass cleaner ( been using that plant-based, gentler Greenworks stuff) and a paper towel to finish it off.
I was cleaning a glass stove with newspaper and it must have had dirt on it from sitting in my cleaning container for a while and left scratches. I then used a small round buffer on my hand drill and it left swirl marks. I can't find anything that will get rid of the marks.
By Tam