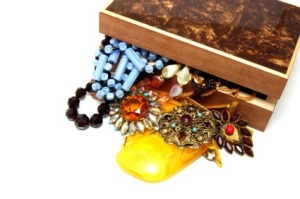 Making jewelry from recycled items can result in beautiful, unique, and fun bracelets, earrings, etc. This is a guide about recycled jewelry craft ideas.
Ad
---
Solutions: Recycled Jewelry Craft Ideas
Read and rate the best solutions below by giving them a "thumbs up".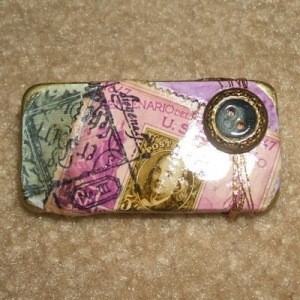 Use your imagination and leftover scraps from other craft projects to create one-of-a-kind pins for yourself or for inexpensive gifts. This pin was created using a domino, canceled postage stamps, a tiny button, and gold embroidery thread.
Approximate Time: About 1 hour
Supplies:
domino
canceled postage stamps
tiny button
gold embroidery thread
acrylic sealer (or Mod Podge)
pin back
craft glue
scissors
small paint brush
gold acrylic paint
Instructions:
Place stamps on domino, overlapping them some, until you are pleased with the placement. Carefully lift each one and glue in place.
Cut several pieces of gold thread about 1 1/2 inches long, and glue in place around one end of the domino. Glue a tiny button on top of the threads near the corner of the domino.
Paint outer edges of domino gold.
Using a small paint brush, apply a coat of acrylic sealer to top of domino and allow to dry. You can apply additional coats, if desired, but allow time to dry between each coat.
When completely dry, turn domino over and glue on a pin back.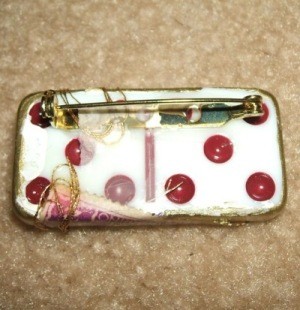 By Rachel's Mom from Wilkesboro, NC
My daughter wanted some neat earrings she had seen at the mall, but they were pricey. She decided she would make her own. She took two guitar picks and heated a sewing needle to poke a hole in the tops of the picks. She then inserted jump rings and ear wires to make her earrings. They turned out really cute. A necklace to match could also be crafted.
Some people have made jewelry out of hotel room keys. I've never made any, but I think you could cut them into various shapes and make earrings in the same way mentioned above. I've also seen old credit cards cut up and crafted into these items. You can choose to decoupage a photo or design onto the plastic. If earrings are out, then you could craft a necklace or bracelet out of this plastic material. If you need a larger hole poked in the plastic, a heated nail works as well for this purpose. Just hold it with some pliers so as not to get a burn.
Note: Old credit cards are useful for fridge magnets. I use them for the stiff backing for my cross-stitched fridge magnets. Glue the cross-stitched design on the card, allow to dry and attach a magnet with tacky glue. When I get "junk mail credit card offers" I have plenty of these cards.
Source: My daughter
By duckie-do from Cortez, CO
Instead of throwing away a single earring because you lost one or getting rid of broken necklaces and bracelets, use what is left to create one-of-a-kind pins.
Approximate Time: About 30 minutes
Supplies:
jewelry findings
hot glue gun and glue sticks or E6000 glue
wire cutters
pin back
piece of cardboard (optional)
Instructions:
Cut the post or clip from back of earrings and disassemble broken jewelry.
Lay pieces out until you get them in a pleasing design that suits you.
Carefully lift each piece and apply glue to hold in place.
When glue is dry, turn piece over and glue on a pin back. (If necessary, you can use a piece of cardboard as a base for your design.)
By Rachel's Mom from Wilkesboro, NC
Make fun jewelry with used gift cards rather than throw them away! Cut them into desired pieces, drill holes using an electric drill and drill bit, then connect pieces with jump rings. Finish by connecting desired clasps to each end of bracelet or necklace with jump rings. If you have any rough edges, use a dremel or sand paper to smooth edges.
By Dominique from Kalamazoo, MI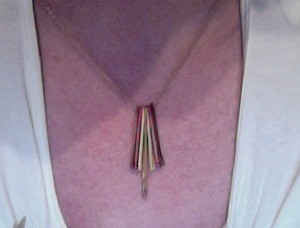 Did you know that bobby pins now come in many colors? On one of my visits to the local discount store I found a huge selection of colored bobby pins along with the normal colored ones. I decided to see what a necklace would look like with these dangling. I thought it was great because you could coordinate with your outfit. You could even do earrings.
By Louella from Billings, MT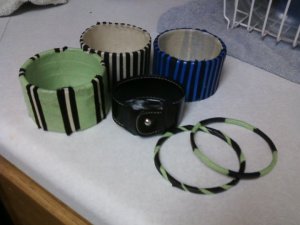 These bangles are made with recycled cardboard tape rolls. They are all made into bracelets that you can wear on your arm. They are very inexpensive and fun to make!
I often buy shelving units that stack together using PVC dowels. When the package is purchased, there are 2 inch black "spacers" that get recycled. Well I used them for this project and it worked perfectly.
I hope you enjoy this as much as I did.
Approximate Time: 2.5-3.0 hours
Yield: 1 necklace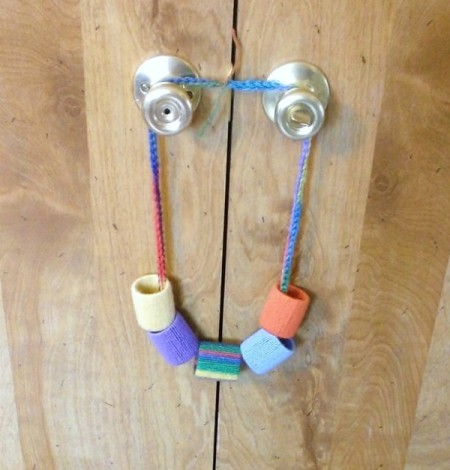 Supplies:
5-7 plastic spacers (or hard paper tubes)
6-7 yd scrap yarn
scissors
hot glue gun ($.5)
size "J" crochet hook
Ad
---
Steps:
Determine the colors you want. I went for a nice variegated yarn for the center then two of each on the sides that matched (as close as I could get) to the colors. If you make yours with 7 instead of 5, you could go solid, solid, variegated, solid, variegated, solid, solid.
Roll your 6-7 yard ball so it's not too big to pass through the tube. If you have to, roll it like an oval so you can pass it through. You will give up if you have to keep pulling that much yarn through it so make it easiest.
Put some glue in the middle of the inside of the tube, and use your scissors to press the end of your yarn inside until it's cool. Snap it off and begin wrapping the yarn around the inside and out, keeping it taut. When you finish, glue the end to the inside again and cut off any excess.
When done with all the tubes, crochet a chain the length you need to determine the length you want. Thread the tubes onto the chain and tie the end. Work in or trim the tails.
Link: www.miss-elaine-yus.com
I had planned this during my year long scrap yarn fundraiser but didn't get it in.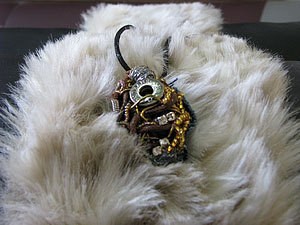 I use remnants from the jeans projects that I've done and turned them into junk jewelry like I've seen selling close to $100

By Kate from Singapore
You can glue small round magnets to the backs of pins and earrings. They are bright and cheery, especially floral and starburst types. Just snap off the pin backs and clips or posts with a pair of needle nose pliers, then glue on the magnets with either a glue gun or cement type glue.
By Karen H. from Pawtucket, RI
If you want to create an eye-catching fashion accessory for the holiday, why not have a go at making a fun, festive timepiece. All you need is an old watch; some felt or ribbon to cover the strap and a few additional items for decoration. In no time at all you'll have something to wear for that special party, where you're bound to stand out from the crowd and everyone is sure to want to ask you the time!
Approximate Time: 30 minutes plus drying time
Supplies:
an old watch
a pair of scissors
non-toxic PVA glue
felt or ribbon
leather shoe dye
beads, sequins, feathers, flowers, etc. to decorate
Instructions:
Make sure the strap on your watch is clean. Cut strips of felt or strong ribbon and glue them onto the strap. Let dry.
Add sequins, feathers, flowers, etc. at intervals along the watchstrap for decoration.
To finish, tie bows to either side of your watch face.
For an alternative to felt and ribbon, simply paint the watchstrap with leather shoe dye or watered down fabric paints.
Customize some cheap watches bought from a budget store; they'll make perfect gifts for all your family and friends. You could even create a gift box for each watch or to give guests a real surprise, make your own crackers and place a festive timepiece inside each one.
By Anne from United Kingdom
Give a "thumbs up" to the solution that worked the best! Do you have a better solution? Click here to share it!
Archives
Thrifty Fun has been around so long that many of our pages have been reset several times. Archives are older versions of the page and the comments that were provided then.
*** Can't afford designer jewelry? Want to have trendy accessories that your friends will compliment? Give new life to your broken necklaces, matchless earrings, and miscellaneous charms and beads from the bottom of your jewelry box. Recycled jewelry can make great accessories for personal use or gift giving. The one-of-a-kind creations you make will become treasured works of art.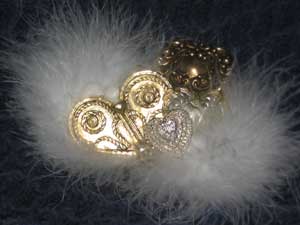 What you'll need:
Unwanted Jewelry and Beads
Large Safety Pins or Pin Backs from the Craft Store
Hot Glue
Lace, Feathers, Ribbon, and Trim Scraps
Cardboard or Foam for Backing (cut into shapes approx. 2" in diameter)
Needle Nosed Pliers
With needle nosed pliers, disassemble all of your scrap jewelry pieces. Spread the pieces on a cloth for easy access. Decide which beads and charms compliment each other, and group them into piles. The sample brooch features a collection of heart shaped charms. On cardboard backing, arrange the pieces so that none of the cardboard shows. Use a hot glue gun to adhere the pieces to the cardboard and to one another. Overlap some pieces and have fun with varying arrangements. They can be glued into shapes, such as half moons, crescents, squares, circles, or lines.
A colorful bead or charm will add zest to your brooch. Add ribbon and lace scraps to the piece for more personality. A few feathers poking upward or fur trim along the edges will make your design scream "original".
On the back of your brooch, hot glue either the permanently closed arm of a large safety pin or a pin back from the craft store. Don't forget to sign the cardboard backing. Your creation is a work of art!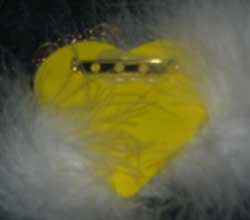 About The Author: Shauna Smith Duty is a freelance writer with a penache for writing family and parenting articles. She composes articles for both print and web publications, reviews children's books and movies, writes short plays, and provides editing services. Visit her online at http://www.shaunasmithduty.com
---
RE: Recycled Jewelry Brooch
This is a great idea, I have a lot of broken jewelry. thanks (07/25/2005)
By Teresa P.
RE: Recycled Jewelry Brooch
One time when I was shopping in a thrift store, I over heard a gal ask the cashier if they had any "old jewelry", then she asked if they sold any "broken jewelry". I couldn't help but ask, what she was going to do with broken jewelry. She replied that she makes jewelry and that she's always looking for bits and parts of other's jewelry to accentuate her pieces. It never hurts to ask. (12/31/2005)
By badwater