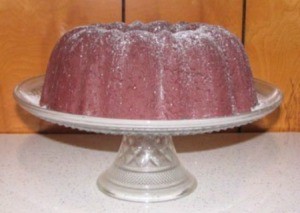 There are situations when intimation food is just what's needed. This guide is about making fake food.
Ad
---
Solutions: Making Fake Food
Read and rate the best solutions below by giving them a "thumbs up".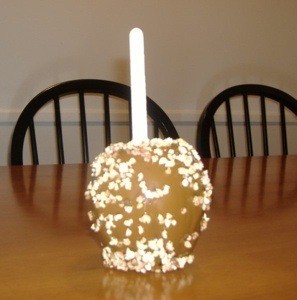 This realistic looking caramel apple is beautiful on display. You will have everyone thinking it's the real thing.
Give a "thumbs up" to the solution that worked the best! Do you have a better solution? Click here to share it!
Questions
Here are questions related to Making Fake Food.
I am trying to tint resin to pour into coffee cups that will look like real coffee. So far I have not found the perfect combination or dye. Does anyone know what to use?
By Christy from Tri Cities, WA
Ad
---
---
Most Recent Answer

By Frugal Sunnie [11]10/15/2012
Coffee-brew yourself a cup and use some to tint the resin. I did tea that way, coffee should work the same way.

Be sure to let the coffee cool so that it doesn't act as a catalyst too early in the process (lol, ask me how I learned that one!).
Does anyone know how to make fake food? My husband is restoring an old car and I wanted to surprise him with one of those trays that hang on the side with the food on it or even the spilled fake food.

Thanks,
Audrie from PA
Ad
---
---
Most Recent Answer

By Chris (Guest Post)02/28/2009
There is a great fake food website called Fauxfooddiner they make the trays and food that looks so real.
I want to make a fake wedding cake for displays. Any ideas?

Diana from South Carolina
---
Most Recent Answer

By Sharon,Ky (Guest Post)02/27/2007
A funny story I HAVE to share!When my Daughter married last year I baked her wedding cake.Along with all the other chores to be done I was running on a tight schedule and didn't get it baked until 2 in the morning of the wedding,and the top layer hadn't baked completely when I started decorating. In tears I vowed I wouldn.t be defeated. I iced the pan of the top layer(which wouldn't have been eaten anyway!!) and instructed the girl cutting the cake to take it off discreetly before cutting the other layers.HEY---you gotta do what you gotta do!!! No one at the reception but me and her knew the difference!
Does anyone know how to make those fake cakes? It looks like the frosting is made of plaster of Paris.
By GrandmaV from SF Bay Area
---
Most Recent Answer

By Linda [45]06/25/2009
This link has some interesting items.

http://www.plasteelcorp.com/foamshapes/category/cakes.html
When making a miniature cream pie (artificial), how do you lighten up the caulk that is used for the topping? I would like it to be a little bit fluffier. I'm making miniature ones with filo clay, no hole beads and need a light fluffy topping to look like meringue.
By Doris from Moline, IL
---
Most Recent Answer
By Sandi/Poor But Proud [446]03/27/2009
Yeah, me too! I was thinking "maybe she is from another country" but now it all makes sense.
Too funny.
I googled miniatures and got this. You may want to ask someone who makes things like this for a living. However, Aileens glues make just about any thing you might want. My first thought was some of her puff paint, but just a bit of offwhite glue might work too. You would need to experiment on some of the pies to find if it falls flat as it's drying, but I am sure you will find the right product and method. When you do, can you share it with us? How cute!!



http://www.google.com/search?source ... LQ_ENUS307&q=miniatures&aq=f

I enclosed a shot of one I took at our local fair. Good luck!!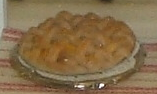 How do I make faux champagne for a prop?
By Bridgette from Virginia Beach
---
Most Recent Answer

By susan winship [4]01/14/2011
Ginger ale can look like champagne. If it's not going to be drunk (if it doesn't have to tip when the glass does, add gelatin to solidify it. Resin has been suggested. That would be good for a one-time project. From the stage, I don't think you can tell about what the liquid is. Apple juice, diluted, isn't tasty, but would be thrifty.
How do you make fake cakes?
By Catbalu from Anna, IL
---
Most Recent Answer

By suzanne [278]04/05/2009
www.familyfun.com has a lot of recipes for fake food
Does anyone know where I can find recipes for making fake fruits, pies, candy, and more? I am having trouble finding this. I would love to make these for my family.
By Dee H.
---
Most Recent Answer
By Sandi/Poor But Proud [446]02/25/2013
I googled it and found hundreds. Just click in images and pick the food you want to recreate. Good Luck

https://www.google.com/#hl=en&o ... 0ec92269366&biw=1024&bih=677
If making a fake strawberry pie, with no top crust, how do I make the fake gel?
By El
---
Most Recent Answer

By Mary Lou [14]05/21/2012
I'm thinking that colored glue might work for the gel. Just add food coloring to any glue that dries clear. You might need quite a bit so I would go to multiple bottles from a dollar store. Now paste food coloring might give u a better color, but is more expensive. You could also try poster paint in powder form. Mix it slowly until u get color you want. You might need to work fast or it may take awhile to get solid as the layer would quite thick I would think.You could always make or buy a styro circle that fits in the pie shell and just do a medium thick layer of the gel. Hope this helps.
Archives
Thrifty Fun has been around so long that many of our pages have been reset several times. Archives are older versions of the page and the feedback that was provided then.
I finally found out how to make fake cakes but I can't find out how to make the "fruit topping" that looks like the fruit is in juice that I have seen on fake pies and cakes. Also, I need help with making fake crumbs that go on the side of fake carrot cakes or fake angel food cakes. If anyone could please let me know how to make these or knows a useful website for the supplies, I would greatly appreciate it.

Have a great day!
MommyMitchell from Delaware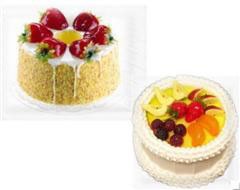 ---
RE: Making Fake Cakes
Could you use sawdust as crumbs? (03/26/2007)
RE: Making Fake Cakes
The fruit can be made with polymer clay (sculpy) and the sauce is a resin or gloss for the baked clay. Your local craft store should have some. There are lots of great sites on how to work with PC out there. (03/28/2007)
By Natalie
RE: Making Fake Cakes
Use Marzipan, most of the time you can find them already shaped as colorful fruit. Hey, by the way, want to share your fake cake recipe? I'm trying to figure a way to make small faux candy squares decorated with frosting, etc. I have a small table with a coffee pot, faux coffee in a cup and would like to have a few faux desserts sitting with it. I tried finding how this is done without much success. Thanks. kswaingerard AT unmc.edu (09/10/2007)
By KARY
RE: Making Fake Cakes
I would love to know what the cookies and sauces are made from. Got the Styrofoam and icing, but I need something for the crust and filling. Any help will be appreciated. (09/13/2007)
By ladyleolion
Does anyone know how to make fake cupcakes, candy and cake slices? Also how is the frosting made? Thanks.
Honeybunny from IL
---
RE: Making Fake Desserts
http://www.associatedcontent.com/article/36407/make_a_fake_display_cake.html (11/16/2008)
By MCW
RE: Making Fake Desserts
We buy the fake cupcakes from this site. They have the best prices so far. Good luck. http://www.plasteelcorp.com/foamshapes/category/cakes.html
Bill and Jane (11/16/2008)
By Guest
RE: Making Fake Desserts
How about making a foam base, and covering with a tinted plaster of Paris mixture? Otherwise, you could use modeling clay for the icing and decorations. If you add a slight glaze over the top, it will look glossy and edible. (01/15/2009)
By Cathy from Townsville, QLD