Mimosa trees, also known as silk trees, originated in China. They grow easily in many areas and are even sometimes considered a weed. They are a medium sized tree that produces a lot of shade. This is a guide about growing Mimosa trees.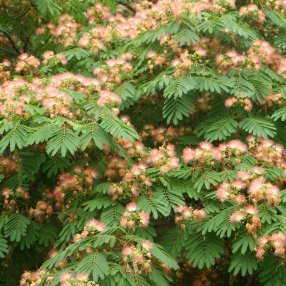 Filter

: All Articles
Sort

: Relevance
I have a sprouting tree from an already dead mimosa coming up from the roots. I've been told it died because the mimosa must be cross-polinated. Should I plant another tree nearby so this one will thrive? If so, how near can I plant it to the tree that is sprouting? If it does not require another tree nearby, please tell me.
July 19, 2015
0

found this helpful
Mimosas do not need to be cross pollinated. I had a Mimosa die off this year because of all the rain. They need good drainage.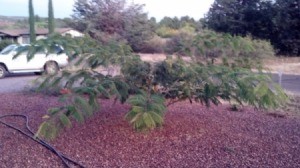 Does this tree need to be banded somehow so that it grows up more so than wide? Mine was planted last December in northern Arizona and is growing like a Jurassic Park type plant. I am just a little concerned about the branches growing in width rather than height. Thanks for your help.
By Nancy
June 22, 2015
0

found this helpful
My mimosa looks like yours. It was apparently a full size tree but was cut down before we moved in here. I have gradually gathered and tied it up because it is in the very small back garden of our apartment. It looks better now, more like a tree and there's room to get on to our patio! I don't know if it will ever bloom. It has been completely cut back to ground level at least twice, to my certain knowledge.
Having a mimosa tree in your yard in the south is fairly common, but there are problems. That it is easy to grow and make beautiful shade fast is a plus. However, you can't overlook that the seed pod litter can be annoying.
They like full sun to part shade and will grow in real shady places. It is considered an understory or medium high tree. It can grow as wide as 20 feet but trimming keeps it in bounds. You can't beat the pretty pink flowers.
I have found that I cannot do root cuttings from this tree, but the seeds start easily and grow fast. If you feed and water regularly, you will have a blooming tree the second year. It will only be 3 to 5 feet but will set a few blooms, even in a pot. Full sun is best.
The leaves fall in autumn. This is the ideal time to prune if you wish to shape. When you trim keep in mind the mimosa has a flat-ish top and fans out on the sides, so keep the design for a good tree. This applies if you have a single trunk.
During dry times you will need to water. In the south, the older trees develop a problem sometimes in real dry weather and don't recover. Watering usually deters this.
In south Georgia, it is considered a pest by some, and a treasure by others, so you can try it. If you don't like it, then you pull it. It can be made into a multi-stemmed plant by radical trimming, and will last longer than a single trunk plant because new ones come up around the trunk. It doesn't send suckers off from the tree.
By gbk from South Georgia
To choose the right tree, you have to be careful to use its proper name as mimosa is also the common name of another beautiful tree. A true mimosa does not survive temperatures as low as 23 degrees F (-5 degrees C)
The tree called mimosa tree is in fact an Albizia. The majority of the Albizias grow in region with maximum low temperature of -10 degrees F (-23 degrees C) and they all resist dryness, but some of them survive lower temperatures like:
Albizia julibrissin Ernest Wilson : survives temperature as low as 5 degrees F (-15 degrees C)
Albizia julibrissin Ombrella or Bourbri : 0 degrees F (-17 degrees C)
Albizia julibrissin Pendula : -10 degrees F (-23 degrees C)
Caring for the Albizia is easy as you only have to plant it in a place where it will be protected from the wind and with enough space, branches can be 5 to 6 meters long. No pruning is needed.
To really appreciate its beauty and the fabulous scent of its flowers, plant it in a place where you can see it from above as the flowers only grow on the canopy of the tree and their perfume goes up in the air, from the ground level you can't smell it and you can't see the canopy covered with flowers.
By Catherine
Do you have to feed a mimosa tree?
By Meria P. from Worthington, IN
November 8, 2014
0

found this helpful
What do you feed a mimosa in northern California redding?
Is there anything we can do for our tree? Its bark is splitting. Will this kill the tree? Thank you.
By Marian A
July 26, 2015
0

found this helpful
I would look under the bark at the wood. I came across this while researching Mimosa trees:
Watch for Wilt Disease
Verticillium wilt is a common mimosa tree disease that causes symptoms such as faded, wilted foliage, branch dieback and, occasionally, death of the entire tree. Removing bark on infected branches may showcase wet-looking dark spots. Help prevent the disease by irrigating your tree during long dry periods, as stressed trees are more likely to develop problems. Prune out dead branches, disinfecting your pruning equipment with a mixture of 1 part bleach to 9 parts water to avoiding spreading the disease. Do not plant mimosa tree in areas where verticillium wilt has been a problem in the past.
Read more : http://www.ehow.com/how_2096933_grow-mimosa-tree.html
Mimosa trees are beautiful when they're blooming. I was thrilled when we moved here to find a huge one in our side yard. We live in the country, zone 7B, and they grow wild here. Be warned, they grow fast, but have weak limbs.
Bees love the blooms, and yellow jackets often make nests in the ground underneath. They are the last to leaf out in spring and the first to lose their leaves in fall; blooms and seed pods make a real mess under the tree and mowing underneath can be dangerous because of the bees, hornets, and wasps that abound there.
We cut ours down about 3 years ago and still are fighting multiple sprouting seeds in lawn, garden, and flower beds. They are very prolific.
By Mary from Benton, KY
Is it easy or difficult to plant a mimosa tree from seeds? I collected some seed pods just outside of my city (in VA) and want to plant them, but I would like some tips. Also, how do I find out if my city or area of the country prohibits or discourages propagation of mimosa trees?
Hardiness Zone: 7a
By Cheryl from Washington DC
October 4, 2010
0

found this helpful
PLEASE check with your local agriculture department before you start planting mimosa seeds! While these trees may be pretty from far away, they are a real PAIN in the clean-up department to have in your yard! The flowers are messy, the leaves are messy, the trunks split easily, ants LOVE to farm the aphids that are attracted to the flower pollen and nectar...
Please be careful where you plant a mimosa tree. They grow really fast, and they attract ants like crazy! Either of these can make the "pretty tree" quite a pest for you, and/or your neighbors.
I just recently was given seed pods from a mimosa tree from Texas. I live in New Jersey and I am not sure if it will survive the winters here. I don't know which variety of mimosa these seeds are from. I do see quite a few mimosa trees around. Can you give me some advice please?
July 31, 2015
0

found this helpful
http://homeguides.sfgate.com/grow-mimosa-tree-seed-43173.html
This is the variety I have in OH and our trees haven't died out from winter seasons. The lime green seed pods that resemble little pea pods are on the trees now. I've always let the seeds germinate on their own and transplant from new starts. Since your state has much colder winter temps, I'd plant the seeds/starter plant on the south side and sheltered from the worse weather if possible. Just not too close to the house or other buildings. These trees sure draw the hummingbirds in blooming season. Good luck!