Read and rate the best solutions below by giving them a "thumbs up".
Recycling Plastic Coffee Cans
I would like any ideas on recycling the newer plastic coffee cans.

Thanks in advance
Maria

P.S. I'm new to the site but love all the creative ideas!

Answers:
Planters and Storing Cookies
10/27/2004
I use them for planters and storing cookies.
By creative_one
Storing Food
10/28/2004
I use them for holding cookies, granola bars, pretzels and other snacks.
By Jay
Storing Bird Seed
10/28/2004
I use them for storing wild bird seed, no more bags to flop over and dump seed all over the garage. Plus, it's easier to pour out of than a bag.
By Marilyn E.
RE: Recycling Plastic Coffee Cans
11/03/2004
Here are a few uses I have tried so far:

as a perfect sized container for homemade baby and cleaning wipes
for storing leftovers in the fridge and freezer
for storing everything from paint to homemade cleaning products
as canisters
as mixing bowls
as serving containers

YOU GET THE IDEA! They are microwaveable and are just like Tupperware to me and at $4.96 at Wal-Mart for the can of coffee... it's almost like FREE Tupperware!

BEFORE USING: fill empty can with cold water and 1/4 cup vinegar and let sit overnight to remove coffee smell.

By Reba Gayle Shurden
For Compost
11/10/2004
I use one for my kitchen compost - egg shells, fruit peels, vegetable pieces - you get the idea. When full I take to the compost pile.
By Audrey.
Catching Rain Water
01/19/2005
I use my plastic coffee cans to catch rain water and gather fresh snow in. It melts and I have rain water or melted snow for my plants, my soaps and lotions I make etc.
By tigerfire42498
Dog Food Scoop
01/19/2005
A lady I used to work with, who breeds fairly large dogs, uses them to scoop up dog food when she's feeding the dogs. She says the handles make it easy to scoop and go.
By calnorth
Hot Chocolate Container
01/19/2005
I make my own hot chocolate mix and I use a plastic coffee container for the hot chocolate. I also use them to water my indoor plants.
By deedon
Toilet Plunger Container
01/19/2005
I cut a slit in the top and put my toilet plunger handle through it and use it as a toilet plunger container!
By sofia
Throwing Away Broken Dishes
01/20/2005
I keep one on hand at all times empty so that if I break a plate or glass I can put the pieces in it to throw away so the shards won't slice the trash bag. cj
By cjgeo
Holding Pencils
01/25/2005
I had a large box of colored pencils get spilled yesterday and the box that they came in got ripped. I just got out an old plastic coffee can and put the pencils in it tip side up. I'm sure I'll find a hundred more uses as I have an in-home childcare and have just started using the coffee out of plastic cans.
By johnsonya@cox.net
For Painting
01/28/2005
The small plastic containers that contain coffee (approx. 13 ounce size) are great for painting. They are small enough to handle easily and have a cap to cover any paint left if you have to stop painting for awhile.
By Audrey
Storing Food
08/10/2005
I have cut a large hole in the top, covered the inside and outside of the hole with strong clear tape (like packaging tape). This way I know what is inside and then they are used to contain large amounts of pasta, raisins, different kinds of flour (like soy). I would like to try to use them for container gardening but haven't done this yet.
By KESB56
Cover With Contact Paper
08/20/2005
Before I use them as canisters I cover them with pretty contact paper that goes with the lid. I use a black marker to mark what's in them. Simply write on the side or the top of the can. I put bird seed in them, tea bags, coffee stored in the fridge and I use them under the sink for compost. Then empty weekly into my compost pile outside. They are great for paint. Pour what you need in it and you can put the lid on when you're finished for the day.
By Natalie17
Covering Labels
12/23/2005
If you want to cover the labels on plastic coffee cans, cut out pieces of craft foam the same size as the label area. The kind that is about 1/8 inch thick and comes in lots of colors. There are even letters and symbols available at craft stores. Just glue it on and you're done.
By Ed
Salt Barrels
01/02/2006
I use my extra cans in my driveway salt barrels. They seem to withstand the extreme cold temperatures without becoming brittle and breaking and, the molded handles help when using gloves. I'd like to see more suggestions along the lines of school use - if anyone has any ideas.
By Ed in WV.
---
Removing Coffee Odor From Plastic Coffee Canisters
I have a good source of large, used plastic coffee canisters with lids. I wanted to use the canisters to store other dry goods I buy in bulk, such as flour, oatmeal, beans, sugar, etc., but I can't get the coffee odor out of the plastic. I had some oatmeal in one, and it definitely gave the oatmeal a coffee flavor.
I've tried washing in vinegar, putting baking soda and newspaper in them, then leaving for a few days and then washing again afterwards. Right now I have a little activated charcoal in one to see if that will work. Any other suggestions on how to get the odor out?
Thanks for all your help!
Sarah from Indianapolis, IN
---
RE: Removing Coffee Odor From Plastic Coffee Canisters
I have tried, with success, pouring in 1/2 c. vinegar and placing the lid back on the container. Then, I let them sit for a few days, giving an occasional shake when I walk by them. I haven't found much else that works. Good luck! (02/22/2006)
By 75043
RE: Removing Coffee Odor From Plastic Coffee Canisters
Fill coffee canister with a couple tablespoons of bleach and fill with hot water. Let it stand in sink for about 30 minutes. Rinse well with cool water. Let air dry. (02/22/2006)
By mkymlp
---
Uses for Plastic Coffee Containers
I have found that the plastic coffee containers you get are great for different uses. I have used them to transport transplanted plants as gifts, storing dry foods such as rice,pasta ect... I have one that I use only for my composting pile. I keep the lid on it and as I accumulate food scraps I just put them in the container and then when it is full take it out side. The snap on lids are great for placing under flower pots and I have also used them for children's snack plates. What other uses have people found for these great containers? Jonnie from Owensboro, KY
---
RE: Uses for Plastic Coffee Containers
I strained all of our old paint into the coffee cans (with a piece of panty hose stretched across the top of the coffee can). Then took stretch wrap, sealed the top with that then duck taped the lid on over the wrap. Eight months later, the paint was just like new! Put a dab of the color on the lid and on the can, so you will know exactly which color it is, I also use masking tape on top of each can with the Brand, date and color, so you can have it matched if you need to. No more rusty paint cans! (06/22/2006)
By Mary, Crown Point, IN
RE: Uses for Plastic Coffee Containers
My son's cub scout troop made bird feeders out of them. They cut out square shapes on 2 sides about and 1 to 1 1/2 inches from the bottom. Then poked holes in the sides on the top to hang with a bent coat hanger. (06/23/2006)
By dpcw
RE: Uses for Plastic Coffee Containers
I sometimes use my plastic coffee containers for "quicky" sewing kits. I keep needed mending supplies in a near by container. I also store art supplies and extra school supplies. I always label them so there is no confusion. I also use one for my "throw away" grease after it is cooled. Then throw away the container with lid on it after it is full. They are also great crayon or marker containers for little hands. (06/23/2006)
By Glinda
RE: Uses for Plastic Coffee Containers
I made a scissors/string kit with one of my coffee containers. I just cut one small hole in top for the string to come through and another larger hole for the scissors to rest in, small enough that the handles of the scissors still are accessible. It has been so convenient. I am about to dedicate a few of them for storage of cat food so that I won't have the messy cat food bag in my way. (01/07/2007)
By Nancy
---
Uses for Plastic Coffee Containers
I have lots of the plastic coffee cans (containers). Folgers and Maxwell House seem to have gone to plastic instead of metal cans. What can be done with them?

Rachel from Buford, GA
---
RE: Uses for Plastic Coffee Containers
I teach preschool and I use mine as storage cans for scissors, buttons and glue sticks and all the craft things like poms and feathers. This way in my craft cupboard it is all together. I cover the cans with paper either wall paper or craft paper and label them! You can make some crafts too by painting them snowmen and santas at holidays or you can decorate and use as a tin to give a gift etc! (01/03/2008)
By KimmyLynn
RE: Uses for Plastic Coffee Containers
It's a little late for Christmas gifts, but maybe this can help out for next year...
http://www.folgers.com/coffees/holiday-canister/index.shtml
Folgers has printable labels to put on the canisters so you can fill them up with baked goods or other gifts. (01/04/2008)
By Trix
RE: Uses for Plastic Coffee Containers
Here's what became of one of mine! (01/04/2008)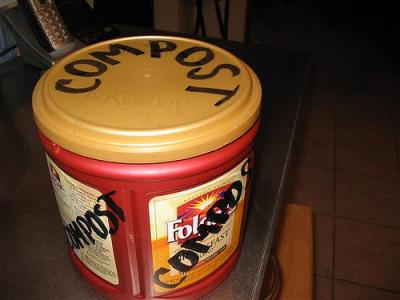 RE: Uses for Plastic Coffee Containers
I like to buy a lot of stuff in the bulk food section of the grocery stores, such as rice, pasta, oats, couscous, cream of wheat, cornmeal, icing sugar, dried lentils, chocolate chips, etc. So instead of all the stuff sitting in a plastic bag I put it in an old coffee container and label it with the name of what is inside. (01/04/2008)
By Lisa
RE: Uses for Plastic Coffee Containers
We had a lot of neighbors over for a summer picnic and I put the steak knives point down in one canister and the same with the forks. It's extra silver ware I have so it is easy to put away and get out again for another picnic. (01/04/2008)
RE: Uses for Plastic Coffee Containers
I have found they are great to store chopped or cut onion in the refrigerator. The odor is contained and doesn't seem to permeate the plastic. (01/05/2008)
By Elizabeth
RE: Uses for Plastic Coffee Containers
I keep one under the sink in the kitchen and use it to drain grease into after frying hamburger, etc. (01/06/2008)
By Cindy S.
---
Uses for Plastic Coffee Containers
I'd like ideas for making crafts out of the plastic coffee cans. I'd like to make useful items to sell at a bazaar. I have so many of these containers. It seems so wasteful to throw them away.
Artlady from Edmond, OK
---
RE: Uses for Plastic Coffee Containers
I wash, dry and save egg shells all winter so that I can spread them around my Hostas in the spring. This keeps the slugs off your plants and the canisters are a great place to keep them. After using an egg, rinse out the shell, let dry on paper towels and then crumble in the can. (06/17/2008)
By PeggyLee
RE: Uses for Plastic Coffee Containers
We use them for piggy banks. My youngest 3 are 5, 4, and, 2 1/2 and it is hard to find any that are not ceramic. Use felt, wrapping paper, construction paper, along with stamps, crayons, stickers, and markers to decorate. A pair of scissors and a slim metal file makes a good hole in the lid and the file smooths out the rough edges. We superglue the lids on the younger 2, but my 5 year old likes to count the money daily. They make them about once a month (even when their other isn't full yet). (06/18/2008)
By momoffour
RE: Uses for Plastic Coffee Containers
I saw some Halloween decorations made from them somewhere online. The cans were spray painted black on the inside and orange on the outside. Then the eyes, nose, and mouth were cut out of the can. With a tea light placed in them, they were very cute and professional looking. This kind of decoration idea can be done for other holidays, too. Paint green and punch holes in shape of tree, yellow and punch holes in shape of star. They look great lined up down a walkway. (06/18/2008)
By huskey
RE: Uses for Plastic Coffee Containers
The containers could be used to make a string of lanterns. Spray paint the coffee can, lid and all, attach it to a string of lights (the icicle Christmas lights). One lantern per little icicle. Of course, the lantern has little holes cut out. Star shaped, circles, your choice. This lantern would protect the lights from rain and snow.
They could also be made into luminaries. They would lie on the ground and would line a walk-way, wall, or path. Spray lantern and the wire any color. They could be sprayed orange in the fall for a pumpkin party. (06/18/2008)
By Jan
RE: Uses for Plastic Coffee Containers
I have seen them painted and decorated and filled with different items to be sold at church jumbles. I have seen art kits, first aid kits, sewing kits, gardening kits, and so on. (06/19/2008)
By Kerry
RE: Uses for Plastic Coffee Containers
I remember a website last Christmas that said if you go on the website of the coffee company, they have ready made seasonal stickers you can cover the cans with. They fit perfectly over the Folgers labels. Look up the website and see. (06/19/2008)
By Sharon
Utensil Holder
Try using it to hold your under sink items, such as that wet brush after scrubbing pots. (10/21/2008)
By By Kelly
RE: Uses for Plastic Coffee Containers
Here's a really neat project I found for coffee cans. I will be posting all the details on this later. But, for now, here's a picture. It's a birdhouse made out of a plastic coffee can. (11/28/2008)
By Artlady
RE: Uses for Plastic Coffee Containers
I've done this once and plan to do it several more times. I taped off around the label part of the plastic can and spray painted the label with "Chalkboard" paint available at the local Walmart or home improvement store. Then I can use the can for whatever I want, by writing on it with chalk. So far I've used mine for raffle and door prize drawings for our PTO meetings and functions. (12/27/2008)
By Vikki
RE: Uses for Plastic Coffee Containers
I use them for when someone is sick. The kids use them for sand toys. The hubby stores tools in them. They are good for keeping toilet paper dry when camping. I also, put all the sandwich meats and cheese in them to keep them dry in the cooler. (03/02/2009)
By crunchberry
RE: Uses for Plastic Coffee Containers
I also use mine as compost buckets as Melody has and find that odors do not waft out, because of the tight seal. These are perfect as paint buckets, small toys, and blocks organizers. I told the kids that the coffee odor was the smell of "magic". (05/14/2009)
By captarlo
RE: Uses for Plastic Coffee Containers
I am going to have some fun. I have collected a lot of the Folgers plastic coffee containers. I think I will go to the store and purchase some paint for plastic and design my own flower pots; punch holes in the bottom and use the lid to catch drainage. (07/12/2009)
RE: Uses for Plastic Coffee Containers
I use the red plastic containers for the "dead" batteries that are in need of being charged. Once charged they go into the green containers and are ready for use. (08/01/2009)
By Flashman
RE: Uses for Plastic Coffee Containers
A butt can for those who smoke on the porch. Add a little water to the bottom and they can put their cigs in them when done. (08/01/2009)
By Reeseewi
RE: Uses for Plastic Coffee Containers
I have a limited space for all my crafting supplies. So I store my supplies in them and also I save several back to use for the small projects I am working on. We have to drive almost 100 miles to our doctor's office so I will pull out a couple of things to work on 1 for the ride up 1 for waiting room time and another for the ride home and by the time we are home I have 3 projects almost finished. (10/04/2009)
By dcsprsmm
---
Removing Odors From Plastic Containers
I buy coffee from the warehouse store in very big plastic containers.