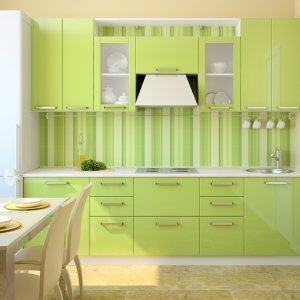 Organizing your kitchen is tough even in a large kitchen. It is even more important to organize a small kitchen, where space is limited. This is a guide about organizing a small kitchen.
Ad
---
Solutions: Organizing a Small Kitchen
Read and rate the best solutions below by giving them a "thumbs up".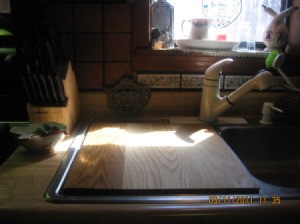 My husband constructed two wooden cutting boards to fit my double sink to increase my counter space. The stove is to the left of the double sink; there is no space to the left of the stove for cooking preparation. The wooden cutting boards were treated with a sealer that will allow food preparation. I keep the left sink with a sink cover over it for all food preparation (cutting, slicing, dredging, etc.), plus it is a convenient place to put a cake pan that comes out of the oven or bread pans to sit on after baking bread.
When our family comes for a holiday meal, birthday meals or other guests come for a meal, I use both of these sink covers to complete my buffet area that I make on my "L" shaped kitchen counter. The large entree items are arranged on the stovetop burner covers on the stove; the buffet continues to the right to the end of my "L" shaped counter with the beverages (the end of my kitchen counter is next to the refrigerator for convenience of filling the ice bucket with ice).
This idea originated from having a travel trailer and having sink cutting boards over the double sinks in the trailer. It saves time in food preparation and expands my kitchen buffet area.
By JOSE from Collierville, TN
My kitchen has lots of floor space, but hardly any cabinet or counter top space. I use a chest of drawers to give me extra counter and storage. It has a hard easy to clean surface and holds can goods, aluminum foil, zip bags, etc. A tall, narrow one might work for an even smaller kitchen.
By tnphoenixrising from Clarksville, TN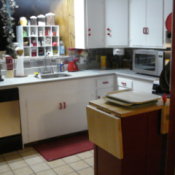 My passion is my kitchen and making it easier to work in, as it is small. I just try different things. Some work fine, but if not, I try something else.
I bought one of a set of square boxes from the hardware store, and put it on my upper counter to give me a space to slide things in. They are handy, exposed, and easy to use. I will enclose a picture so you can see just what I did.
Source: I saw this shelf or box in the store, so I just bought at Lowes.
By Bonnie from Brownsville, TX
I recently moved from a 3 bedroom house to a single wide mobile home. I found I have much less storage space in my kitchen so this is what I did. I don't use my oven regularly, so I store my pots and pans and lids in the oven. In order to cut costs on my electric and water bills, I do not use the dishwasher. The top tray makes an excellent place to store the small items like measuring cups and spoons, long handled forks and spoons, tongs, and can opener. The bottom is large so the large dishes, baking pans and cookie sheets fit with no trouble. I also hang a small hand towel and a dish towel over the door.
This puts everything in a place, out of sight, and everything is quickly reachable. This worked so well that I bought a small roll of that rubber mesh used for shelves and cut it to fit the top tray so the measuring spoons and other small items wouldn't fall through. Works great.
By Clynnaltemus from Inglis, FL
I have very little storage space in my kitchen, so I'm always looking for creative ways to eek out just a little more space. Cutting boards and pan lids were always particularly difficult to store, until I found that the upright manila file storage racks sold for office organization work great for upright kitchen storage.
The rack of lids is stored in the cabinet behind my frying pans. I can reach over the pans or easily remove them to get to the lids, and it is so easy to find the right one. The cutting boards go behind the mixing bowls, I just pop out the stack of bowls and slide out the cutting board I need.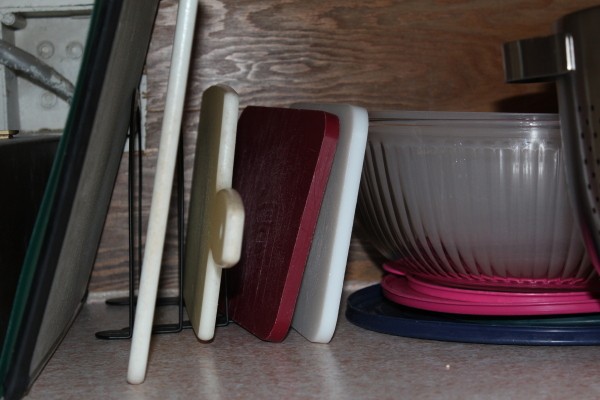 By Stephanie from Hillsboro, OR
There are lots of good ideas for organizing a small kitchen space at "Suzy' Simple and Perfectly Organized Kitchen." I took the vinyl molding spice rack instructions there and adapted it to fit my space. I used the space just between the counter top and the cabinets.
The spice rack was really simple to make, with just vinyl molding (wood could also be used) and brads. My version doesn't involve quite the drop that Suzy's would, should you ever miss and send a bottle flying, since mine is over a counter top. It works for me!
Source: This spice rack is adapted from Suzy's Simple and Perfectly Organized Kitchen.
By Kirsten from Logan, UT
I use an oval metal planter that has a plastic lining by my kitchen sink for my hand soap container, dishwashing soap container, stoppers, and scrubbers. They are all in one place and in a decorative container. The soaps are also in decorative containers and it looks pretty.
By Susan from Chattanooga, TN
I have a very small computer desk that didn't have enough surface space. It has one drawer. I had a small metal cookie sheet that I wasn't using, so I covered it with a piece of an old plastic tablecloth (using tape). You could also use a plastic tray or even a cutting board. Basically, whatever will fit on top of the drawer. I just happened have the cookie sheet that fit perfectly.
I placed the covered cookie sheet across the opened desk drawer. Doing this, I created more desk surface space. I can remove the cookie sheet very easily and store it next to my computer or lift it to use the drawer. I normally keep it on the opened drawer. If there is a problem with the sheet or tray sliding, glue pieces of that "grippy" liner that is sold in "Dollar Discount Stores", on the top sides of the drawer. Just check to be sure the drawer can still close. If ever I need to use the cookie sheet, I just have to un-tape the piece of tablecloth and wash it. This idea can also be used in the kitchen by placing cookie sheets or cutting boards on an open drawer.
By mkymlp from NE PA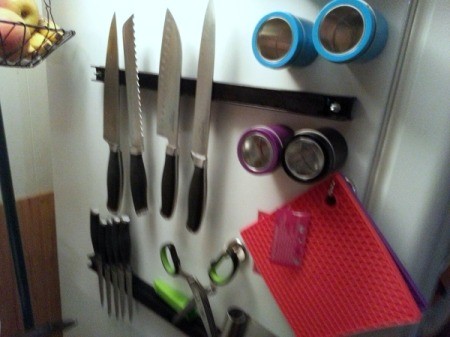 In addition to making a magnetic knife holder, I also purchased little magnetic spice canisters to hold the spices I use most often. Like the ones that I have recently dried from the garden, or that are "over flow" spices that I bought extra of, like exotic peppers or salts.
I decided to get magnetic hooks to hold pot holders and kitchen scissors. Now the pot holders and spices are right next to the stove where they should be. Bye bye counter-cluttering pot holders and spice jars. You can also use the hooks to hold spare keys.
I bought magnetic clips to hold coupons or special papers we don't want to lose. For some reason even really powerful refrigerator magnets always seemed to drop papers.
The other thing I purchased was a dry erase board to write down things we are out of. That way whoever goes to the store next knows to buy more.
To match my kitchen, I have a glass cutting board on a plate hanger right at my counter. Near my table is another with place mats, and two hot plates for the table in a multi-level plate hanger.
I love my Norman Rockwell tray that hangs above the refrigerator in another plate hanger, beside the baskets for serving guests beverages and snacks. Much of what I use on a daily basis is hanging decoratively in my kitchen and dining area.
My husband and children use them and put them back because they are so accessible. I love it this way and will never go back to hiding things in cupboards!
by Chrissy
I live in a very small house and the kitchen is tiny. I do a lot of freezer cooking and holiday baking so I never have enough counter space for everything. What I have been doing is to pull out the top drawers and using them to rest my cookie sheets on. When the cookie sheets aren't used for baking they can still hold ingredients or utensils.

By K. Cooper