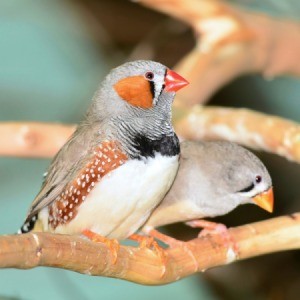 In my opinion, zebra finches are the most enjoyable birds there are! Now that I no longer have a cat, I hope to get some more! They are very easy to take care of. Best of all, the sounds they make are so soothing to listen to.
The only thing is, like rabbits, if you're not careful you will be over-run with birds before you know it! I started out with a pair, and within just a few months I had 7. Their first clutch hatched 5 healthy babies. I learned to separate the males from the females, and never had that problem again.
As far as caring for them, they do need a large cage. I believe that all birds need a large cage. The larger the better. However, when shopping for one, you need to make sure the wires are close enough together that the birds can't squeeze out between them. A parakeet cage usually works well, as long as the wires are no more than 3/8 inch apart.
The cage needs to be large enough to allow the birds to fly. There should also be a wire grate at the bottom with a tray underneath to put the paper in. This paper should be changed at least weekly or more often as needed. I do not believe in clipping a bird's wings, any bird. If you aren't going to allow them to fly, why have a bird? That's what they were created to do.
Once or twice a week, I would release my birds into a bedroom, and allow them to really fly and stretch their wings. All the windows and any mirrors would be covered to prevent them from trying to fly through them and hurting themselves. I would put their cages in this room with the cage doors open, with food and treats inside. Eventually the birds would all go back into the cages on their own. This usually took several hours, but the birds really enjoyed their time out.
They need to have fresh clean water at all times. It should be in a bottle with a small cup at the bottom. It needs to be small enough so the birds can't sit it in, because they will try to take a bath in it. I bought a bird bath that attached to the front of the cage and let them take baths twice a day.
As for diet, specialized pelleted foods are the best, and should consist of 60-70% of their diet. Fortified seeds can be used but only in moderation as they are higher in fat. Daily, you should give them fresh dark greens, slices of raw apples and oranges, grated carrots and sweet potato. Remove any of these that have not been eaten after 24 hours. DO NOT FEED them avocados, fruit seeds, chocolate, alcohol, or caffeine, as they can create major medical problems for the birds. My birds' favorite treat was spray millet. They loved them! They also need a dish of grit to help with digestion. Also, do not place food or water dishes under the perches, as their droppings will land in them.
Perches of various dimensions should be provided. I went outside to my trees, and cut different size branches off, and used those for perches. Using these natural branches also helped to keep their nails trimmed, too. The variety of branch sizes helps to exercise their feet.
Once a month, the entire cage should be thoroughly washed and dried. A good time to do this is while they are flying around the bedroom.
Do not place the cage directly in front of a window that gets a lot of hot sun, or anywhere that might have a draft. This includes from a fan. Birds are highly susceptible to cold and heat. The cage should not be placed on the floor, but in an area that is well lit. I have kept my cages across the room from north facing windows, so they got lots of light, but not too much. An east or north facing window would be fine, as long as the amount of sun is monitored. If it gets to be too much, pull a curtain closed. Or if it's just a bit too much, a sheer curtain would be enough.
Use a cage cover in winter, it will help to keep the warmth inside the cage. I never used it during the warm months though.
When I first got my birds I bought a book about the care of finches. But there is tons of information online that you can get for free, and print it out and create your own book.
Source: My own 7 zebra finches.
By Cricket from Parkton, NC
August 25, 2011
0

found this helpful
I love my finches. The pair I have also produced 5 healthy babies,which I rehomed.. When I had all 7 of them together,I had them in a larger cage and they could fit out through the wires but they wouldnt even try unless i was trying to pick one of them up, then they would go through to freedom.They are the sweetest little birds.I also have two cockatiels and the little finches just mkind thier own business and pay the biger birds no mind!Finches shouod have been named love birds. Mine stay side by side and hug and kiss all the time,but the male bosses the female around."Just like a MAN!"
My finch was left for seven days while we were on vacation. We provided enough food and water for her. Now she just sits in her food and poops and doesn't like to sit at the top of her cage anymore. What's wrong with her?
By Marilyn K.
May 5, 2015
0

found this helpful
Don't worry about the poop on the food. Birds kinda poop where they want so it's okay. But the "Doesn't want to sit on top of the cage" part - think she/he might be sick or something. This is my theory.
May 5, 2015
0

found this helpful
Sounds like she may be sick.
You don't mean you left her alone for seven days, I hope? It's best to put her in a small cage and let someone take care of her, even if they just give her fresh water every day, fresh food about every other day, and change the paper at least once.
You also need the temperature to be relatively high for finches, as they are natives of places like New Zealand. Did you turn the heat down when you left? Did any of the nights get cold?
Bacteria from poop in the water can grow over a matter of days, causing illness. Wipe the slimy stuff out of the water container every time you change it. When the food is about half shells, not whole seeds, change it.
In case you don't already know, finches need grit to eat as well as food. On warm sunny days give them a bowl of water to bathe in.