Caring for Zebra Finches
These beautiful little birds can be an excellent pet option for a small home or apartment, but they do require special care. This is a guide about caring for a zebra finch.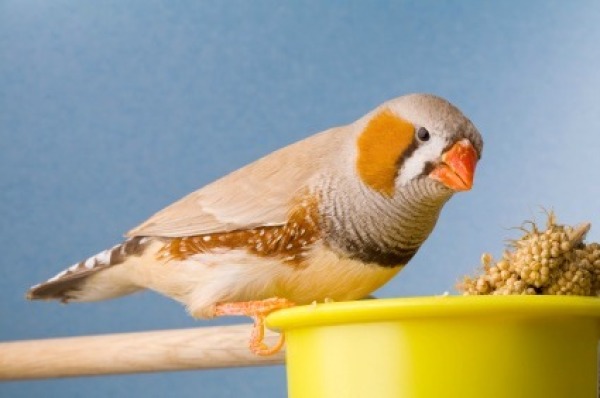 Filter

: All Articles
Sort

: Relevance
I have recently bought a female zebra finch and I have a 10 year old male white zebra finch. He is completely white with no zebra stripes on the tail and no tear drop. I am wondering how long do I need to keep them in separate cages, so that they get to know each other before I join them together. Can someone explain to me the steps that I need to do so that I can keep them together without them fighting.
Also a strange thing happened, I've put the male inside the female's cage since the male is not freaking out and is tamed and she freaked out and landed next to him. He kinda picked her a few times with his beak and I seperated them quickly. I was not sure if they were fighting or what. She didn't freak out when he did that, she just stood there. Can someone explain what he was doing and the steps? Thanks in advance.
April 11, 2016
0

found this helpful
Try it again. They are just meeting!
June 22, 2016
0

found this helpful
He was approaching her in a courtship way testing the water so to say
July 13, 2016
0

found this helpful
I always add new finches by just putting them in the cage. Have had no problems except one jumped on another three times. Now all is well. Have four zebras and two society.
I got 1 couple of Zebra finches (male and female) about 4 months ago. I had a small cage at first, but then after reading more about them, I bought them a big one and they were happy with it. That's when they started mating and the female would lay eggs about everyday into the food container and sit in it. I did not want them to nest and that's why I did not get them a nest, so I would throw the egg away, but as soon as the next day there would be another egg. This lasted for about 2 months with an average of 3 eggs per week. Now that has dropped to about 1 a week. The female stopped moving like before. She would sit in the food container all day with just a couple of minutes of exercise in the morning, but staying still in the food container all day. I try to scare her sometimes to come out, but she would go back in right after that. What seems to be the problem?
May 22, 2016
0

found this helpful
I think she is depressed.
If you don't want birds to reproduce, do not get a male and female. It is natural for them to do this.
Your female bird should get along with other females. Will the pet store let you exchange your male for a female bird? The male would rather be with a female that is allowed to mate, and I'm sure the female would rather not prepare to care for babies that never appear.
June 16, 2016
0

found this helpful
First you have to realize, when you get an animal. You have to get the pet concept out of your head. because you will never have adequate compassion for the bird.
Animals have the same feelings as humans. Can you take a cub from a lioness or a puppy from a dog. By you throwing the eggs away, showed no compassion at all for your bird. And never forget, animals can sense your feelings as we can sense someone who is angry around us. as I stated. We have to get out of the mind frame of calling animals pets. Your will bond much better without that mind frame.
July 19, 2016
0

found this helpful
you can't let her lay eggs like that she will become egg bound and die ,boil some egg, and smash up the shells I let them air dry then go over them with a rolling pin sprinkle the shells in a separate dish not in her food . feed her the egg also , remove what ever she is laying the eggs in from the cage if you have a pair you can not give them anything that resembles a nest they will keep breeding and laying eggs if she keeps laying eggs you need to separate them or she will die from laying that many eggs constantly
I knew I had an egg in the nest but was away and when I came back, I saw a baby zebra finch already hatched. This is the first time an egg as hatched in my aviary. It is starting to get its baby feathers and I'm not sure how old it is. Do you know how old it is? And how do I know when it hatched? Do I have to do anything or buy any different food for the parents to feed it? Is it looking healthy or not? I don't know much about baby finches so please, any tips, tell me!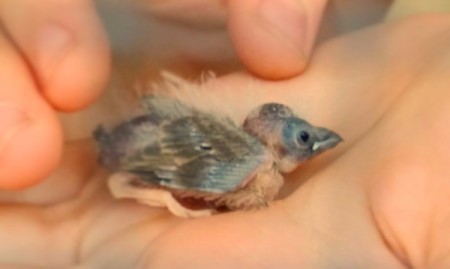 March 26, 2016
1

found this helpful
I'd say about 15 days old.
Be very careful messing with it. It seems healthy, but they are VERY delicate. You wouldn't want to hurt it by messing with it too much. The parents know what to do.
You don't need different food. Just make sure your birds have grit and a calcium supplement like a cuttlebone. And of course fresh water.
March 27, 2016
0

found this helpful
Thank you so much, this is the only time i have touched it and the only one. I won't handle it too much anymore. Because it is the only baby hatched and in the nest, is it warm enough? How do i know its healthy, anything you can tell me to keep an eye on it?!?
March 27, 2016
0

found this helpful
Seriously, don't keep too close of an eye on it. The parents may abandon it if they feel you are interfering too much.
I appreciate that you want to take care of the baby. That's good. But nature has provided bird parents for that. If they do their job properly, the baby will be fine. If they don't, it won't. There won't be anything you can do either way.
Chances are it will be fine, though.
Recently I had a couple of finches, a male and female couple, who had two male chicks. They were on their second hatch when one day I came home from camping and three were dead. The chicks some how survived, but the only adult left was one of the young males. He seems to be trying to take care of the chicks by sitting on them and feeding them, but I don't think he's can do this by himself. If I buy him a mate do you think she will help him take care of the chicks?
May 10, 2016
0

found this helpful
Always separate the breeding pair into a separate cage with a nest box when breeding. Other birds will kill the parents & or babies. I doubt the a new female will help rear the babies. Possibly the male is doing a good enough job to save the wee ones. As a bird breeder you will need to learn the skills of hand rearing. Good luck.
May 11, 2016
0

found this helpful
A new mate would only distract the young male with "other thoughts." I wouldn't try to hand raise them if you know little about it. They are very tiny and easy to injure. It is possible one or two of the babies will still survive since your bird seems to have the instincts needed.
In the future, separate the nesting pair from the rest as petlover said, and be sure to maintain a constant temperature in the house while you are gone. Also, if you are gone more than a day hire a pet sitter to change food and water.
I am new to finch ownership. I bought a large cage which has a deep base with pull out trays and two feeders in the bars and one water feeder in the bars (the ones with a clear cap). I have one female Zebra finch and one male and one female Bengalese finch.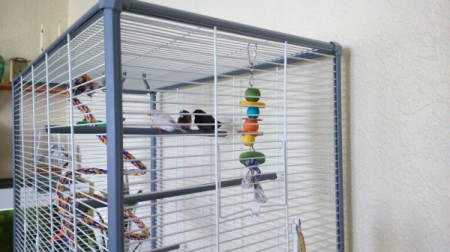 The pet shop told me they love to bathe, but I have tried a clip on large bird bath (with clear lid), small terracotta, small stainless steel, and plastic round trays all on the floor to no effect. I even tried putting it onto an upturned small plant pot to raise the height to no avail. All have been filled (2 cm) with warm fresh tap water.
They don't mind being sprayed with warm water from a spray bottle, but as the pet shop said they loved to bathe I was wondering where I am going wrong. Other than that they have settled in really well, and are happy and healthy.
August 17, 2015
0

found this helpful
Now I see you said 2cm which is about right. As long as they are happy, I wouldn't worry.
January 13, 2016
0

found this helpful
do not worry they will get used to it you bathe them on the first time and then they will do it on there own
Read More Answers...
My finches are officially parents and have 2 little hatchlings, it's my first time having bred birds and I'm not aware of the necessary precautions I would need to make sure of. I read around online that people do "nest checks" from the moment the eggs are laid til they are fledglings. Also I want to train the babies to be human prone, not to skittish and timid like the parents.
I greatly welcome any concrete information I can get.
September 19, 2015
1

found this helpful
Unfortunately, Finches are one of the wildest bird breeds that people keep as pets. They are considered extremely difficult to adapt to humans and are almost always skittish.
You can't hand raise these birds as the babies are smaller than peanut M&Ms and can easily be injured.
You can provide fresh food and water, a cuttlebone or crushed eggshell, and grit.
You can keep an eye on the eggs, but honestly, I think the people you describe may not be doing the right thing. A bird is extremely protective over her nest and babies and gets stressed out when people interfere too much. If she gets too stressed she may just decide to abandon the nest. Once a day with a flashlight when she goes to eat should be fine.
Related
© 1997-2016 by Cumuli, Inc. All Rights Reserved. Published by
ThriftyFun
.
Page
generated on September 10, 2016 at 1:07:40 PM on 10.0.0.222 in 5 seconds. Use of this web site constitutes acceptance of ThriftyFun's
Disclaimer
and
Privacy Policy
. If you have any problems or suggestions feel free to
Contact Us
.