One great way to use bananas is in making banana pudding. Once you have tried homemade banana pudding, you'll never want instant pudding again. This page contains recipes for banana pudding.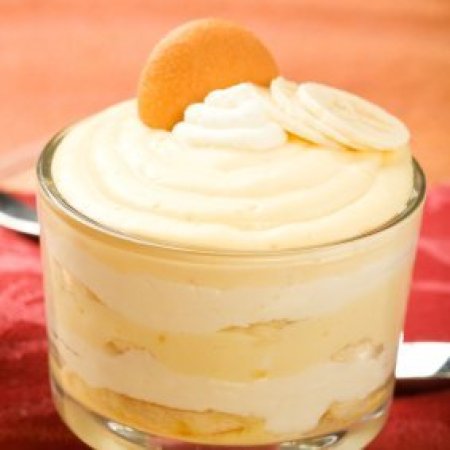 By Peggy McBEe 4 3
A new twist to Banana Pudding. My family begs for it.
Ingredients:
2 three oz. size of Jello cook and serve vanilla pudding/pie filling
Four ripe bananas
Four cups milk
Six slices dole pineapple
One box Nilla vanilla wafers
Directions:
Cook pudding, low heat to prevent scorching, as directed on package. Meanwhile, layer "Nilla" vanilla wafers in bottom of large bowl. Then slice two of the bananas and put on top of wafers. Next cut up 3 slices of pineapple and put on top of bananas. Make another layer of wafers, sliced bananas, and cut up pineapple. Place wafers in a circle around the top of the mixture. Pour the pudding over the mixture slowly so it will seep to the bottom. I sometimes shake the bowl gently so the pudding will go to the bottom. Leave out on counter for approx. 30 minutes so pudding will soak into the wafers. Then refrigerate. Best if made night before using. Great for church socials.
Servings:
10
Time:
30 Minutes Preparation Time
15 Minutes Cooking Time
Source: This was my own creation because we love all the ingredients.
By Peggy M. from Jesup, Ga
By Robin 5,893 29
Ingredients:
8 oz. cream cheese, softened
1 can sweetened condensed milk (14oz.)
1 pkg. vanilla instant pudding mix (6oz.)
3 cups cold milk
1 tsp. vanilla
8 oz. whipped topping
1 pkg. vanilla wafers
6 large bananas, sliced
Directions:
Beat cream cheese in bowl. Add condensed milk, pudding mix, milk, vanilla and whipped topping; mix well. Layer vanilla wafers and bananas in 9x13 inch dish. Top with 1/2 of the pudding mixture. Repeat layers. Refrigerate overnight. 12 servings.
By Robin from Washington, IA
By teenaweena 5
It's a warm comfort food that is a nice change from traditional pie.
Ingredients:
2 whole eggs, slightly beaten
2 cups half and half
1 tsp. vanilla
1/8 tsp. almond extract
1/2 tsp. cinnamon
1/4 tsp. salt
1/8 tsp. allspice
2 cups day old brioche, cut into 1 inch cubes
1/2 cup packed light brown sugar
3 medium ripe bananas, smashed
1/2 cup chopped almonds
1/4 cup rum
whipped cream
Directions:
Combine eggs, milk, vanilla, cinnamon, salt, and allspice. Stir in bread. Stir in brown sugar and bananas. Combine almonds, rum, and stir in into bread mixture. Pour in an 8 3/4 inch cake pan. Put cake pan in a larger pan and pour hot water 1 inch deep into pan. Bake at 350 degrees F for 45-60 minutes serve warm with whipped cream.
By Teenaweena from Beaverton, OR
By Irishwitch 390 18
Ingredients:
1/2 cup granulated sugar
3 eggs, separated
2 Tbsp. four
1 tsp. vanilla extract
1/4 tsp. salt
3-4 bananas
2 cups milk
Vanilla Wafers
Directions:
Pudding microwave directions: In a 4 cup glass measure, mix together sugar, and flour. Add milk, mixing into sugar-flour mixture with a wire whisk. Cook on high for 2 minutes, stir with whisk. Continue cooking and stirring until thick, checking every 2 minutes, about 8 minutes.
Separate the eggs; putting egg yolks in small bowl and whites in medium bowl for meringue. Add small amount of hot filling to egg yolks stirringwell, pour into filling mixing well, return to microwave and cook 1 1/2 minutes to 2 minutes on high, stirring twice while cooking. Add vanilla and butter, stir to mix and to melt butter.
Line bottom of a casserole dish with Vanilla Wafers. Pour small amount of custard onto Vanilla Wafers, layer sliced bananas on top of custard, then continue with layers until all custard is used. Top with meringue made from 3 egg whites and 6 Tbsp sugar. Brown in 350 degree F. oven for 15 minutes.
By Jodi from Aurora, CO
By Irishwitch 390 18
Ingredients:
24 Nilla Wafers, divided
2 cups cold milk
1 (3 oz.) pkg. JELL-O Banana Cream Flavor Instant Pudding and Pie Filling
3/4 cup thawed Cool Whip Whipped Topping
1 medium banana, cut into 20 slices
Directions:
Crush 20 of the wafers tor form coarse crumbs; set aside. Pour milk into medium bowl. Add dry pudding mix. Beat with wire whisk 2 min. Gently stir in whipped topping.
Layer half of the wafers crumbs and 8 of the banana slices evenly in four individual parfait glasses or individual dessert dishes; cover with half of the pudding mixture. Repeat layers, reserving 4 of the banana slices for garnish. Cover and refrigerate parfaits at least 15 min. or up to 4 hours before serving. Wrap reserved banana slices tightly in plastic wrap; refrigerate until ready to use.
Top each parfait with 1 of the reserved wafers and banana slices just before serving.
Great Substitution Prepare as directed, using JELL-O Vanilla Flavor Instant Pudding and Pie Filling.
Source: An old Jell-O cookbook
By Jodi from Aurora, CO
How do you make banana pudding using Eagle Brand milk and whipping cream?

Jessie from Dallas, TX
---
Most Recent Answer
By guest (Guest Post) Flag
December 2, 2008
My mom makes it this way:
1 box instant banana pudding mix (prepare according box directions)
1 can sweetened condensed milk
1 container whipped cream
vanilla wafers
bananas.
It is really rich and is always a hit!
---
Ingredients:
1 large (or two small) box of sugar-free instant vanilla pudding
3 cups skim milk
8 oz. fat free or lite (they count the same) sour cream
12 oz. fat free or lite Cool Whip
6 bananas
1 box low fat Nilla wafers
Directions:
Mix pudding and milk. Mix in sour cream. Fold in cool whip. Layer wafers, bananas, pudding ending wafers on top.
Source: Weight Watchers, 1 cup is only 3 WW points
By Cindy from Ball Ground, GA
Ingredients
Bananas, sliced
Vanilla pudding, cook style or instant
Vanilla wafer cookies
Directions
In saucepan (mixing bowl for instant,) prepare pudding according to package directions.
Line the bottom of a large bowl or dish with whole vanilla wafers. Crumble a few wafers and set aside. Lay a layer of banana slices over the layer of wafers. Pour enough pudding over this to create a layer of pudding over top of the wafer and banana layers. Repeat this process until the bowl or dish is filled. Sprinkle the crumbled wafers over top.
Chill at least two hours before serving.
Source: This is the recipe my mom used for my entire childhood. She died of cancer on 5/29/06. I honor her frugal memory by submitting it here.
By Lelia Jo from Springfield, OH
By Beth 1
Ingredients
1 small Sugar-Free or Regular Instant Vanilla pudding
2 cups milk
1 8 oz. Sugar-Free or Regular Cool Whip
4 bananas, sliced
1 box Sugar Free or Regular Vanilla Wafers
Directions
Layer Vanilla Wafers in 8x10 inch dish. Layer sliced bananas. Mix pudding and milk for 2 minutes and pour over top of bananas. Top with Cool Whip. (I usually mix the pudding mixture and Cool Whip together) Cover and chill.
By Beth from New Johnsonville, TN
Mix milk and instant pudding; add sour cream and two thirds of the cool whip (save the rest for topping). In a 13x9 inch size pan, put in layer of vanilla wafers, layer of bananas and cover with half of pudding mixture.
Pour milk into a large bowl,and add dry pudding mix. Mix well and let stand about 5 minutes. Arrange half of the wafers on bottom and sides of a 2 quart serving bowl. Add layers of half banana slices and pudding. Repeat all layers. Spread the topping over the pudding. Refrigerate until ready to serve.
This is a great way to use your over-ripe bananas other than banana bread, and a healthy way to boot. So simple!
Ingredients:
1 banana
1 Tbsp. cocoa powder
nuts (optional)
Directions:
Put banana in food processor with the tablespoon of cocoa. You have a fast pudding. Use a frozen banana and it is like ice cream. Add nuts and it is Rocky Road.
Servings:
1
Time:
1 Minutes Preparation Time
0 Minutes Cooking Time
Source: Everyday Cheapskate
By laniegirl from IA