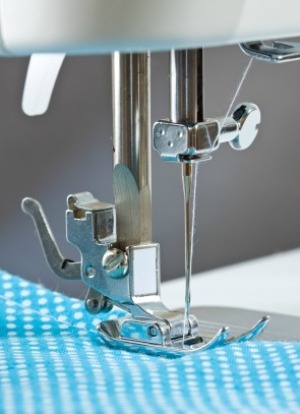 Unfortunately sometimes your sewing machine requires troubleshooting and repair for a variety of problems, such as jamming. This is a guide about repairing a sewing machine.
Ad
---
Solutions: Repairing a Sewing Machine
Read and rate the best solutions below by giving them a "thumbs up".
If your sewing machine is beyond repair, it may be time to buy a new one. This Brother sewing machine is easy to use and jam resistant.
Brother CS6000i Feature-Rich Sewing Machine
"Little problems with the sewing machine can be very irritating and time consuming. They can happen to even the most experienced seamstress.

The next time you have machine troubles, check this list to see if you can determined the cause of the difficulty and correct it. It may save you a service call and save you time as well. If you can't correct the trouble, it is wise to seek professional help." - College of Agriculture and Home Economics New Mexico State University

View This Page
This page is not on ThriftyFun, but we had to share it. Be sure to come back and rate it.
Give a "thumbs up" to the solution that worked the best! Do you have a better solution? Click here to share it!
Questions
Here are questions related to Repairing a Sewing Machine.
My sewing machine keeps jamming, down in the bobbin area. It won't sew even an inch. I look and see extra thread jammed down there by the bobbin, and have to yank it all out and start over, but it keeps jamming. How can I fix this?


Thanks!

DJ_DJ
Ad
---
---
Best Answers

By mslisamurai07/11/2011
I want to say thank you so much for all the veterans' comments posted to the thread. I'm a newbie and I've learned so much. Apparently my issue was my bobbin itself, I had the taller one in my machine and that's why it kept jamming. Thanks again for all your help!
---
Best Answers

By MoMo (Guest Post)05/08/2007
I had the same problem last week with my Kenmore machine. It's fairly new and I haven't had any problems except what you're talking about. I was working on my prom dress last week and I couldn't sew more than a few inches. I was about ready to take the whole machine apart after a few hours (I love taking things apart anyway, but only three days before prom...), then I watched my needle (without thread) very closely and noticed that it was knocking on some of the interior metal. I finally realized that I was using a needle that was way too weak for the fabric density and it was being bent just a lil' too much. As soon as I got a thicker needle, I never had another problem with it. I went through three brand new needles before I figured this out. So you may just need a thicker needle. Hope this helps.
---
Best Answers

By Marna (Guest Post)04/07/2007
Sometimes machines need tune-ups, just like a car. But try this first: Take the bobbin out and try pulling on the thread. Does it come off the bobbin easily or seem really tight?

If it seems really tight, on the side of your bobbin, there should be a little tiny screw for which you have a screwdriver somewhere. In teeny tiny increments (like 1/8th of a turn at a time) loosen the screw, put it back in the machine, thread, and sew and see what happens. You may need to do it a couple of times, but only do litle, little, little turns.

If this does nothing, chances are the whole bobbin assembly is out of alignment and the machine needs to be serviced. I have my Bernina "tuned up" every two years.
---
Best Answers

By Amber (Guest Post)04/05/2007
1. Check for fuzz and use the brush to remove it
2. Make sure the thread take up lever (hook that goes up and down) is threaded. Mine did the same thing and somehow the thread got loose while sewing.
3. Oil the machine as per manual
4. New needle if the others don't help

Hope those help.
My machine would not sew, so I opened it up dusted and oiled it, now it only moves at a snail pace. Help?

By Pat A
Ad
---
---
Best Answer

By Frugal Sunnie [11]03/23/2015
I teach sewing here in Scotland, and do some repair-refurb on vintage machines. Your problem sounds as though it could be in the foot control - a fraying wire, 'gummy' connection or loose wire. But it could also be in the machine where the connection is made between foot control and machine. Only a trained tech will be able to quickly and relatively inexpensively determine the problem and solve it.

This really isn't a home sewer DIY. You could spend a lot of money replacing the foot control only to continue having the same problem. The best thing to do is take your machine (and foot control) to a qualified repair tech. Be sure to get an up-front estimate, and ask what a total servicing would cost, too. You'll be amazed at how well your machine sews after a proper servicing, and a good tech will give you a heads up regarding developing failures.

Word of warning - vintage sewing machine parts can be difficult to source no matter what country your machine is sewing in. Many of us techs use salvage parts we find on jumble and car boot (flea markets in the US) sales. The trouble is these parts wear out quickly, and as we can never be sure of the conditions these parts laboured under with the original machine owner, we can't vouch for the longevity of the part.

Some parts are universal (but not many) and are 'new-milled', making them a lot more reliable and a lot more expensive. Hard to find, too - a good repair tech will know where to find them, and will tell you if the replaced part is new or salvage - if he/she doesn't say, be sure to ask!

I can look at a machine and on the spot be able to advise my students if the machine is worth fixing or should be replaced by a comparable new model machine that comes with the bonus of being under warranty.

The only vintage machines worth keeping forever are the old treadle and hand crank models as those parts last centuries - I have several:)

If the machine is a 'modern vintage' (meaning it was built in the last half of the 20th century or early part of the 21st) and runs on electricity) your gran sewed your christening-graduation-wedding dress on, you may be willing to keep 'er running no matter the cost, but for the most part, after a certain point it's best to make that a display piece and buy a modern machine for reliability.
Why does my sewing machine keep snapping the needle thread? It is good quality thread, the machine is threaded correctly, and the tension is correct. (I think, though I find this difficult to believe.) Also, for no apparent reason, the needle function will suddenly seize up and foot pedal won't move it. I have to turn it manually. Any ideas please?
By ACW from SomewhereinMI, MI
---
Best Answer

By Frugal Sunnie [11]05/18/2011
My 30+year old Singer was doing that-turned out to be a broken gear inside the machine.

I tried everything else first: changed needles, to a brand new spool of thread and bobbin thread, adjusted tension (including the bobbin tension), a few other things I can't recall now. Nothing worked so I Googled, LOL, and found out the reason thread breaks and the machine won't progress might be a broken bobbin gear.

Had my machine out to the elderly man who used to work in the Singer factory where my lovely old machine was built (I live in Scotland). I had the machine back in a week and it's run beautifully since.
My Kenmore sewing machine model 158.16800 freezes. I will help it along with the hand wheel, and it goes for a little bit, then freezes again in the down position. You can hear it humming when it's stuck. It is stitching fine when it does move. I don't have a manual so, any help is grateful. Thank you.
By Toni H.
---
Best Answer

By Frugal Sunnie [11]02/24/2014
First of all, it sounds as though the belt is worn, or there is a clump of lint/fluff caught up in there somewhere - but your problem could be a worn gear, too.

Best to take it to Sears to have it gone over by a qualified, factory trained repair tech. For under $100USD they will get your machine running smoothly and do a complete servicing with a heads-up to you should there be a looming part fail too.

And they'll be able to hook you up with a new manual as well, either as a free PDF download you can then print at home, or as a hard copy (usually spiral bound, win-win!) at a reasonable price.
I am not sure, but I think that my needle is jammed and when I press the pedal it just goes errrr. It won't move and the retractor thingy won't make it come up.

By Alyssa
---
Best Answer
By Sandi/Poor But Proud [422]07/16/2012
I have had this happen. If you have to break the needle an easy way is to also grasp it with a pliers, look away, and break it. If the screw that holds the needle in won't budge, then you will have no choice.

Sometimes, so much dirt and thread will bunch up to keep it from working. The other idea is to take the plate out, like kerly87 suggested, and untangle whatever is keeping it from running. Also, the timing belt might be off just a bit and something is not firing when it should be.

I wish you luck. PBP
The fabric will not move, but I can pull it.
By Debbie K.
---
Best Answer

By Melody Bressler-Hay [19]07/09/2012
Have you checked to make sure you have not accidentally switched off the feed dogs? My machine has a switch that you turn to lower the feed dogs for free motion sewing. Check your manual or on-line manual to find yours if you are not familiar with the switch/dial/button.

Also, I have had feed dogs get clogged with fabric lint to the point they did not grab well. Brush them with a toothbrush or machine brush and vacuum to get all the stray lint out.

Good luck. If it is not one of these simple things, you could check with Brother service on-line for other ideas. They answered a query I had on my Brother serger in less than 48 hours and helped me fix the problem I was having.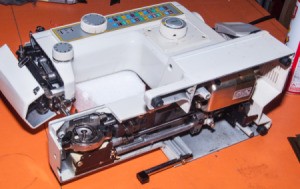 I have a Nelco Ultra Buttonhole that is frozen. This machine belonged to my mother. She was a seamstress and used this machine for years. I don't know how or what happened to the machine but nothing will move. The motor runs fine when disengaged.
By Jerry from Belfair, WA
---
Best Answer

By Frugal Sunnie [11]04/16/2015
You need to take this machine to a qualified repair tech - don't take it apart any farther than you already have and be sure you get all the parts to the tech or he/she will have to charge you to replace the missing parts.

I do vintage machine repair here in Scotland for my Sewing 101 students. I can't see anything wrong with your mum's machine from the photo you've posted - because the problem is inside, under the head cover.

More than likely the silicone on one of the gears has dried and cracked but without getting the cover off and being able to see the machine up close and in person I can't be sure.

Please. Save this gracious elder stateswoman of sewing and get her to a trained repair tech who has the skills, tools, and access to parts needed to keep your machine sewing.
I just got a vintage Universal sewing machine. I cleaned it very good. It looks great and was sewing great until I removed the inside of the flywheel to clean it. I tried to remove the outside of the flywheel and couldn't. I didn't realize that that would throw it out of l