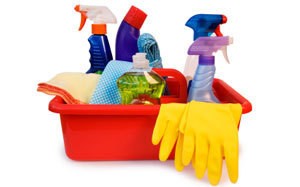 Linoleum flooring is back in vogue because of its green nature. However, before cleaning you sheet flooring you need to know if it is vinyl or true linoleum. The cleaning methods are different. This is a guide about cleaning linoleum floors.
Ad
---
Solutions: Cleaning Linoleum Floors
Read and rate the best solutions below by giving them a "thumbs up".
When I moved into an older home a year ago, I noticed the old kitchen and entry way floors were dirty. What I didn't know is that dirt was ground into the flooring and no amount of mopping would clean it. I've tried everything and been frustrated and almost given up. Until . . .
I was shampooing my carpets a few weeks ago. I thought maybe the scrubbers on my carpet machine would clean the kitchen floor. It cleaned well enough but I thought it could be better so I grabbed the old standby, baking soda. I sprinkled the soda on the floor and then cleaned it with my Bissell. OMG, finally clean floors! YAY!
I've also found to maintain the cleanliness of the linoleum floors, I use a drop of Dawn dish soap and a half a cup of baking soda in hot mop water and it's clean and beautiful.
By Dana from Katy, TX
I read all the posts; tried them all and then some. After scrubbing and scrubbing I found it, the solution! I bought an old house and could not afford new flooring.
By far the most effective thing to do is wet the floor and sprinkle baking soda over it. Wait 15 minutes. Then scrub with a brush and wipe dry. Mop off the residue with water.
I cannot believe how sparkly clean it came and the wax did not wear off.
Give a "thumbs up" to the solution that worked the best! Do you have a better solution? Click here to share it!
Questions
Here are questions related to Cleaning Linoleum Floors.
Can anyone suggest a solution for cleaning bathroom linoleum? We moved into a rental house that had a leaky toilet (now replaced) and have pee stains all around it. We have tried everything we could think of but the stain has gone into the texture it looks like. Would appreciate any help you can give. Can't afford to replace it at this time.

Thank you so much,
patsAZ from Arizona
AnswerWas this interesting? Yes No
Ad
---
---
Most Recent Answer
By carla bledsoe (Guest Post) 11/02/20060 people found this helpful
if it makes you feel any better the stains are probably not really pee. the reaction of the linoleum to constant water contact most likely discolored it.
this isn't something you'll be able to clean out. but just to rest your mind spray or pour a generous amount of peroxide around the area and let it set a while. it will kill any nasties that might be living there. i love peroxide as a household cleaner. cheap-easy- readily available.
---
I have old kitchen carpet (indoor-outdoor type) that is badly stained. Could I put linoleum over the top of if rather than having to take the carpet up first? The carpet is glued down.
By Sharon from Mackinaw, IL
AnswerWas this interesting? Yes No
Ad
---
---
Most Recent Answer
By Sharon [12] 03/10/20110 people found this helpful
Thanks to all of you who replied back to me. Unfortunately you are right. Some I had not even thought about. Guess I'll go back to my original plan for now. I'll get it cleaned professionally as best as can be since I'm getting the rest of the house cleaned too & let the new owners (if I decide to sell replace it w/ their preference). Thanks again.
---
My daughter was using coloured paper and left it on the linoleum floor and the dog wet it. Now the dyes are all over the linoleum. I have tried bleach and Handy Andy, also meths, but to no results. Please help as I'm in a rental.
By Donna from Australia
AnswerWas this interesting? Yes No
---
Most Recent Answer
By Cathy B. 11/07/20130 people found this helpful
Try hydrogen peroxide and a drop or two of dawn dish soap.
---
I would like to know a natural homemade cleaner or household product that is a neutral cleaner that I can use for my linoleum floor. I want to make sure I'm using something that won't strip the finish. Yet, I don't want to have to use a commercial product with all the harmful chemicals. I read in one place to use club soda, but I don't know if it is neutral

Peggy Rose from Fremont, CA
AnswerWas this interesting? Yes No
---
Most Recent Answer
By Openeyehealth 11/05/20090 people found this helpful
I also use vinegar and water. It works well and the smell disappears once the floor is dry.
---
I have flooring in my basement that was installed, I think, in the early 70s. I do not know if it is vinyl or linoleum. It is adhered to concrete in sheets and it has a pebble type design with mostly black, gray, and tan colors. I like the look of it, but have never wet cleaned or shined it. It has light and dark stains on it in various places. How can I figure out if it is vinyl or linoleum? What should I use to clean it? Is there a product I could use to shine it without using the old-fashioned wax or polish?
By JS
AnswerWas this interesting? Yes No
---
Most Recent Answer
By kristoffersava 07/05/20120 people found this helpful
One way to clean stains is by using a shop-vac. No, you cannot just suck out the stain, but you can over and over again wash and rinse the area, and suck out the solution every time.
I have either a linoleum or vinyl floor. The shine is gone and dirt is embedded in the tile. The only way I can get the floor clean and white is by using a magic eraser and cleaner. Is there anything I can do to bring back the shine?
By Theresa from Monroe, MI
AnswerWas this interesting? Yes No
---
Most Recent Answer
I have dark colored linoleum tiles. Any suggestions for cleaning these that would not cause them to become "unstuck" to the floor would greatly be appreciated.

Michelle from Tennessee
AnswerWas this interesting? Yes No
---
Most Recent Answer
I'm pretty sure I have linoleum tiles in my bathroom (though they may be vinyl, not sure how to tell the difference). They're an off white color and probably from about the 70s or 80s. Every time I try to clean or scrub them, they start to turn a blue grey color and no matter what I use (I've tried dish soap and water, vinegar, baking soda and water, Magic Erasers, bleach and water, and a general all purpose cleaner) or how much I scrub it seems to just spread this weird blue grey color around (sometimes it even seems like scrubbing makes it worse/darker). Does anyone know why this is happening or what to do to clean it up? It's very annoying, it makes the floor look grungy and dirty even though the floor is clean.
By Chris
I have print and dye stains on the kitchen lino floor from wet carrier bags and newspapers when the floor got damp. How can I remove them?
By Musabi
Archives
Thrifty Fun has been around so long that many of our pages have been reset several times. Archives are older versions of the page and the comments that were provided then.
I have linoleum throughout my house (great with my pets!). What is the best way to keep clean/mop, etc. Any tips appreciated!
Thank You.
BJ
---
RE: Cleaning Linoleum
Microfiber Cloths on the end of a swiffer mop instead of forking out for the swiffer cloths time and time again as the Microfiber cloths are about a dollar each and can be washed over and over... Picks up hair, dust, small crumbs and gets rid of the sweeping dust line that brooms leave behind Good Luck! (03/11/2005)
By Jennifer
RE: Cleaning Linoleum
Mop with a solution of 1 part vinegar and 3 parts water. This is will cut most dirt and also aid in any pet odors that may be lurking. I have Pergo type flooring through out my house and this is all I use. Plus I have a shedding dog that sometimes has accidents. (03/11/2005)
By klr2080
RE: Cleaning Linoleum
The microfiber cloths can be purchased at the Dollar Tree. They also have packages of "Swiffer"-like cloths I think there's 20 in a package, wrapped in cellophane, not a box. (03/20/2005)
By Nonna Mar
I am looking for tips on cleaning a dirty linoleum floor that has not been washed properly in a long time.
I live in an old flat in a large city and would like to know how I can clean the old, fake wood linoleum (roll type) that is on the floors? Anyone have any idea of how to get all the grime off? I would so appreciate knowing. I have been waxing it for years and need to strip it clean and start again. Thank you.
By Lisingreece from Greece
---
RE: Cleaning a Linoleum Floor
You can try good old Comet cleanser and a scrub brush. When it's completely dry, apply a coat or two of Mop and Glow. I have used this approach a number of times. It takes some amount of elbow grease but works very well. One thing to remember is not to use a floor cleaner after doing this or the shine will be gone. I just use warm water to wipe up spills until it needs another "treatment". Knee pads are a must! (09/23/2009)
By jabsgram
RE: Cleaning a Linoleum Floor
Heavens, it's probably better to ask your landlord to replace it. We replaced our own in the kitchen. (09/23/2009)
By pamphyila
RE: Cleaning a Linoleum Floor
Use a floor polisher (with a sealed bottom). Simply pour pure ammonia on the linoleum, turn the polisher loose in the liquid, and mop it off. Be sure to open windows and remove plants or fish that could be affected by the fumes. Works like a charm! (09/23/2009)
By siris
RE: Cleaning a Linoleum Floor
Thank you all for your help and advice. Landlords over here do nothing for their tenants, so no use to ask her to put in new linoleum! But will try the other suggestions. (09/24/2009)
By Lisingreece
RE: Cleaning a Linoleum Floor
Sometimes if there is a very, very large amount of wax buildup, ammonia (even straight) won't work. You can go to a janitorial supply store and ask for wax stripper. Amazingly it is even better than ammonia. Just follow directions. I had that problem once, and when straight ammonia didn't work (and it always had in the past), my friend who owned a janitorial supply shop suggested the wax stripper. I used it straight and had to use rubber gloves and apply it to a small area (2-3 feet square) at a time. It was amazing how well the stripper worked. (09/24/2009)
By Noella