Cleaning Linoleum Floors
Linoleum flooring is back in vogue because of its green nature. However, before cleaning you sheet flooring you need to know if it is vinyl or true linoleum. The cleaning methods are different. This is a guide about cleaning linoleum floors.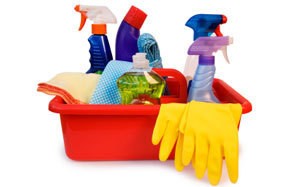 Filter

: All Articles
Sort

: Relevance
When I moved into an older home a year ago, I noticed the old kitchen and entry way floors were dirty. What I didn't know is that dirt was ground into the flooring and no amount of mopping would clean it. I've tried everything and been frustrated and almost given up. Until . . .
I was shampooing my carpets a few weeks ago. I thought maybe the scrubbers on my carpet machine would clean the kitchen floor. It cleaned well enough but I thought it could be better so I grabbed the old standby, baking soda. I sprinkled the soda on the floor and then cleaned it with my Bissell. OMG, finally clean floors! YAY!
I've also found to maintain the cleanliness of the linoleum floors, I use a drop of Dawn dish soap and a half a cup of baking soda in hot mop water and it's clean and beautiful.
By Dana from Katy, TX
I bought an old house and could not afford new flooring. I read all the posts; tried them all and then some. After scrubbing and scrubbing I found it, the solution! By far the most effective thing to do is wet the floor and sprinkle baking soda over it. Wait 15 minutes. Then scrub with a brush and wipe dry. Mop off the residue with water.
I cannot believe how sparkly clean it came and the wax did not wear off.
I have an old linoleum floor in the bathroom with grayish stains in most walked on areas. I clean the floor with white vinegar/water solution which does not get the stain out. What can I use to get this stain out? It is about a 30 yr old floor.
February 16, 2016
0

found this helpful
I sprayed Dow Scrubbing Bubbles on it, and that got up quite a bit of the stain. My next thing was going to be chlorine (White wall tire cleaner; which btw, works great on white athletic shoes. Also, someone said a product called Rejuvenate would be good choice; found at Home Depot or Amazon. So, I'm good to go for a bit! Thanks to all!
Can anyone suggest a solution for cleaning bathroom linoleum? We moved into a rental house that had a leaky toilet (now replaced) and have pee stains all around it. We have tried everything we could think of but the stain has gone into the texture it looks like. Would appreciate any help you can give. Can't afford to replace it at this time.

Thank you so much,
patsAZ from Arizona
October 31, 2006
0

found this helpful
i moved into a rental apartment once that had contact paper on the floor. i was amazed how long it lasted, even w/ my 2 teen sons, my mom and me. wash and wax it just like linoleum
October 31, 2006
0

found this helpful
Did you know that you can paint linoleum flooring? You may want to consider that option. I guess you'd need to use the paint used to paint porch floors. I dont think there is any way to remove the stain.
Have you thought about covering it with a bathmat?
Best of luck
October 31, 2006
0

found this helpful
Thank you all for your help and information. I do think it is just a lost cause. lol patsAZ
November 2, 2006
0

found this helpful
if it makes you feel any better the stains are probably not really pee. the reaction of the linoleum to constant water contact most likely discolored it.
this isn't something you'll be able to clean out. but just to rest your mind spray or pour a generous amount of peroxide around the area and let it set a while. it will kill any nasties that might be living there. i love peroxide as a household cleaner. cheap-easy- readily available.
My daughter was using coloured paper and left it on the linoleum floor and the dog wet it. Now the dyes are all over the linoleum. I have tried bleach and Handy Andy, also meths, but to no results. Please help as I'm in a rental.
By Donna from Australia
April 4, 2010
0

found this helpful
I have used WD-40 to get black scuff marks off my linoleum, it might work on the dye.
April 5, 2010
0

found this helpful
Try a Mr. Clean Magic Eraser
November 7, 2013
0

found this helpful
Try hydrogen peroxide and a drop or two of dawn dish soap.
I would like to know a natural homemade cleaner or household product that is a neutral cleaner that I can use for my linoleum floor. I want to make sure I'm using something that won't strip the finish. Yet, I don't want to have to use a commercial product with all the harmful chemicals. I read in one place to use club soda, but I don't know if it is neutral

Peggy Rose from Fremont, CA
December 5, 2006
0

found this helpful
I use a solution of 50/50 white vinegar & water on my linoleum. It cleans well, destroys bacteria, helps with odors and doesn't strip the finish.
December 5, 2006
0

found this helpful
I only use vinegar and water. I don't even measure it. I fill the sink or bucket half way with water and pour in around a half cup of vinegar. It doesn't smell so good at first but the results are wonderful. I've been cleaning floor like this for over twenty years. I get compliments from family and friends about how clean my floor looks. In between cleaning I use baby wipes for spills. If there is ever a mark,like from shoes I might sprinkle a little bar keeper's friend on a baby wipe. It works every time!
Jennifer CA
November 5, 2009
0

found this helpful
I also use vinegar and water. It works well and the smell disappears once the floor is dry.
I have flooring in my basement that was installed, I think, in the early 70s. I do not know if it is vinyl or linoleum. It is adhered to concrete in sheets and it has a pebble type design with mostly black, gray, and tan colors. I like the look of it, but have never wet cleaned or shined it. It has light and dark stains on it in various places. How can I figure out if it is vinyl or linoleum? What should I use to clean it? Is there a product I could use to shine it without using the old-fashioned wax or polish?
By JS
July 5, 2012
0

found this helpful
One way to clean stains is by using a shop-vac. No, you cannot just suck out the stain, but you can over and over again wash and rinse the area, and suck out the solution every time.
I have either a linoleum or vinyl floor. The shine is gone and dirt is embedded in the tile. The only way I can get the floor clean and white is by using a magic eraser and cleaner. Is there anything I can do to bring back the shine?
By Theresa from Monroe, MI
November 18, 2009
0

found this helpful
You could go to a big box store and buy floor polish products made to clean dull vinyl floors. Armstrong is one brand that is applied with a spongrmop. Cost is about $12 bucks.
I have dark colored linoleum tiles. Any suggestions for cleaning these that would not cause them to become "unstuck" to the floor would greatly be appreciated.
Read More...
Related
© 1997-2016 by Cumuli, Inc. All Rights Reserved. Published by
ThriftyFun
.
Page
generated on September 25, 2016 at 10:05:26 AM on 10.0.0.74 in 5 seconds. Use of this web site constitutes acceptance of ThriftyFun's
Disclaimer
and
Privacy Policy
. If you have any problems or suggestions feel free to
Contact Us
.