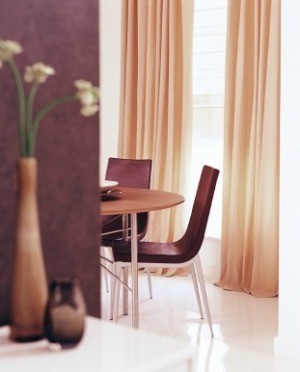 Choosing just the right color curtains can complete the overall color scheme of your room. This guide contains curtain color advice.
Ad
---
Questions
Here are questions related to Curtain Color Advice.
I have tan walls, brown furniture and one blue accent wall. What color should I use for curtains? I'm thinking white because it is safe and goes with everything. Any other ideas?
By Amanda B.
Ad
---
---
Best Answer

By Sheilah Link [5]01/13/2014
A deeper or brighter blue might work. What color is the wall where the window is located? I would suggest keeping the curtains in the same color family as the wall, and using white for accents repeated throughout the room - pillows, large pictures, vases, throw rugs, lamps, etc. General rule is not more than three colors, but you can play with the intensity of the color - bright, shiny brown, bright blue, pale blue.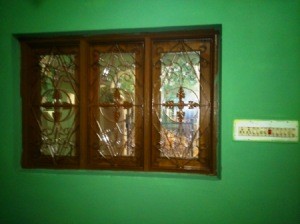 My living room wall colour is light green and dark green (3 walls have light green and 1 wall has dark green). Please can anybody give me a suggestion for curtains colour.
By Kanchan from Jabalpur, India
Ad
---
---
Best Answer
By Sandi/Poor But Proud [424]02/04/2014
Your windows look lovely as they are. But, if you want to cover them, lace would be pretty.
Is it OK to put "cool white" curtains on windows with off white trim? My gut is telling me there is an unwritten rule about this. Help!
By Laurie
---
Best Answer

By hopeful [26]01/13/2014
Yes. It is called "white on white." Add another shade or shades of white and you have a beautiful room!
I have light yellow walls with a red accent wall. The hallway wall is pumpkin orange you can also see that wall when in living room. Our furniture is chocolate brown. What color curtains should I put up?
By NW from Scranton, PA
---
Best Answer

By Mary Lou [14]02/22/2014
A vertical stripe with all the colors mentioned combined with either cream or white would work with it all.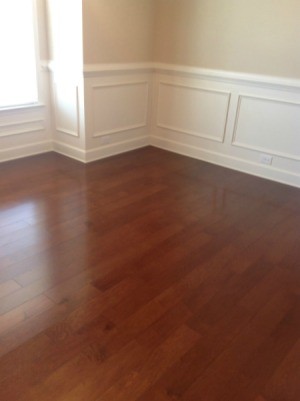 I have dark reddish brown hardwood floors and dark beige walls in the living room. My couches are black, but we might change them soon. We wanted red curtains, but it made the room really dark. We prefer colored curtains rather than neutral. What shade would you recommend? Will lime green or yellow look good?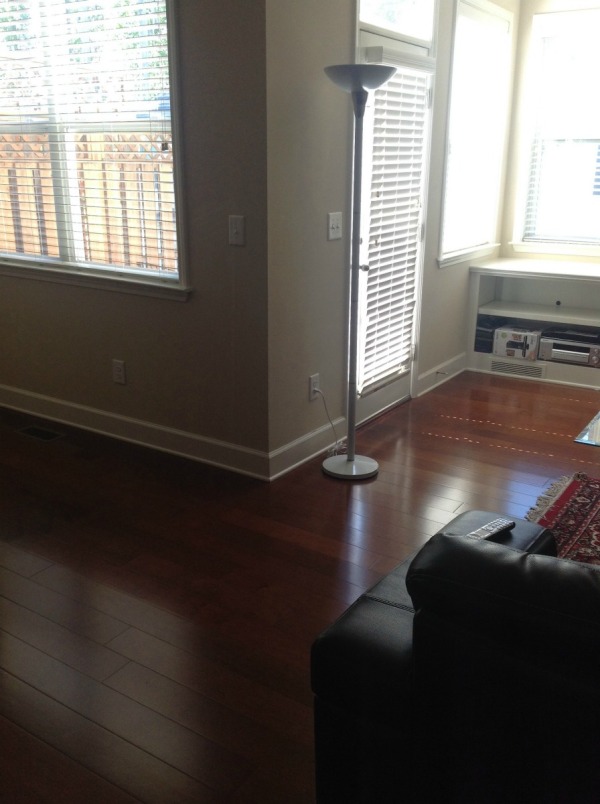 By Mona
---
Most Recent Answer

By Suzanne M.02/20/2015
I think picking a color curtain that matches or blends in with your wall color allows the eye to see a beautiful open airy look. I would also add a white and tan or white and brown leaf design sheer to go behind it. This way the light will come through the sheer leaf design adding light.

The side curtain panels will blend in with the walls and will look nice with your floors. It will also look great with your sheers. Bringing nature into the home is always soothing to everyone's spirit. In addition, the white and tan or white and brown leaf design coordinates with the wood floors. Adding accent colors such as a cream colored sofa with cream, tan pillows, yellow, or green sofa pillows would look very nice. Displaying green plants everywhere adds light and ties everything in. Using 3 colors such as brown, cream, tan and then adding pops of color in green and or even yellow is great.
My living room wall paint is green and orange. What colour can I use for the rug and curtains?
By Grace
---
Most Recent Answer

By jm.interiorplace12/04/2013
Hi Grace, you have two options here. If you have green and orange on the wall, you can use either complimentary colors for the accessories (curtains) or you can use triad colors. These options are found using a basic color wheel, like the one below. To use complimentary colors you will select from the colors alongside green and orange. You will see this includes lighter shades of the green and orange already on the wall, or you can also select yellow, which is the color between green and orange. But what I recommend for you is to go with the triad approach. This method lets you break the wheel into 3 parts and each part is represented in the room. I recommend this approach because you already have two parts of the triangle represented in the room. The third color will be violet and I think that will really set things off nicely for you. Hope this helps!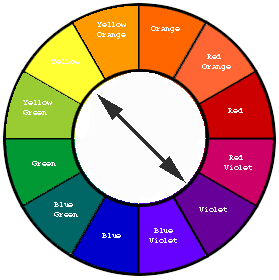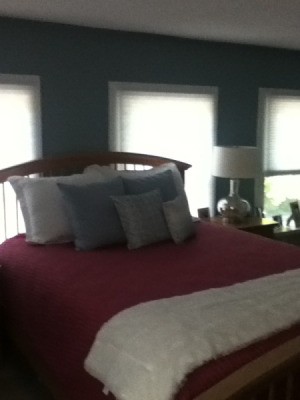 I just painted my bedroom walls Benjamin Moore Nimbus Gray, which is really blue. On my bed I have a solid quilt in a pink, almost watermelon color, with blue and white toss pillows. I have light maple furniture and a cream colored carpet and white cellular shades. I wanted to add curtains, but am stumped as to what color they should be.
By JDS
---
Most Recent Answer

By Louise B. [5]10/27/2013
From your photo, it seems that you have white blinds for privacy. I like that look just as it is. However, if you want curtains as well, I would go with white sheers. I think with the dark walls, and the bright colours on the bed, you do not want to add another dark colour nor any kind of pattern. I think that would be overdone. I think the room looks very nice just the way it is.
I have a dark brown sofa set, very light gray walls, beige ceiling and ivory flooring. What is the best color curtain? Also, what color would be good for throw pillows?
By Celi from Philippines
---
Most Recent Answer

By Louise B. [5]07/16/2013
This is a pretty neutral pallet. You can go with just about any color you like. I agree that blue would look nice, but shades of green, or a floral print curtain and then pick up the color with solid cushions, say pinks and yellows. Really, you can go with just about anything.

Another way to go, if you have a lot of colorful accessories - paintings, photos, vases of flowers,mosaic topped tables, etc. you could go with a light airy beige or cream curtain, similar for the cushions, and let the accessories in the room provide the color punch.
I need help with curtain color for my living room. Our walls are a tan color, our tables are mahogany, couch, loveseat, and chair are chocolate brown and our carpet is a variety of colors, (brown, tan, ivory). My formal dining room is attached. We have accented the walls with 2 large gold framed pics of poppies. The curtains we placed there are gold to pull out the frame color. The table is mahogany as well.
By Kay J.
---
Most Recent Answer

By Cisco's Mom [5]04/17/2013
You have such a neutral pallet with tan and brown, go for something really bright. What's your favorite...red, green, orange? I would use turquoise for a cool room or red for a warm room. Buy some toss pillows, candles, etc. in the same color and the whole room is coordinated. Sounds like a beautiful room. Have fun!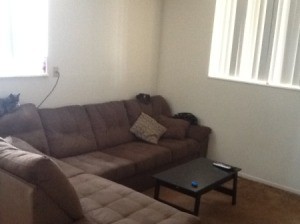 I have brown couches, tan carpet, and white walls. What color should I go with for curtains? Also, I have lots of black frames and a black entertainment center. Help!
By Ambr L from Colorado Springs, CO
---
Most Recent Answer

By Louise B. [5]06/06/2013
This is a very neutral pallet. You could use just about anything with those colors. Pick a print or pattern that is in a color you like - blue, pink, green, golds - whatever, and that incorporates the tans that you have, and use the colors for drapes, or on throw pillows, and use solid drapes in the accent color.

Another way to go, if you like to have lots of artwork on your walls (not just one or two pictures, but lots -I have twelve paintings in my living room), is to use another neutral on the drapes, and then just showcase your artwork and knick knacks for the color. I have white sheer drapes.
My husband and I just bought a house. I'm not much of a decorator and so something as simple as picking out curtains freaks me out. The living room walls are a pale yellow, we took up the carpet to show the hardwood flooring, and all the trim throughout the house is white. We have no furniture in there as of yet but my husband wants curtains for our bay window asap.

If anyone has any suggestions for curtain colors I would appreciate it. :) Also, our kitchen is very small and connected to the living room - it is a really pretty blue color, cabinets will be painted white very soon. We have three small kitchen windows and I want to get black and white window valances. Should the black and white valances tie in with my bay window curtains in the living room?

Melinda from Wenonah, NJ
---
Most Recent Answer

By Nan Corpe [6]03/04/2010
If you plan to use draperies, I would go with white draperies and yellow sheers. I'm not a decorator, so you will probably get better advice. Everybody likes my home decor which I always do myself. My floors are also wood (oak). My walls are very light beige, dark brown leather furniture. Throw pillows, etc. are turquoise, brown, green -- all tropical decor. I live in FL.
I moved into a studio apartment with Mexican floor tiles. The tile pattern has some with a dark blue and sunny yellow design. I have a grey comforter (neutral). The studio is small and I need curtains, but I can not decide what to do for them. I can't decide between grey and yellow, solid blue, solid yellow, or orange for the Mexican tile. A few ideas will help, thank you.
By Colleen
---
Most Recent Answer

By Karen H. [10]08/14/2012
Go bold to complete your look. Bright golden yellow or orange. Or depending on the size of the windows you could put a sheer one in the middle-white or yellow & orange on each side & tie back with silk braided rope or fringed braided rope. This will brighten it up! Good luck & have fun.
I have a burgundy carpet and light cream walls. I just don't know what colour curtains to buy that will go with the room. Your suggestions are greatly