How can I keep the neighbors 2 dogs out of my yard? They keep digging holes which gives them access to my yard. I have talked to them about it and they have done nothing to stop it. I was almost attacked along with my child and they don't seem to care. Is there anything I can do?
By Ericka from Antioch, TN
January 26, 2011
0

found this helpful
Best Answer
I would do several things. I would definitely call the police on the non-emergency line, and ask for their advice. If you have a lawyer, you might ask the lawyer to write them a letter asking them to keep their dogs better confined. Keep meticulous records of incidents and what actions you have taken. You should take photos, too.
I would also buy fire crackers and wait until the dogs are digging and throw them at the holes where they are digging. The point here is not to hurt the dogs, but to scare them. You could also get one of those noisy air horns and blow it as close as you can safely get when they are digging. If you or your husband are handy, you could run a strand of electric fencing along the bottom of the fence. Then, of course, you have to keep your own child away from it. You might fill balloons with a water/ammonia mixture, and put it in the holes, and when they dig, it will pop the balloons and they'll dislike the smell. If you know someone with a lot of rose bushes, put any clippings you can get in the holes they dig.
Big jars of red pepper flakes from the dollar store might deter them a bit; but you would have to replace them after every good rain.
If you know anyone who can give you large rocks, you could line your side of the fence with the large rocks, and push any into the holes they dig. If you make digging at your side of the fence "not worth it", maybe they will go to the other side.
You could turn a hose on them, as well, as they dig. This time of year, they may not like the cold, wet. I hope your neighbors take more responsibility for their pets. It's not the dogs' fault, but you need to feel safe in your own yard!
January 28, 2011
0

found this helpful
Ericka, I see that you're in Antioch and also see that means that you're under Nashville's jurisdiction as far as animal control laws go. Check this link (it outlines Nashville animal ordinances):
http://www.fixyourpet.org/Law.htm
You have been more than patient with these neighbors. Them permitting their dogs to enter your property falls under permitting their animals to "be at large", same as if they opened the front door and let them run all over the neighborhood at will. I'd call Animal Control and tell them what you've told us. It can't hurt.
January 28, 2011
0

found this helpful
Why is it some folks can't control their pets? I agree photos, or even a video of the dogs in your yard should help to do the trick. Good luck to you.
February 2, 2011
0

found this helpful
Dogs will be dogs. However, they would not be digging their way into your yard, if a) there is something they want to get away from or b) there is something they want in your yard.
Spend the money to put cement or concrete blocks below the fence as suggested above. Dealing with some neighbours is like dealing with squirrels, you just cannot win the battle. So why cause yourself more stress.
No one ever promised that like would be fair.
Read More Answers
September 2, 2013
1

found this helpful
This young man who lives behind me on another street walks his dog (on leash) around the block which includes my street. I have nicely asked the owner not walk his dog in my yard and he called me all sorts of names and still intentionally walks into my yard to pee on my plants and trees. My husband sees him do this after I asked him not to, then when my husband tells him not to the young man didn't run his mouth, but intentionally lead the dog over and had him pee on my husband's work van on the side that we could not see. How can I stop the dog from walking into the yard?
By Michell
September 4, 2013
0

found this helpful
Did you think of a fence? That would keep all animals out and protect your garden. Or just pick up and save poop in grocery bag and when full deposit it on dog owners porch! Works like a charm!
September 5, 2013
0

found this helpful
Not all cities allow front yard fences because of new laws plus not everyone wants a fence. I agree with Lizzyanny to return the deposit to it's rightful owner. If this guy dropped a $100 bill he would want it back, so treat the poop like it's a $100 bill. You can always wait for him and start watering your yard when you see him coming or just sit out front and enjoy the evening.
September 5, 2013
0

found this helpful
I hate to say it but this kid seems to need attention. As long as you make an issue about it he will continue to do it. Have you tried placing warning signs on your lawn? Like - Warning dangerous pesticide has been applied on grass? If he loves his dog it might work. Have you tried talking to his family about this? Have you called the police to report his trespassing? It is against the law for someone to come on your property - post a no trespassing sign. If you go to Radio Shack you could probably buy a cheap monitoring camera, mount it near the trespassing sign. Good luck.
October 7, 2013
0

found this helpful
I have the same problem except its my front garden which has a footpath on its edge and also its an elderly lady who walks her dog on the footpath, she stops every day while he pees and pops, she has now started to wave at me while I stand staring at her through the window! I'm going to try putting jeys fluid around the periphery its meant to keep them away (possibly any other very strong smelling disinfectant may also do the trick), apparently grounding up fresh chillies and spreading it around the border is useful too.
Hope this helps!
Read More Answers
January 8, 2014
1

found this helpful
New renters behind our house have 2 large Pit Bulls that are chewing through our redwood fence to come into our yard and now I don't feel safe going out there with my 3 year old and 8 month old children. The owners had the renters place cement blocks along the bottom of the fence only to cause the dogs to bust right through the fence 2 days later! My husband found multiple loose boards so they must have been working at it for awhile.
The landlords don't have control on how much the renters exercise their dogs and want us to go 50/50 on a new fence ASAP as they are obviously scared that the dogs will end up doing damage to our property or our kids and they would be liable. What kind of fence is best? They want PVC, but it is very expensive and I read that big determined dogs will destroy this type of fence as well. Help please!
By Lisa C.
January 11, 2014
0

found this helpful
I would like to suggest you call the local animal shelter, police dept., and a veterinarian to get professional opinions as to the fencing. Also know that pits can be good jumpers, so this fence has to be plenty tall. Lastly, I do not think you should go in on the fence replacement fee at all (unless it is your fence). Not your responsibility.
January 11, 2014
0

found this helpful
Wow! What a scary situation. 1st off you are not obligated to go 50/50 for a new fence to protect your neighbors from a lawsuit. However in real life you may feel you want to make a contribution. After all they have destroyed a fence that worked for everything but their dogs. The responsibility is 100% theirs.
The standard fence for pit bulls is 8 feet tall. Anything else they will get through or over. Watch a couple episodes on Pit Bulls and Parolees on cable (Animal Planet). They deal a lot with this issue and will not adopt out a dog to anyone without this type of fence. Don't be bullied on this issue by the landlord or the dog owners. Many towns do not even allow this breed to live within the city limits.
January 11, 2014
0

found this helpful
The simple solution is for the home owner to legally write in their renting contract "No dogs permitted under any circumstances.".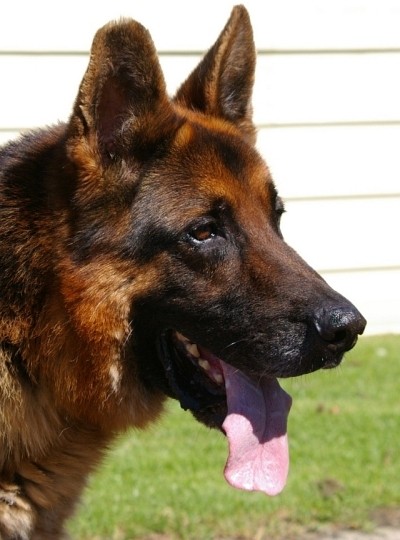 August 18, 2014
0

found this helpful
In addition to fences, there are other deterrents that can be used. There are liquid deterrents that can be applied to the bottom of the fence and some electronic deterrents that could be used. The key is to make your yard a place they don't actually want to be. It's possible that you will need to escalate to the police or animal control agencies; but, unless you actually feel you are in danger, you should try other things first. Here's a good article that details the steps and solutions you should consider: http://badneigh ing-into-my-yard
Read More Answers
April 7, 2012
0

found this helpful
The neighbors originally had two Chihuahua type dogs, now three puppies have been added to the mix. The dogs continually dig under the fence into my yard and bark at me through the sliding glass door. When I walk to the door to yell at them they run back to their side of the fence. I've asked the neighbors to deal with it, but nothing has changed. I'm tired of picking up poop in my backyard and being barked at during all hours of the day. What is the next step?
By Luke
April 7, 2012
0

found this helpful
Best Answer
If you are handy with tools, or know someone who is, you could try fastening a piece of chicken wire to your side of the fence covering the hole and bury the wire so that when they dig, they just run into wire - they can't dig through that.
You could line your side of the fence with rocks. Plant a few rose bushes or even berry bushes with large thorns. If none of this is possible or desirable, then call your city hall and find out if you have any options. After you know your legal options, talk to your neighbor again, ask them to correct the problem, and tell them what you plan to do if they don't take action.
April 9, 2012
0

found this helpful
Not the dogs fault. Their owners are off somehow. Wondering, are the dogs well fed? Perhaps they are hungry. Doesn't sound like the pups are angry, just needing some attention. What if they are trying to choose you as their owner because things at their home are not great?
Have you tried talking to them and making friends? Perhaps they just want to love on you. Puppy love is the greatest. You did know they would protect you should you need it. Best insurance policy available.
April 9, 2012
0

found this helpful
Bad dogs and bad owner(s). Get a dog statue and scare off the dogs!
November 2, 2013
0

found this helpful
Call the local animal control and borrow/rent a live trap. Once you have the dog/s in the trap, take them to the pound. Repeat until dogs are gone or they stop coming over to visit.
How do I stop the neighbor's dog from coming into my yard and pooping and peeing? We have a leash law, but they let their dog run free. If I call the dog officer they will know it's me complaining.
May 27, 2015
0

found this helpful
It appears the only way to resolve the problem is to either speak with them directly and/or call the dog officials. Either way they will be upset but they will then know that you mean business. However, if you do not want angry neighbors, then you can see the the years away in silence as their dog visits your yard.
May 27, 2015
0

found this helpful
You are not doing them a favor by ignoring the fact that the dog runs loose. It is not safe for the dog for many reasons. I would write them as friendly note as possible saying you are concerned for the dog. You are giving them a" heads up" so they can address the issue. If nothing changes, then animal control will be notified.
May 27, 2015
0

found this helpful
Put a fence around your property. Then the dog can no longer trespass on your yard. Livestock fence shouldn't be expensive.
May 27, 2015
0

found this helpful
I had a neighbors two large dogs digging under the fence and coming into my yard ruining my plants. They dug so much I could see the pipes to my sprinkler system. My little dog still doesn't want to go in the back to do his thing; he heads to the front door.
The house is a owned by the resident's Father. I found his phone number and after complaining it's finally gotten better. The times they got in my yard I called animal control but by the time they got here the dogs had run back under and into their yard. If these dogs are roaming the neighborhood how would they know it was you calling. You need to call animal control because people like this don't care amount your property or anyone else.
Read More Answers
December 3, 2011
0

found this helpful
There is a white dog in my neighborhood. We have done everything to keep it out of the yard. What can I do, I do not want to send it to the pound.
By Trystin from Sesser, IL
December 5, 2011
0

found this helpful
Best Answer
Do you know who the owners are? If not, find out who they are. Is there a leash law in your area? Nicely notifiy the owners that you will notify the proper authorities if they don't keep the dog restrained and that you will take the dog to the pound if you have to. With that being said, if they don't keep their dog restrained please do what Lizzyanny suggests and take the little fella to a no kill shelter.
December 5, 2011
0

found this helpful
Find a local no-kill shelter before the dog ends up at the pound.
October 7, 2012
0

found this helpful
This dog is choosing you. Does he/she sense safety with you? You may have a best friend there. can you take it in? Is it hungry? Is it abused? Better to help him/her than take it to a jail to possibly be killed as unwanted. If you can't possibly take it in, check with friends, co-workers who might be wanting a needy friend.
I live in a neighborhood without sidewalks. In March, my old dog was euthanized and the patches of yellow grass had been repaired. I sent away for a "Please Keep Your Dog Off of the Grass" sign. At the same time, knowing which dog it was, I wrote a letter to my neighbor asking him to keep an eye on my yard for any dogs using it as a bathroom. I thanked him and gave him my phone number.

Today I cleared out two medium patches of yellow grass, again. He is disrespecting me and my request. Today I ordered a yard sprayer that has short bursts of water when the motion detector is activated. It can be set for a certain range. If it hits the dog owner, I guess that would be perfect, however it may further enrage him. There is no HOA here. What else can I do?
May 30, 2015
0

found this helpful
You have declared war and made the first advance by writing your neighbor (it would have been more "neighborly" if you had first discussed your concern in person). You will make a second advance by setting out a water blaster. It is clear he/she has no interest in keeping the dog off your grass. This can become very ugly!
Have you checked the pet/dog laws and requirements in your area? Is there a lease law? Is there an agency that can help in this situation? Does your neighbor or you have enclosed/fenced property to keep the dog in or out?
It is important that you research other possibilities (even an attorney) in your area rather than ramping up an already worsening argument. After you have checked into other avenues to help the situation, you can consider the most reasonable and least contentious solution to your problem. I say "your problem" because your neighbor clearly does not yet have a problem.
May 31, 2015
0

found this helpful
Although the yellow grass patches your dog created have been repaired, the scent still lingered and probably other dogs have visited also, perhaps at night when you couldn't see them. If they have become used to "leaving messages" in your yard previously, why would they suddenly stop now that your dog is gone?
From the tone of your post, I'd guess maybe there is more to this than just some yellow grass?
There are products you can spray around the perimeter of your property to discourage dogs and cats from coming into your grass (Doggie-Be-Gone type stuff). Or you could invest in some fencing if you are suddenly extremely particular about your lawn. Also, they do not care for the smell of moth balls, so you could strew those around the perimeter of the property.
The old saw "You'll catch more flies with honey than with vinegar" comes to mind here. I'd advise caution,...people "react" when you "act".
June 1, 2015
0

found this helpful
Try using dried crushed red pepper sprinkled over the lawn area to keep dog from coming on lawn,it will not hurt the dog but will bother their sense of smell enough to keep them off of the lawn.
April 20, 2001
0

found this helpful
How do I keep the local dogs from relieving themselves on my property? I have tried black pepper, moth balls, Lysol, Pine Sol, and some of those sprays specifically designed to keep dogs away. What is a person to do, summer is just around the corner?
April 24, 2001
0

found this helpful
Best Answer
If your town has a leash law just keep calling the dog officer on the owners. They will get sick of paying the fines eventually.
April 24, 2001
0

found this helpful
Best Answer
I got this from one of the home shows on The Learning Channel and it works.
For Dog or Cat deterrent:
2 1/2 parts flour
1 part red pepper or cayenne pepper
1 1/2 parts dry mustard.
The reason for the flour is that is shows where you placed the deterrent. If the area gets wet, then it has to be done again.
April 26, 2001
0

found this helpful
I have been using wolf urine for keeping dogs and cats off my property. It must be dribbled on all four corners of your yard and your pets must be inside when you do this.
Animals will not cross this area and so far it seems to be doing a great job. It's pricey and a little difficult to find but one bottle will last for years. If it rains, it must be reapplied but it only takes a few drops here and there. I got mine at a hunting supply store and found out that most landscapers are using it on saplings in this area to keep the deer away. Good Luck.
Marianne
I would like to know how to keep stray dogs off of your lawn.
Hardiness Zone: 9a
By Terri from Ocean Springs, MS
August 24, 2010
0

found this helpful
When you see them coming in your yard, go to the window or door and yell SHOO! SHOO! GET OUT OF HERE! while clapping your hands. Do this every time you see them, and eventually they won't come in your yard anymore.
August 29, 2010
0

found this helpful
When you see them in your yard shoot them with a blast of water from a water gun. I will scare them, a couple of times and they won't be back