Riding Lawn Mower Won't Start
Mowing the grass is one of the rites of summer, but now your mower won't start. There are many things that can cause a riding mower to refuse to fire up. This is a guide about troubleshooting a riding lawn mower that won't start.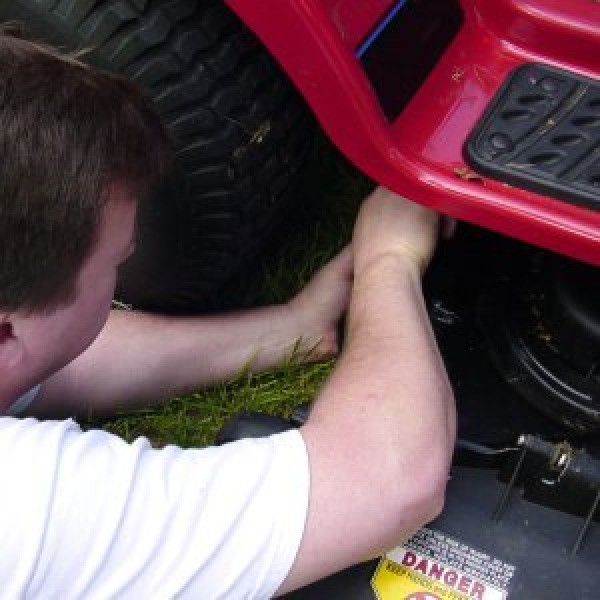 Filter

: All Articles
Sort

: Relevance
I have a Poulan Pro riding lawn mower. I had it sitting for over a year and it work great before storage. I took it out of storage and it tried to fire-up, but it wouldn't. So, I cleaned the carburetor, changed the plug, and replaced the battery. Now it won't turn over at all. I get absolutely nothing when I turn the key. I checked the fuses and it has good gas in it. Any help would be appreciated. Thanks.
August 29, 2016
0

found this helpful
I have john deere 300 x I turn the key to start about 5 times and it finally turns over
September 6, 2016
0

found this helpful
I have a 17.5 HP John Deere tractor I changed the battery and starter and fuel and it still does not even click. What can be wrong?
My mower just clicks when you turn the switch on. It has a new battery and belts. It only stated for a few seconds and died. Now all it does is click when you try to crank it.
By Preston
February 27, 2014
0

found this helpful
Best Answer
The fact that it just "clicks" when you try to turn it over may mean that the engine has seized up. Lack of oil mixed in the gas could lead to this. Also, you may want to try to replace the carburetor. Plenty of "How-to" sites on Utube and choose a reputable online business for mower parts and they should allow you to return carburetor if that is not the problem.
June 2, 2016
0

found this helpful
could be push rods too tight
My X300 riding mower will not start. The battery does not hold a charge and I must recharge it to have it start the engine. Is this a battery issue or is there an alternator?
August 30, 2016
0

found this helpful
we had that happen on our four year old rider and come to find out the engine block was cracked.
I bought a brand new Husqvarna riding mower. I used it for a month and then stored it in the storage for the winter. Now it won't start. So I used a jumper cable and it started fine, but once I turn it off it won't start unless I use the jumper cable again! Any idea what's wrong with it?
July 15, 2016
0

found this helpful
Likely a failed voltage regulator.
July 15, 2016
0

found this helpful
If your battery is good, then it is ikely a failed voltage regulator. Take your battery to advance auto parts once charged fully. They will test it for free usually. (At least in Georgia.)
I was mowing on my JD 445 when I hit a stump with the front of the mower deck. The tractor immediately cut off! I disengaged the blades and then tried to start it. It is dead as a door nail. My husband checked the battery cables/fuse. All OK. What could have happened?
Thank you!

March 15, 2016
0

found this helpful
Check under the blades there could be some left over twigs cough underneath
May 2, 2016
0

found this helpful
Make sure grass chute is on properly and button is depressed.
I have changed the battery, starter, and fuel and I still can't get it to even click. Any suggestions? I am disabled and I need any help I can receive. Thanks!
I have a John Deere L110 lawn mower that will not start or even turn over. I replaced the spark plug and charged the battery, but still it would not make a sound. What do I do?
June 26, 2016
0

found this helpful
one last thing on the John Deere mower. Replace the gas cap- they are subject to clogging and with no oxygen to the carb it will not start.
Try first starting it without the gas cap on or at least loose.
July 6, 2016
0

found this helpful
I have a John Deere 100 series riding lawn more it will not start crying or do anything
My 1998 MTD 20hp special edition will not start. It winds over and it has fire and gas. What can be the problem?
June 18, 2016
0

found this helpful
Have you checked compression??
June 22, 2016
0

found this helpful
I have a stx 38 John Deere that turns over and has gas and fire but won't start up, how can I get it to crank???
I have a 2003 Bolens riding mower, model #13AN683G163 which will not start. This began over a year ago, when I thought it was the battery. I replaced the battery and the mower started, but the battery would drain and have to be charged to be used again.
Read More...
Related
© 1997-2016 by Cumuli, Inc. All Rights Reserved. Published by
ThriftyFun
.
Page
generated on September 21, 2016 at 12:17:25 PM on 10.0.1.251 in 5 seconds. Use of this web site constitutes acceptance of ThriftyFun's
Disclaimer
and
Privacy Policy
. If you have any problems or suggestions feel free to
Contact Us
.