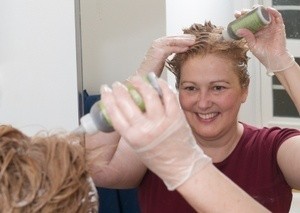 Most commercial hair dyes contain ridiculously toxic chemicals. Many contain additives (often unregulated) that have been linked to cancer, birth defects, and a host of other serious health problems. So why are people willing assume the risk? Because the truth of the matter is, these products work great and many people are simply unaware that safer alternatives exist. No hair dye is worth dying for. Here are some tips for safer hair coloring.
Look Out for the "Bad Guys"
Once you recognize some of the most toxic chemicals commonly found in hair dyes, you and/or your stylist will be able to make healthier choices when selecting hair color products.
Ammonia: Acting like a corrosive, this guy opens the hair shaft so it can receive color. Ammonia has been linked to severe lung and skin irritations. It is a known environmental toxin and especially is harmful to aquatic life.
Benzene (and its derivatives benzyl alcohol, m-aminophenol, and resorcinol): This guy helps the color stick to your hair. Benzene is absorbed by the skin or inhaled. Benzene has been shown to be toxic to bone cells and bone marrow. It can cause damage to your central nervous system as well as your immune system. Benzene has been linked to reproductive and developmental problems and is considered extremely toxic to the environment.
Coal Tar: This guy is found predominantly in darker colored dyes (and in dandruff shampoos). A known carcinogen, coal tar is highly toxic in the environment.
Lead Acetate: According to the Agency for Toxic Substances and Disease Registry, there is no safe level of exposure for this bad guy, yet it's approved for use in hair dyes. Lead acetate has been linked to tumor growth, brain damage, and learning disorders. Oh yeah, and it is bad for the environment.
p-Phenylenediamine (a.k.a. p-diaminobenzene, oxidation dye, amino dye, and para dye): Prevalent in dark-colored dyes, this bad guy helps the color stick to your hair during processing. This chemical has strong links to cancer and it harmful to the environment-especially aquatic life.
Toluene: This bad guy is used to improve color adhesion and add gloss. Touline is known to increase cell mutations and cause cancer in animals. Repeated exposure can cause damage to the central nervous system, liver and kidneys. It is also toxic to the environment.
Hair Color Tips To Dye For
Work with what you have got by embracing your natural color, even your grays! If you feel like jazzing it up a bit, use pre-dyed clip-on hair extensions to add a splash of color or change the length of your cut.
Dye your hair less frequently. Stretching out the time between color processing reduces you exposure to chemicals.
Choose safer products. Plant-based products containing henna are the safest choice. It stains the hair, coating and sealing the strand, which protects has the added benefit of protecting the hair shaft from the elements. Demi-permanent color enriches color, adds shine, and blends gray. It gradually fades over a period of four to six weeks. Semi-permanent dyes stain your hair shaft and cover grays but will fade after six to eight shampoos.
Stay close to your natural level and tone. Dramatic color changes require more upkeep because roots become visible more quickly.
Protect your color. Avoid excessive exposure to the sun, which will fade you color. Use color-enhancing shampoos (read chemical contents carefully) between your color treatments.
Aim for shorter processing. Don't leave coloring products on longer than necessary. If you go to a salon, ask your stylist to limit the processing time as much as possible and request an extra thorough wash rinse to remove any leftover residue. If you color your hair yourself, always wear protective gloves.
Color less of your hair. Streaking and foiling processes expose your scalp to far less chemicals.
Seek out a natural salon or request healthier products. Ask your salon or hair care store to carry safer dyes and colors. Don't be afraid to ask if you can bring your own in for them to apply.
A Word About Hair Bleaching
Lightening your hair is somewhat less harmful than dyeing it (in terms of exposure to chemicals). Lighteners usually contain hydrogen peroxide, which alone isn't so bad (it's eco-friendly, biodegradable, and can be used to clean counters and clothes). Unfortunately, the hydrogen peroxide in lighteners is commonly mixed with ammonia, which is a severe skin and lung irritant and considered highly toxic to aquatic life. For safer lightening, look for ammonia-free brands. An even safer alternative is to use lemon juice and sunshine to lighten your locks naturally.
Comments
Read More Comments