Literally, "chop suey" means odds and ends. This could also be called Chili Mac or Hungarian Goulash. It is a perfect dish to cook up with things you have around the kitchen. This recipe comes to us from one of our members.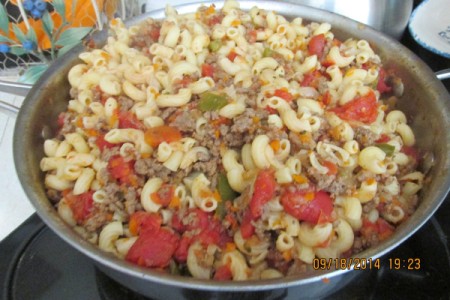 Total Time: About 1 hour
Yield: This can feed 8-10 or also freezes well
Source: I grew up on this, My Mom's Home Cooking!
Ingredients:
1 lb elbow macaroni, cooked al dente
1-1/2 lb very lean ground beef
1 medium onion, chopped fine
2 stalks of celery, chopped fine
2 cloves of garlic, chopped fine
1 large green pepper, cut up in chunks
2 14 oz. cans of diced tomatoes w/green pepper & basil
1 14 oz. can of stewed tomatoes, break them up, with a knife & fork
2 cans water
2 cans dark red kidney beans, rinsed (optional)
1/2 cup red cooking wine
1/2 cup grated parmesan cheese
a sprinkle of fresh cut dill
Seasoning : As I always write in recipes, start out with an 1/4 teaspoonful of each of the following seasonings, then season to taste: seasoned salt, black pepper, basil, thyme, Hungarian paprika, (opt) chili powder, Italian seasoning and parsley
Steps:
Using a large deep skillet, break up the ground beef by stirring well and breaking it up until it is fully cooked. If it starts to stick, add a cup of water.
Add onions, celery, garlic and green pepper. Stirring well, the vegetables will begin to cook. Add all 3 cans of tomatoes, stirring in very well. Add, wine, grated cheese and all the seasonings, and (opt) rinsed beans.
After letting this simmer for about 15 minutes and continue stirring, take a taste test for flavor. Usually it needs more salt, basil and chili powder, if using it. Add anything you may want at this point.
Let this simmer for about a half an hour then add the elbow macaroni. Stir this gently and for a while, getting all the meat and tomato mixture combined.
You can top the skillet with extra cheese sprinkled and just let it melt! Set aside. Taste better after it sits and the flavors get incorporated.
Enjoy!