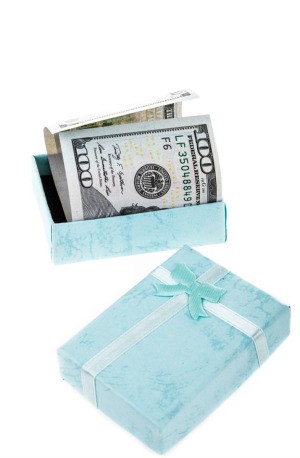 My fiancee and I have agreed that a gift registry would not work for us. Our families are very old fashioned and are not to up to date. What wording can we use on our invitations, reply cards, or reception cards? We want to have a wishing well or a really nicely decorated box where we can receive either money or gift cards.
We're expecting 300+ guests. We don't want to sound rude but we're moving out for the first time and would really like to shop for our home on our own.
Any advice?
Annie from Los Angeles, CA
Answers

January 25, 2006
0

found this helpful
maybe you could start a bank account and name it something like "new home fund" or "1st Home fund" or something like that. this way people could just deposit money into the account knowing it's gonna help you get something you want. And they won't feel pressured into buying something expensive for your wedding because you won't know who deposited how much. i did this for my baby shower to start an education fund plus i didn't want to go through the hussle of returning what i didn't like.
on the invite i wrote.. the expectant parrents have registered for the necessities at ______ and _______ . if you prefer, an account is opened at ________ that will be used to help pay for the birth and the future needs of the baby. You will obvisously need to change the theme but hopefully the wording helps.
By (Guest Post)
January 25, 2006
0

found this helpful
I think you should have your wishing well at the reception for those who bring cards, but don't write anything on your invitations. Instead, when your guests ask your closest relative what you need, s/he can tell them then. That way they can decide to go in on something you really have your heart set on or they can put in on an envelope.
Good Luck!

January 25, 2006
0

found this helpful
I applaud you on thinking of your 1st home purchase so early in the wedding process.....Here is my suggestion, I would make a note on the invitation something like "(insert bride and grooms name here) have decided that as they begin their lives together, the most important gift contributuion they could receive from friends and family would be a monetary donation for them to use in the purchase of thier first home. A wishing well will be located at the reception hall gift table for guests to deposit their contributions."

Paula
Bronze Feedback Medal for All Time! 156 Feedbacks
January 25, 2006
2

found this helpful
I think it is a great idea asking for gift cards or cash, and I don't think it is rude; but, with three hundred guests someone is bound to think your idea is rude, you can't please all the people all the time! And, trust me, if your grandma wants to buy you a crock-pot, she is GOING to whether you want her to or not!
I personally prefer to give gifts of money, it saves me the time of having to shop and decide what a newly married couple would like. How about a little poem....We have a little wish, you may agree it's really swell, instead of your having to shop for a gift, drop your card in the wishing well. (Corny, I know!)
By (Guest Post)
January 26, 2006
1

found this helpful
Invitiations should have no mention of gifts other than "no gifts requested". Register at a range of stores-everything from Macy's to Target to Home DEpot and if anyone ASKS you or your relatives what you need, they can be so advised. You can probably register on these sites for Gift Cards, too. I probabaly wouldn't even attend a wedding where I was "shaken down" for cash. It gives me a lot of pleasure to shop for "perfect gifts" and I would hope that the receipient would be appreciative of the time and effort I put into doing so.
By sandy (Guest Post)
January 26, 2006
1

found this helpful
sorry i am old fashioned to, but i think it is a bit unseemly to tell people to "give me money or nothing".
if you know there are things you do want. register them at the stores where you want things. if not hope they will give you money. Period.
I would much rather give someone money if that's what they need than buy some gift they don't want or can't use.

Holly
Silver Post Medal for All Time! 364 Posts
January 26, 2006
1

found this helpful
I agree with you. Maybe you can select a dept. store or 2 that are near your new home and mention a gift certificate fund to these places.
Many years ago we were given a bunch of Hamilton Beach appliances and none of them lasted more than a year. Stay away from this brand. GE wasn't much better.

January 26, 2006
2

found this helpful
Are you having a bridal shower? When I got married that 's where all the gifts were from. For the actual wedding gifts I would say 80% were cash.
I wouldn't put any money request in writting just make it known to your relatives and they can spread the word
By Sandy (Guest Post)
January 26, 2006
2

found this helpful
Sorry, but I think this is very tacky. Most people already give the gift of money, and any mention of any type of gift on the invitation is very distasteful in my opinion. If you don't believe me, buy a wedding etiquette book. I also think it's sad that one poster doesn't like the "hassle" of having to exchange a gift. The giver went through the "hassle" of buying you something, didn't they?
Sandy
By (Guest Post)
January 27, 2006
1

found this helpful
I guess I'm old-fashioned and feel it would be very tacky to request only getting money....some people do not have a lot of money and and a gift of money shows exactly how much you are giving....they might be able to afford a very nice gift that was on sale and looks like it was more expensive! Most gifts can be returned, so if you get some things you'd rather not keep, then you can just return or exchange. Register at some places you like to shop and specify the items you'd like to receive. I do feel that mentioning what you'd like in your invitation would be a no-no!
By barb (Guest Post)
January 27, 2006
1

found this helpful
I find it hard to believe that, at a wedding where 300 people are invited, that at least some won't know how to use a gift registry. In my opinion, it is tacky and unseemly to make ANY mention of gifts on the invitation, even a gift registry.
My advice: go ahead and register at a variety of stores, then let close family members share the bridal couple's needs, WHEN ASKED.

susan
Silver Feedback Medal for All Time! 472 Feedbacks
January 27, 2006
2

found this helpful
I agree with the majority of responses, it is definitely tacky and in bad taste to ask for cash. No matter how you word it, it looks and sounds like you are begging for money. I would not even attend a wedding where the request was made. People give gifts they are able to afford, and do so with the best of intentions.
But, on a positive note, most people do give money for weddings, so definitely have the wishing well.
There will always be those who want to give gifts instead, and will buy one even if you'd rather not get it. Definitely accept it gratiously, and with the intent that it was given.
Also, tell all close relatives to pass the work that you are saving to buy a home -- that should put the idea to give cash in most ears -- or, that you really need XXXXX (and think carefully about practicle stuff). It could be anything that you'd find extremely useful, like your favorite colored linens (bath or kitchen towels, dish rags, pot holders, sheets), paper goods (TP, kleenex, envelopes, stamps, books), gardening supplies, groceries with favorite recipes attached, or just about anything you could use and would have to buy anyway, still leaving all the important stuff for you to pick out later.
With 300+ guests, you're bound to get lots of money and still some stuff that you'll be able to use. Good luck on your big day.
Ha! susanmajp's post reminded me. At our wedding we recieved a large package wrapped in gold paper. When we went home and opened our gifts we tried to guess what it was. It turned out to be a box filled with TP, paper towels and tissues. Either the card fell off or the giver didn't want to identify themselves, so we never did know who gave it to us. But I have to say it was among the most useful gifts we recieved!! I just feel guilty six and a half years later because I never knew who to thank. Maybe it was supposed to be a gag gift. I don't really know. But hey, we were able to use it!! :)
Read More

Answers
I am having a housewarming celebration. My home is completely furnished with the exception of major appliances. Would it be proper to ask for money or to have a money tree for guests to place their gifts of money?
If it is correct to ask, how would this be stated on the invitation?
Any suggestions will be greatly appreciated.
Thank you.
- Gwen
Answers

September 16, 2003
0

found this helpful
If someone were hosting the housewarming party for you, this would be acceptable. Unfortunately, I believe the answer to your question is no. Etiquette says one does not ask for gifts or money for oneself. Times, they are a-changing and many people may disagree with me but I still think it is tacky to invite someone to your home and ask for a gift and/or for money. I, for one, would be offended.
The only suggestion I have in this case is that perhaps you have a friend to whom you can strongly suggest you need money for major appliances and she might pass the word around.
Enjoy your party AND your new home!
By ALOHA FROM HAWAII (Guest Post)
August 16, 2004
0

found this helpful
I agree with it being tacky to ask your family and friends to give you gifts and money. If you've been hinting it around, they should know. If they get you gifts that you don't want, simply return them for store credit and get what you truly wanted or need. There's no need to be greedy at this point in our lives.
By jeangnome46 (Guest Post)
November 4, 2004
1

found this helpful
I can't think of a faster way to create enemies than to ask them for money! You would be fodder for the gossipmongers for months to come. I hope you won't do it.
By Love Moore (Guest Post)
November 27, 2004
0

found this helpful
I think that it is appropriate to have a wishingwell housewarming if your home is already furnished. I'm doing it but it's hosted by my sister and a friend. It's probaly better if the invite is coming from someone else or use www.evite.com to send invitations. I would include this in my invitations stating that monetary gifts are prefered just like wedding receptions.
Good Luck!
By BigCasino (Guest Post)
June 23, 2005
0

found this helpful
back in the day people used to throw "rent" parties. If it is presented in this type of way then I think it is ok. However if you present it as a house warming party then like everyone has said its not cool to ask for money.
Read More

Answers