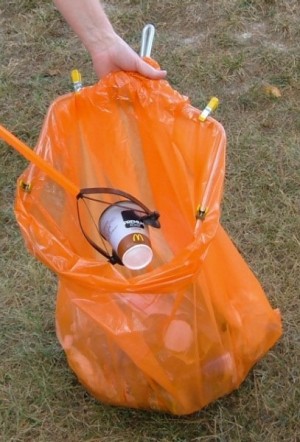 There is a great need for volunteers to help clean up our roads these days. I have found that the winter months are the best time for me as the grass is short and the litter is so accessible and there are no biting insects to bother me.
To pick up litter, you only need something to put it in; however it helps to have a reach extender, gloves, and a bag on a bag holder. Reach extenders are easy to find in local stores, but bag holders are not as available. I have seen a few on line and they are expensive.
We made our own bag holders and use them for our Adopt-A-Highway team members to use. It weighs only 4 1/2 ounces. You can make one too by following these simple step-by-step instructions. You can find these supplies at Home Depot or Lowes. The cost is approximately $5.00-$7.00, depending on the cost of the aluminum rod. These bag holders are durable and will last for a long time. We have been using ours since 2004 and they are still good as new. The spring clamps are cheap and can be replaced if one is lost.
Also included are instructions on how to put the bag on the bag holder.