Baking Fruit Pies
Solutions
Share on ThriftyFunThis page contains the following solutions. Have something to add? Please share your solution!
When I bake fruit filled pies such as Blueberry, after adding the top crust as well as cutting slits in the top crust, I take a piece of tube type pasta and insert it in the center of my pie crust. This will let the steam out and keep the filling in the pie.,
Source: My Mom
By Irishwitch from Aurora, CO
Read More Comments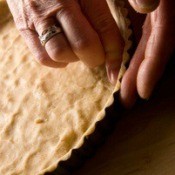 Prepare your favorite pastry for a double crust 9 inch pie.
The filling: Mix together dry ingredients. Toss with the fresh cut fruit and lemon juice, if used. Turn into pastry-lined pie plate. Dot with margarine. Make several slits in the top crust; seal and flute the edge. Bake as directed until brown. Cool and serve. Here are the very simple, easy recipes.
Apple
3/4 cup sugar
1 Tbsp. corn starch
1 tsp. cinnamon
6 cups, sliced apples
1 Tbsp. lemon juice
1 Tbsp. butter or margarine
Bake at 425 degree F oven 50 minutes or until brown.
Peach
3/4 cup sugar
2 1/2 Tbsp. corn starch
1/2 tsp. cinnamon
6 cups sliced peaches
1 Tbsp. lemon juice
1 Tbsp. margarine or butter
Bake at 425 degree F oven for 40 minutes or until brown
Cherry
3/4 cup sugar
3 Tbsp. corn starch
1/2 tsp. salt
2 cans (1 lb. each) pitted sour red cherries, drained with 1/3 cup of the juice reserved
1/4 tsp. almond extract
1 Tbsp. margarine or butter
Mix dry ingredients; toss with cherries, juice and extract. Bake in 425 degree F oven 15 minutes. Reduce heat to 350 degrees and bake 40 minutes longer or until crust is browned.
Blueberry
1 cup sugar
2 1/2 Tbsp. cornstarch
4 cups blueberries
1 Tbsp. margarine or butter
Bake in 425 degree F oven for 40 minutes or until brown.
Pear
1/2 cup firmly packed brown sugar
3 Tbsp. corn starch
1/2 tsp. ginger
1/8 tsp. salt
4 1/2 cups thinly sliced pears
1 Tbsp. lemon juice
1 Tbsp. margarine or butter
Bake in 425 degree F oven for 15 minutes. Reduce heat to 350 degrees F and continue baking for 40 minutes longer or until nicely browned.
Strawberry
1 cup sugar
2 1/2 Tbsp. corn starch
4 cups sliced, hulled strawberries
1 Tbsp. margarine or butter
Bake in a 425 degree F oven for 40 minutes or until browned.
Rhubarb
1 1/4 cup sugar
2 1/2 tsp. corn starch
2 tsp. orange rind
1/4 tsp. salt
5 cups of Rhubarb cut into 1 inch pieces
1 Tbsp. margarine or butter
Bake in 425 degree F oven for 45 minutes or until brown.
Source: I have had this tear out and keep in your kitchen page forever. I believe it is from Argo cornstarch. These recipes are so basic and simple to follow and I have actually worn this page out. I put it into a sheet protector today so I can continue to use these wonderful pie recipes.
My family loves pie best of any dessert. I use to make my own pie crust, but today I watch for pie crust on sale at the grocery store. Enjoy!
By Bobbie from Rockwall
Read More Comments
An inexpensive (and easy) way to protect your pie crust from burning is this: Lay a large sheet of aluminum foil over the pie plate you plan to use.
Read More...
If you have trouble with pies going over while they bake and making a big mess in your oven all you have to do is sprinkle a little powdered lemon-flavored gelatin on the top crust. It helps it not to bubble over that way.
Read More...
When preparing fruit for pie filling, crisps, cobblers, etc., mix in a teaspoon or two of baking soda before adding any sweetener. Then start out with adding 1/4 to 1/2 the amount of sugar that you normally would.
Questions
Ask a QuestionHere are the questions asked by community members. Read on to see the answers provided by the ThriftyFun community or ask a new question.
Does anyone know an easy way to make home-made fried fruit pies?
By meme7_2000 from Marked Tree, AR
Answers
September 12, 2010
0

found this helpful
You can probably find an authentic recipe in past Southern Living magazines. I've found, though, that most recipes call for using dried fruit (such as peaches or apples) which I didn't want. What I came up with isn't the same as the fried pies we used to eat at family reunions in N.C. but it's a fast and easy substitute, yummy, and I make them with fresh peaches for breakfast. If you're using a hard fruit such as apples, the fruit would have to be precooked to the desired tenderness (or use canned pie filling).
First, make your filling by thinly slicing fruit and adding sugar and flavoring (such as cinnamon) to your liking. Next, I use a can of Pillsbury Refrigerator Biscuits (not the Grands) for the pastry. Using a floured rolling pin and surface, I roll each biscuit into a flat circle, using as few strokes as possible until they're about 7 inches wide. Put small amount of filling on half of circle, fold over, moisten edges with water, seal together by pressing edges with fork tines and gently place in skillet containing about 1/2 " of hot oil (I just use canola oil). Be careful it doesn't get too hot or biscuits will burn or not cook all the way through. Turn pies over once so both sides become golden brown. Drain; sprinkling with powdered sugar is optional.
You'll have to experiment with the amount of filling and heat of oil (type of skillet used will affect heat and timing), but even the rejects are tasty for the cook to nibble on while making more! Good luck. Sorry I don't have an exact recipe.
September 14, 2010
0

found this helpful
This is my old family recipe from Tennessee. Make your own crust. The bought crust does not seem to work as well. Make a lot because it takes a lot. You really need to use dried fruit because that is how the old timers made it and it fills the crust without leaving holes. Stew the fruit in a little water or apple juice untill it is soft. I cut the fruit into small pieces with kitchen sizzors. When the fruit is softened, add a little butter some sugar and some corn starch or flour to thicken it. Cut rounds using a saucer for a guide. Add a spoonful of the fruit, depending on the size of your saucer and fold over. Use the tines of a fork to seal the edge and trim to an even edge then poke each pie with the fork to let out the steam. Heat one half inch oil, lard or shortening. I like to use my electric skillet but the old timers used a cast iron one. Lay the pies in the fat and fry until one side is brown then turn. Cool on a rack. There really are no short cuts to perfect fried pies. I can tell you that mine are a hit everytime I make them. At Christmas I make them with mincemeat from a jar. These are wonderful.
Answer

this Question

...
Individual pies of fruit, veggies or meat can be very convenient for hand held eating. One serving pies are great for a meal entree, dessert or the lunch box.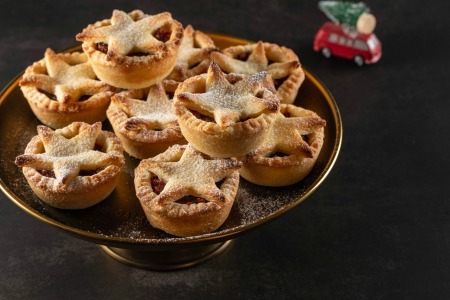 Archives
ThriftyFun is one of the longest running frugal living communities on the Internet. These are archives of older discussions.
Cut drinking straws into short lengths and insert into pie slits to let steam and juices to escape and reduce overflow. To make a more decorative fruit pie cut holes in the upper crust, use a thimble to cut the wholes and then replace the little circles into place.

By Linda from Oceanside, CA

Answers:
Reduce Overflowing in Fruit Pies
I hope you don't use plastic. The plastic melts and then you don't want to eat that. (12/10/2005)

By sandy
Reduce Overflowing in Fruit Pies
Good idea! I too used to use plastic drinking straws but then became concerned that maybe the "plastic" stuck in my piecrust might not be a good idea. Now I use pasta (macaroni or whatever is at hand) It works on the same principle, bubbling up into the pasta instead of over the sides of the pie. (12/10/2005)

By Enter Mairmie
Does anyone have any recipes for fried pies? My husband's grandmother used to make apricot fried pies in a cast iron frying pan. I imagine they can be made from any fruits.

By Kathy from OH

Answers:
Recipe for Fried Fruit Pies
Yep. I remember these! I haven't had them for years and years!

Fried Apple Pies
2 cups flour (I use S R)
1/2 cup shortening
1/2 cup water
2 apples
1/3 cup white sugar
1/2 teaspoon ground cinnamon
1 cup vegetable oil
Peel and dice apples. Add sugar and cinnamon. Cook in a saucepan on low heat. Cook until soft, then mash with a fork to form a thick applesauce.

Cut in the shortening. Add water and mix with a fork.

Roll out to about 1/8-inch thickness on a floured board. Cut with a large round cookie cutter (4-inches in diameter.).

In each round, place 1 heaping tablespoons fruit. Moisten edges with cold water, fold and press edge with a fork.

Heat oil in a large skillet on med-high heat. Fry pies, a few at a time, 2-3 minutes on each side.

Cook until golden brown.

Drain on paper towels. Sprinkle with confectioners sugar.
Good luck. (09/03/2009)
Recipe for Fried Fruit Pies
We have also made these using canned biscuits instead of making your own dough. Just be sure to roll the biscuits flat and large enough to be able to fold them over the fruit. (09/06/2009)

By Linda
Recipe for Fried Fruit Pies
My mom made these eons ago. She rolled out cheap biscuits (10 cents per can) and put a Tbsp of apple butter in the middle, folded the biscuit over and sealed with a wet finger. Then fried in oil. Delish! It was so good I always burned my mouth on the hot pies. Great cold too! (09/06/2009)

Recipe for Fried Fruit Pies
Go to Southern Plate.com She has many good old recipes like your grannie used to make. One of her recipes is fried pies. She even has a tutorial complete with photos to show you how to make them.
(09/06/2009)

Recipe for Fried Fruit Pies
I learned this from my mom. Take canned biscuits, roll them out, put your favorite pie filling or fruit in them (careful not to fill them too full), crimp them, and fry them in hot grease in a skillet. They were great and really easy, too. (09/07/2009)

By Carol
Advertisement
Published by ThriftyFun.
© 1997-2020 by Cumuli, Inc. All Rights Reserved.
https://www.thriftyfun.com/Baking-Fruit-Pies.html