This is a delicious pie dough recipe, great for pies that are sweet. Double the ingredients if you need to top your pie with dough.

Yield: 1 crust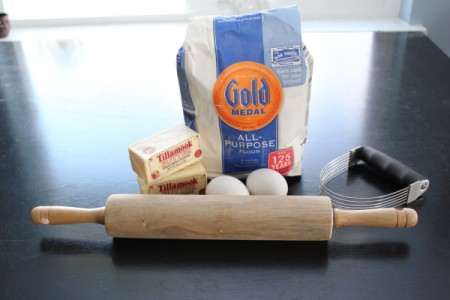 Ingredients:
10 Tbsp cold butter (cubed)
2 cups all-purpose flour
2 eggs
1/2 tsp salt
Steps:
Chop the cold butter cubes into the flour on a flat work surface using a wire pastry blender or a bench knife. If your house is warm, you may want to put the butter cubes into the freezer 15 minutes beforehand.
Once the cubes are pea sized, pile the flour mixture into a mound and make a hole in the center. Pour the eggs into this well and slowly mix the eggs in with the flour, eroding the insides of the wall.

When the flour has absorbed the eggs chop with the pastry blender one more time. Do a test pinch of the dough. If it stays together then you can continue with the following steps. If it falls apart, then add 1 Tbsp. cold water.
Pile the dough up working with 1/8 of the dough at a time. Push it with the palm of your hand to smear it on the work surface.

Shape the dough into a disk and roll out dough until a little larger than your 9-10 inch pie pan.
I got this recipe from the book "Cooking" by James Peterson.
May 21, 2013
0

found this helpful
Top Comment
If it wasn't for my Grandma's pie dough recipe I doubt I would make pies. This pie dough recipe is no fail. It's the greatest and very flakey. I usually make it with lard if I have it or else use crisco. It rolls out wonderful, doesn't crack and is easy to fold over in the pie dish. Hope you enjoy.
4 C Flour
1 tsp Baking Powder
1 tsp Salt
1 ½ C Lard (she sometimes used Crisco or the butter Crisco if she didn't have Lard)
Cut into flour mixture (I use the dough hook on my kitchen aid)
Then take:
¾ C Water
1 Egg
1 Tbsp. Vinegar
With wire whip or spoon mix these 3 ingredients together and add to flour mixture.
Make sure you put plenty of flour on the counter while rolling out, and on top of the crust. You can turn this over and it won't break or crack. It's wonderful. If you make it with lard sometimes putting it in the fridge for a half hour or so helps.
After my pie has baked I usually use a egg wash and it gives it a nice shine and color in the last 15 or 20 minutes of baking.
Happy Pie making