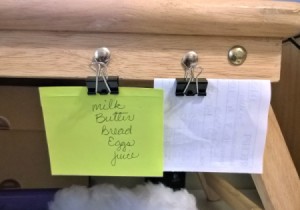 The space is limited on my desk. So I have my laptop on a tray. This gives me space underneath for things that I don't need very often. It's where I keep my external hard drive, a supply basket, etc.
Today I decided to modify the tray just a bit to put up notes, lists, receipts and such. You would only need some tacks and the clips.
If you don't have this set up, and you most likely won't, you can do this on your wall, too. Just make sure the clip itself is facing you or you could put it on backwards. I did so it's easy to do.
This will help with things you want to hang up and get out of the way but see or get to easy.
N-JOY!