Do you think Walmart paint is just as good as the other or should I buy from Home Depot or Sherwin Williams?

Priscilla from Zwolle

Answers

Marjorie
Silver Feedback Medal for All Time! 290 Feedbacks
February 26, 2008
1

found this helpful
Best Answer
See if Walmart sells a name brand paint. Or possibly Walmart has their own name brand. Don't buy any paint from bargain stores, they are inferior. I speak from experience.
Major paint manufacturers that make the actual paint will sell it to stores and it's sold under another label. Talk to someone who works in Walmart's paint department and ask some questions.
Also look on the side of the paint can and see if it has a printed guarantee.
By Ted Norris (Guest Post)
February 27, 2008
0

found this helpful
Best Answer
Wal-Mart doesn't make paint, they buy it and sell it under there name, who makes it for them would be interesting to know but you can bet it's one of the major paint Mfg's, Home Depot sell Behr paint as there brand and they are paint Mfg's, to compete with the Major brands, Dutch Boy, Sherwin Williams, you better be as good or better or your not going to be around long, if one was to do a Google search I'm sure you could find out about test results.
Answer

this Question

I went to Walmart for a gallon of paint, the guy mixed it up and when I got home I accidentally tipped the paint can. Well the guy who mixed the paint didn't seal the lid. Now I have a huge stain on my carpet. Should I try to get Walmart to pay to have to carpet cleaned or just let it go?
Evol from Las Vegas, NV
Answers

August 25, 2008
0

found this helpful
Best Answer
I think that you would have a hard time proving that the paint mixer person did not seal the paint can properly. They would maintain that you should have checked the seal before you left the store. After you leave, they cannot be responsible for damages.
I have complained to Wal-Mart before and have gotten nowhere.
If you choose to pursue this, I wish you the best of luck.

Marjorie
Silver Feedback Medal for All Time! 290 Feedbacks
August 25, 2008
0

found this helpful
Best Answer
Contact the manager at the Walmart where you bought the paint. But don't be surprised if Walmart refuses to pay for the carpet cleaning.
Walmart has been notorious in paying for workers' compensation cases when their employees have been hurt right at the job.
A friend of mine lost her job at Walmart because she was involved in an auto accident. Walmart was SO CHEAP that they didn't want to cover any of her medical expenses.
By Oberhund (Guest Post)
August 25, 2008
0

found this helpful
Best Answer
You should at least try. At the very least you would have notified them of a problem they could work towards fixing. NOTE: I've always had more success dealing with customer complaints and getting results by being good natured. I used to work in customer service (for 11 years) and I know from experience that management will be more inclined to do something to help customers who are polite and "likeable." If you dress in a professional manner when you go to complain, you'll get better service, too.
Human nature, I guess.
If you don't get any help, you can then send a polite letter to head office detailing your complaint. Make sure to have the dates and the names. And it's always a good idea to include a detailed suggestion of how you would like to be compensated. For example, if you have an estimated cost of the repair/cleaning that might be helpful. Try not to get upset if management can't help you the way you wish. It might be because they have limited scope in what they can do. Good luck!
Answer

this Question

So I bought a can of paint at Walmart today and I'm pretty sure that she did not properly seal my paint can. I put it in my van and when I got home it was tipped over and the entire gallon is all over the inside of my van now.
Do you think Walmart will cover to have my carpet replaced and my van detailed? If the paint can had been properly sealed it would've never spilt when it tipped over.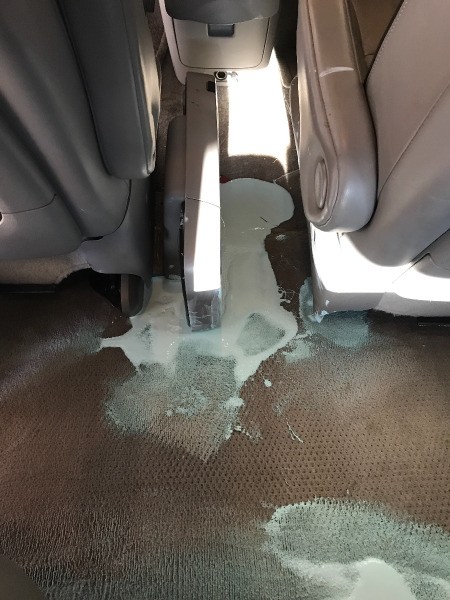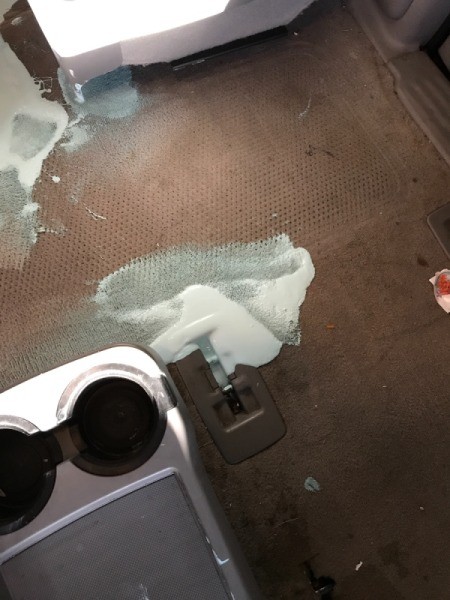 Answers

July 28, 2017
0

found this helpful
Best Answer
I would say there is no harm in asking as Walmart does stand behind their sales but it is kinda like getting home with broken eggs, or spilled milk or any liquid container - whose fault is it? Walmart will replace or refund for the product but not the clean-up.
I would take photos and receipt to the store and request to see the manager - be calm and discuss it with them. If you do not like their solution then you need to ask for their corporate office information and then follow through with your case.
It is possible that Walmart will have your van cleaned but I do not think they will pay to have the carpet replaced but this is just my personal opinion so best to take your receipt and photos and do it soon.

July 28, 2017
0

found this helpful
Best Answer
I do not believe the manager will confront an employee about something like this (not while in the work area) but they may be cautioned later about something like this and certainly to be more careful.
You probably paid for the paint in their paint department but your receipt will show what employee handled your item and possibly did not close it properly. I do not think Walmart will hold the employee responsible for this error (?) and make them pay(?).
I feel sure this will not be the first time that a manager has had to deal with this kind of mess but one incident does not set a precedent so I'm sure any case like this will be handled as the manager sees Walmart's responsibility and will make his own decision. Your part will be to accept their decision or ask them to send your case to their corporate offices. You should hear from them within a few days. If not, then it will be your decision to contact them yourself.

15mhhm15
Diamond Post Medal for All Time! 1,298 Posts
July 28, 2017
0

found this helpful
Best Answer
I would go in and speak to the manager. Provide photos and your receipt and see if they'd help you, or help pay cost for cleaning.
At a grocery store their employee pushed the cart right into my car and left scratches and dings. Even though there was a big sign that says not responsible for any damages I still went in and pointed out the employee. The employee was disabled and I was told he's color blind , but my car was brand new less than a year old and I was in my car the time of the incident.
The manager reimbursed my repairs of a little over $200.

July 29, 2017
0

found this helpful
Best Answer
Even if the lid was on properly, if the paint was not secured in the vehicle it could pop open and spill if tipped while driving. In a car this would mean placing it in the small foot space in the back seat area on the floor, or in the trunk secured in a cardboard box or wedged between your other trunk items, and in a van or larger vehicle it would mean secured in a tight space or even seat belted in. You never know how much centrifugal force will be created as a vehicle turns a corner or brakes hard, made worse if the paint is heavier than average, like a textured paint. That said, the manager likely will give you a replacement, but will only fund a clean-up at their discretion, but are not likely obligated to do so. I agree with everyone who said to have a pleasant demeanor when you complain, it will get you farther than going in angry. Good luck!
Answer

this Question