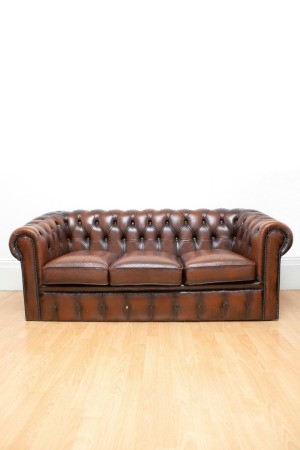 I am looking for input on buying a leather sofa. Would you buy one that was one solid piece? Or would you purchase one that had seams in it? I don't know where they would get a large enough piece to cover a big couch. I had rather get one that had seams in it and you could see it was sewed together. I am just wondering what others thought. I couldn't figure this one out.
By mamacrafter from TN
Answers
March 10, 2011
0

found this helpful
My parents have had some leather couches. They got one that had attached cushions. Mom thought that would be good so that they wouldn't shift. They ended up with sunken spots since the cushions couldn't be rearranged to even out the wear.
When they got new furniture, they made sure that the cushions were removable. Other than that, I don't think they've had any issues with the leather furniture.
I suspect the seams that you were wondering about would be personal preference. I haven't paid much attention, but I think that the back of the couch might have one seam down the middle.
March 11, 2011
0

found this helpful
I had to go look at mine. I have cushions that look separate but are attached and they have two seams running down them. I have never had a problem with the seams but I have never had young children around them except an occasional grand child.
March 11, 2011
0

found this helpful
I was told one time that if it's all one piece, it's not true leather because as you said, where would you find one that large. Cows aren't that big. Also, I would never again buy a leather sofa. Mine is so uncomfortable. It is not at all "cushy".
March 11, 2011
0

found this helpful
I just bought my "retirement recliner". It is a very expensive leather chair. It has several seams that show prominently. the leather is very soft. It's very comfy.
March 12, 2011
0

found this helpful
More important than the number of seams is to know the type of 'leather' you are getting.
Full-grain, finest outer portion of the hide and left untreated, not for people with pets or children due to durability.
Top-grain, outer hide but treated, 2nd most expensive but more durable that full-grain
Split-grain, inner hide, not as durable as top-grain, used for sides, back and lower price furniture.
Bonded, least expensive, made from leftover scraps combined to look like a single piece, lacks resilience of the others.
March 13, 2011
0

found this helpful
Although a leather sofa can look chic, know that if you live in a "cold" area that when you sit, it will be cold. I am forever putting down a throw before I sit down. Also if this is going into a room where it is used a lot. It will eventually lose shape.
May 4, 2011
0

found this helpful
Typically the cushions are going to be connected. They may look like separate cushions, but they are most likely attached together. I would sew it together like you stated.
Answer

this Question
How long would it take a family with 1 baby and no pets to damage a vinyl couch or should I just get a leather sofa?
By lilypad1 from CA

Answers
May 30, 2010
0

found this helpful
Buy a couch made from some type of a fabric and get one from a thrift shop.
Don't be foolish and spend a lot of money on something new.
May 31, 2010
0

found this helpful
If you have a couch you can get it re covered with a good grade of leather or vinyl, it will last a life time, I think vinyl will last longer, good luck.
May 31, 2010
0

found this helpful
Leather will hold up better with your family. Our 2 year old grandson and a large dog live with us while our daughter is deployed and we have all leather in our family room. Vinyl becomes brittle after time.
June 1, 2010
0

found this helpful
When I was a kid, many, many years ago, my folks had a vinyl covered rocking chair, this was a large chair, and there were 4 kids in the family, ranging in age from baby to 10 years when they purchased the chair and it lasted for many years. I also know they didn't pay a lot for it, because we were real low income.
June 2, 2010
0

found this helpful
I had a leather couch for only three years. It did have vinyl everywhere your skin did not touch. Well the leather stayed in perfect condition but the vinyl ended up cracking and spliting. I say go for all leather and it will last a long time.
June 3, 2010
0

found this helpful
Hello, W
Well leather is more costly than vinyl but the leather will last much longer.
June 3, 2010
0

found this helpful
If I were you, I'd do vinyl.
I think leather is too much upkeep while raising children.
Answer

this Question
I am thinking about buying leather furniture. My family suffers from allergies. Will this be the best furniture for people with allergies? Also, do cats claw this furniture?
By Cindy from TX
Answers
February 16, 2010
0

found this helpful
Don't know about the cat question although I would suspect they would, as they can do any furniture. As to the allergy question, I can say it helped me. We live where it's quite dusty (farm land) and I could smack the arm of my fabric couch and see dust fly even right after cleaning. With the leather I just keep it wiped down (sometimes with leather cleaner and sometimes with a damp cloth) and this eliminates the dust and helps my allergies.
February 17, 2010
0

found this helpful
I have leather furniture and 3 cats. My cats don't claw the furniture, but if they are running and jump on it (just playing around) they can scratch it some.
February 18, 2010
0

found this helpful
Hot in warm weather and cold in cold weather.
February 18, 2010
0

found this helpful
Cats scratched the sides of my son's leather sofa and chairs:-( It's more noticeable on leather, too.
February 18, 2010
0

found this helpful
I love our leather couches! We have 2 dogs and a cat and the leather is great with pets. Our couches have a distressed finish so it doesn't show any marks when the dogs run and jump on the couch. It's perfect! I keep an old knitting project folded up on one of the arms and our cat think it's his personal space. He goes right to it every time and doesn't bother with the rest of the couch at all.
February 18, 2010
0

found this helpful
Leather will last longer than most other things. We tried to save money and had a matching vinyl covering added to the backs and sides of our couch and chair (where you don't see) and wish I had kept it all leather. They put vinyl on the sides of the seats and it is cracking at the seams. It would have been worth it to me to go ahead and spend the money but for sure, get all leather around the seats.
Answer

this Question
If you are looking for kids couch, a leather sofa might just be what you are looking for. Some people believe that leather couches are the perfect family sofa, where as others disagree. Check out this page and learn more about leather couches for houses with children and pets.