This recipe works well if you're in the mood for "stuffed cabbage" but you don't have the whole leaves to roll up. This recipe uses shredded cabbage so having the whole head of cabbage is not even necessary. :) It looks a bit sloppy when it's cut out of the baking dish, sort of like lasagna; it falls apart a bit. It's delicious if you like stuffed cabbage, or cabbage rolls as some call it.
Prep Time: 30 min
Cook Time: 1.5 -2 hrs
Total Time: approx. 2-2.5 hrs
Yield: 4-6
Source: I saw this on the internet, but tweaked it a bit.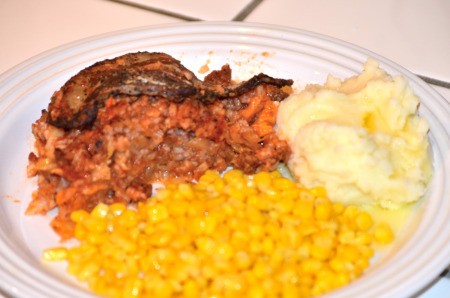 Ingredients:
3-4 cups shredded cabbage
1 15 oz can tomato sauce
1 6 oz can tomato paste
1.5-2 cup water
1 cup instant rice
1.5 lb ground beef
1 Tbsp basil
1.5-2 tsp garlic powder
1 tsp Italian Seasoning
3/4-1 cup chopped onion
1 bay leaf
1 tsp salt
1 tsp pepper
1-3 strips bacon
Steps:
Fry up your ground beef and add your chopped onion. Cook until onions are translucent.
Now add your tomato sauce and tomato paste into the cooked ground beef and onions.
Add your water now, and then the rice.
Now add all of your spices. Cover with a lid and cook on a low heat for 15 minutes.
While the mixture is cooking you can large shred your cabbage. I like the large shred because if cabbage is too thinly shredded you won't know it's there after it's baked.
Now the layering begins. First spray your baking dish with Pam spray. Spoon some of your tomato rice mixture into the bottom of your baking dish, about 3/4 cup.
Then take a good couple of handfuls of the shredded cabbage, and place on top of the mixture. Add another layer sauce mixture, then cabbage, and lastly, the sauce mixture.
We like peppered bacon, but you can use what you like. Optional: Place a few strips of bacon on top. Cover with foil then bake for 1.5 hours to 2 hours at 325 F.
This recipe would work great in a crock pot too.
Read More Comments
Saute onion in olive oil. Add ground beef, salt and pepper, heat through, but do not brown. Spread 3 cups cabbage in a 2 quart baking dish; cover with meat mixture and top with remaining cabbage.
Pour soup over top. Bake covered 1 hour at 350 degrees F.
Read More...
Boil cabbage till tender. Drain, reserve 1/2 cup liquid. Melt butter in saucepan. Stir in flour, salt and dry mustard. Add reserved liquid, milk and cheese; cook stirring until cheese melts.
Read More...
I am looking for a recipe. It had cabbage, ground meat, macaroni, and Zesty Italian dressing mix in it. The Zesty Italian dressing mix was the dry kind that comes in a envelope and is by the bottled salad dressings in the grocery store. I would appreciate the recipe if someone could share if they have it.
Thanks.
By Twila Wales from Loranger, LA
Answers
May 18, 2010
0

found this helpful
Thanks so much for your help Kaelle. I am going to try this recipe. I am sure we will enjoy it.
May 19, 2010
0

found this helpful
I know if you go to Goodseasons.com They have the exact recipe you are looking for. I have used that recipe for many years. In fact I think I might use it this weekend for a church celebration Thanx Terryclipper
May 19, 2010
0

found this helpful
Thanks Terryclipper. I was not able to find the recipe on the goodseasons site. Appreciate your help.
Answer

this Question

...
I would like to find some recipes for a cabbage casserole.
By sandradickinson88 from Zanesville, OH
Answers
December 31, 2012
0

found this helpful
Cabbage Roll Casserole
Serves: 4
1 pound hamburger
1 medium head cabbage
1 large jar of spaghetti sauce
1 cup minute rice
Mushrooms, fresh and sliced or canned that are well drained
Mozzarella cheese, grated
1. Preheat oven to 250 degrees F.
2. Brown hamburger in a skillet. Shred the cabbage.
3. In a large greased casserole place a layer of shredded cabbage, then cover with browned hamburger, mushrooms and rice.
4. Cover with remaining cabbage. Pour over spaghetti sauce. Garnish with cheese.
5. Bake at until cabbage is tender and sauce is fairly well absorbed, about 2 to 2-1/2 hours.
December 31, 2012
0

found this helpful
Busy Day Cabbage Rolls
Serves: 4
Preparation Time: 10 min
Cooking Time: 1 hr 55 min
2 tablespoons oil
1 large onion, chopped
1 1/2 pounds ground beef
parsley
salt and pepper
1/2 cup rice (cooked 10 minutes and drained)
3 pounds cabbage, chopped
1 can tomato soup
1 can water
3 tablespoons Worcestershire sauce
1. Preheat oven to 350 degrees F.
2. Cook onion, seasonings and meat until browned. Meanwhile, prepare rice.
3. Combine with meat mixture. Spread in oiled 9x13 pan.
4. Top with chopped cabbage. Combine tomato soup and water and pour over mixture in pan.
5. Cover with foil and bake at 350 degrees F for 1 1/2 hours.
Answer

this Question

...
Ingredients:
1 small head cabbage
8-10 slices Velveeta cheese
16-20 saltine crackers
1 can cream of celery soup (if using a large head of cabbage, use 2)
Directions:
Cut cabbage into bite size pieces; cover with water in saucepan. Cook until tender. Drain. In medium size casserole dish, layer in this order: 1/3 can soup, 1/2 cabbage, 1/3 soup, 1/2 cheese slices, 1/2 saltine crackers, crushed, 1/2 cabbage, 1/3 soup, 1/2 cheese slices and 1/2 saltine crackers. Bake at 325 degrees F until bubbly and cheese has melted and starting to turn golden in color.
By Robin from Washington, IA
I looking for a Cabbage Casserole recipe. I remember layering cabbage, rice, tomato sauce and topping it with cheese. That's all I remember. Any ideas?

By Paula from Minneapolis, MN

Answers:
Cabbage Casserole Recipe
There are a ton of variations it looks like. Some with tomato soup or sauce or spaghetti sauce, some without cheese although that is easy to remedy.

Here are a couple:

http://www.thriftyfun.com/tf98342059.tip.html

http://www.recipezaar.com/Lazy-Cabbage-Roll-Casserole-257570

http://www.recipezaar.com/Lazy-Mans-Cabbage-Rolls-1882

http://www.recipezaar.com/Lazy-Cabbage-Roll-Casserole-11617 (05/23/2009)

By KL