Jess
Silver Post Medal for All Time! 267 Posts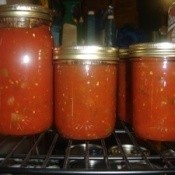 This is a family recipe from my friend Stephanie. The cooked salsa is similar to jarred supermarket salsa, like Pace. She used to make this years ago so we decided to have a Salsa Canning party and make 4 batches, for our families and gifts. I can already tell that we will need to make another batch soon.
We got our tomatoes at the local Farmer's Market (Forty pounds of tomatoes is a lot!). I think the salsa cost us about $2.50 a quart, which is not a lot of savings if you are buying from the supermarket. Tomatoes and canning jars (which are reusable) were the bulk of the cost.
Ingredients
10 lb. ripe tomatoes, skinned and chopped (approx 12 cups)*
1 1/4 cups green peppers, chopped
3 cups onions, chopped
3 jalapeno peppers, finely chopped or 1 small (4 oz.) can**
2 Tbsp. garlic, minced
3 Tbsp. pickling salt
1 Tbsp. crushed red pepper flakes
1/2 tsp. celery salt
1-2 Tbsp. ground cumin
1 Tbsp chili powder
1 tsp. Tabasco sauce
1/4 cup sugar
1/2 cup white distilled vinegar
2 large cans tomato paste (12 oz. each)
1/2 cup chopped cilantro, or to taste
*I have found that 10 pounds of tomatoes is about half a paper or reusable grocery sack, or will fill up a plastic grocery bag. Figure 3 large or 6 small tomatoes per pound.
To peel tomatoes, cut an "X" at one end and submerge them into boiling water for about 30 seconds. Then dunk them into a icewater bath and the skin will pull off easily.
**Leave the veins and seeds in fresh jalapenos for spicy salsa. We seeded ours and it is very mild.
Directions
Place all ingredients into large kettle. Simmer until desired thickness is reached, 45 minutes to an hour and a half. Check seasonings at end and adjust to your personal taste. Add the cilantro at this time, so that the fresh flavor will not be cooked away.
Pour into sterile pint or quart canning jars. Leave about 1/4 inch headroom, to avoid problems in storage. Seal immediately with a hot water bath.
This will yield approximately 5 quarts. The salsa should be good for up to a year, if it lasts that long.
Tips
Wear rubber gloves when chopping fresh jalapeno peppers. If you have sensitive skin, you may want to also wear them for the onions and tomatoes.
Have your canning jars sterilized and ready to be filled and sealed. Make sure you have a few more than you need, just in case. I think we got 11 pints per batch.
You can get most of these spices on the Hispanic or Ethnic section of your grocery store. They will come in packages instead of bottles and are usually much cheaper. You can also buy spices in bulk many places.
If you are trying to use your home grown tomatoes but are not getting 10 pounds at a time, peel and chop tomatoes as you harvest them and store them in the freezer until you gather enough. The freezing will soften the tomatoes but the cooking will do that anyhow so the resulting salsa should be about the same.
Be sure to label your salsa with the date and version, especially if you can other things, like stewed tomatoes, soups or spaghetti sauce. Store it in sight, so you don't forget about it. Stephanie found several full jars that had been replaced in the canning jar boxes from years ago.
In addition to just opening a jar to eat with chips, you can also use it as a base for chili or thicken it for an enchilada sauce.
Feel free to add, subtract or substitute ingredients. Some ideas are:
Green tomatoes or tomatillos for tomatoes
Habenero or serrano chiles instead of jalapenos
Canned tomatoes instead of fresh
Add corn or beans to make the salsa more nutritious
Fire roast the veggies on the grill for a smokey flavor
Use apple cider vinegar or lime juice instead of white vinegar
Once you have perfected your own recipe, it is just as easy to make a double batch. We had a festive Mexican dinner after all the cooking, with chips and salsa, of course! It would be a fun yearly event. We served grilled shrimp tacos and crockpot salsa chicken. We just put the chicken in the crockpot with some taco seasonings and a bit of water to cook. We added about a cup of salsa when we had that ready and it was succulent and tender.
Source: My friend Stephanie and her family cookbook, with some changes
By Jess
Read More

Comments

What are the benefits of canning salsa? How long does it generally stay good for?
By Penelope Ann Thornn from Petroleum, ID

Answers

January 19, 2010
0

found this helpful
I would put it in freezer. It will last a long time, good luck.

PENNY K
Bronze Feedback Medal for All Time! 107 Feedbacks
January 20, 2010
0

found this helpful
As far as cooking before hand or not, I think the tomatoes have to be cooked a bit to be canned. If you want fresh, you could freeze whole tomatoes and make up a quart or 2 as needed; yes the tomatoes were frozen but would probably make up satisfactorily.
I canned salsa with my sis in law and it was so good, and so nice to have all winter. It didn't last long.
The benefit of canning is: you have it when you need it, and provided you used the tomatoes when perfectly ripe [pick a lot, can as they ripen, ripen on cardboard under a sheet or old blanket] the flavor will be great, and the nutrition at it's peak. As for saving money, probably not much, but if you have canned foods and a large bill, you can buy the minimum groceries and take care of that bill that month.

Jess
Silver Post Medal for All Time! 267 Posts
January 20, 2010
0

found this helpful
I made salsa this summer and just finished my last jar recently. I think that if you can it correctly, it should last for about a year. I wouldn't try to make it last longer than that.
My friend found a bunch of jars of salsa in the boxes which she thought had empty canning jars. It was several years old. It looked and smelled fine but she emptied it all in the trash anyhow. Better safe than sorry.
Here is my friend's salsa recipe that I posted on ThriftyFun. I may make another batch before summer if I can get my hands on a bunch of tomatoes. Yum!

Kathy
Bronze Feedback Medal for All Time! 190 Feedbacks
January 20, 2010
0

found this helpful
Canned salsa as stated if canned properly will last a year or more. One of the benefits is you can make it as spicy (or not) as you like.

kerly87
Bronze Feedback Medal for All Time! 129 Feedbacks
January 21, 2010
0

found this helpful
If canned and stored properly, home canned items will last for years. Home canned salsa doesn't have preservatives that store bought has, and you can season it to taste.
Answer

this Question