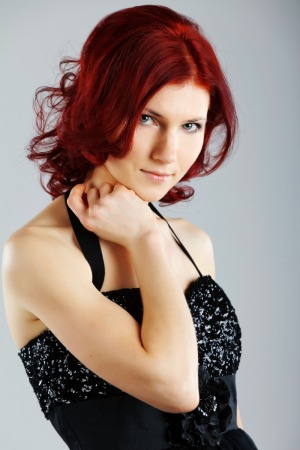 I have dyed my hair jet black and I tried to put peroxide in it to make it lighter so I can dye it red; it didn't work. How do I make it light enough to make the red dye show?
By Nicole from Buffalo, NY
Answers

(Guest)
Gold Post Medal for All Time! 846 Posts
November 29, 2009
0

found this helpful
So sorry but about all you can do now is place a vibrant red over the black often but not on the roots! Either be patient and allow the black to eventually fade and grow out or seek out and pay for a really good professional color hairstylist.

November 30, 2009
0

found this helpful
I have to agree with Deeli, you are asking a lot of your hair. It would be best to wait for the black to fade. You could use a shampoo with egg in it, as the egg will over time fade the color but what you might have in between is hard to tell. A professional hairdresser might use a color stripper to remove some of the built up color, she/he would be able to tell you if you should go red at that time according to the condition of your hair.
Be careful you don't do to much to soon. Been there and done that! Good luck.

November 30, 2009
0

found this helpful
I once dyed my hair too bright a red (I now have dyed red hair that I enjoy), and it was suggested by my daughter who once dyed her hair a red that dyed a bright orange, instead, that she washed her hair in baking soda and that well toned it way down. I did that to my hair and it really worked! It really seems to pull the color out, especially if you really mess it up! Good luck!

December 3, 2009
0

found this helpful
If you used a semi-permanent color you could try washing it every day until the color fades a little. I haven't tried either baking soda or egg, but they can't hurt.
Unless your hair feels really dry. If so, condition it for a few weeks without adding anything else, then try the red. Dry hair will take up the dye really unevenly.
Answer

this Question
My hair color is dyed golden brown and it was dyed red before. I want to change to a dark blonde. Can I just buy a lighter color and dye it?
By Angi M.

Answers

Hello
Bronze Post Medal for All Time! 107 Posts
March 18, 2018
0

found this helpful
from what i understand about hair dye, you have to take colour out IE bleach it because a lighter colour will not take on an already dark background unless the specific lighter dye has a built in bleaching component.
in general in a complex situation like this it is preferable to have it profesionally done because the different colour interactions can create unexpected results (can we say, green hair?)

Judy
Gold Post Medal for All Time! 677 Posts
March 18, 2018
0

found this helpful
To go lighter you need a two step process. The old color is lifted off and the new color deposited. This is a job for a professional
Answer

this Question