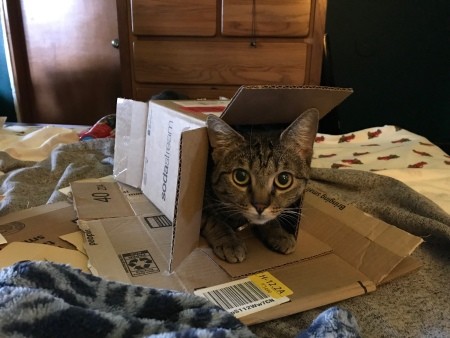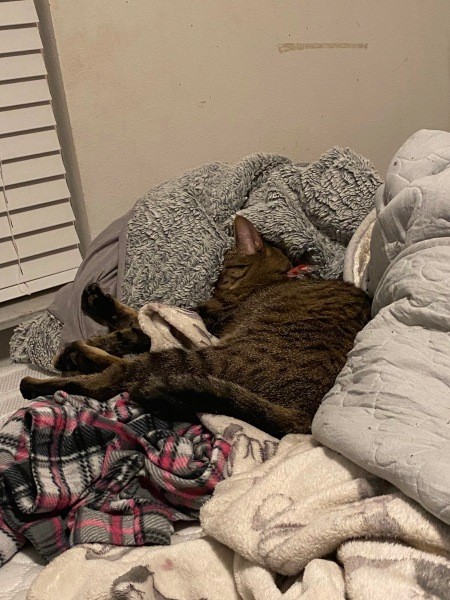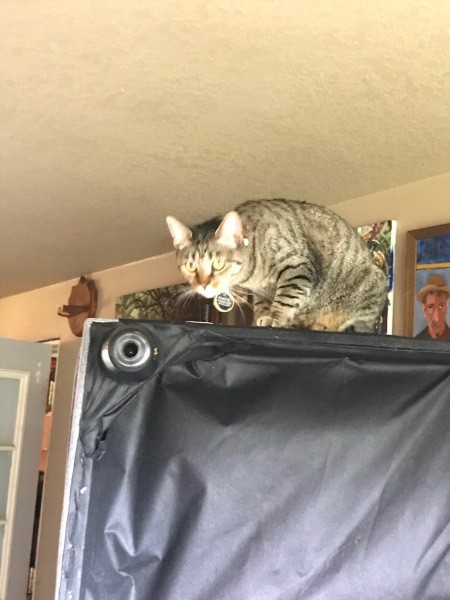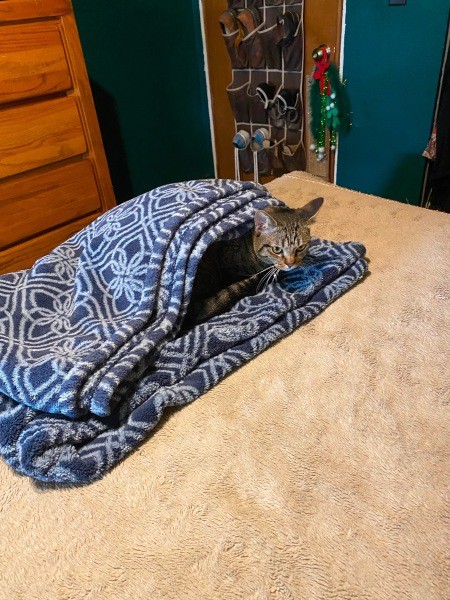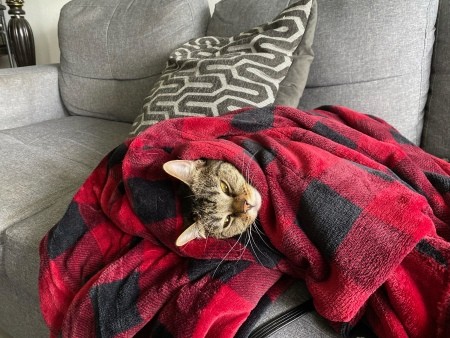 Your Pet's Age
1 1/2 years
Your Pet's Breed
Standard issue grey tabby with a brown undertone.
How and when did you get your pet?
We lost our dear cat Patton a few days before Christmas 2020 to renal failure, leaving us petless for the first time in over 20 years. The local Humane Society was by appointment only so my husband and I decided to check out Petsmart to see if they had any cats for adoption. We found this little charmer who was about 15 weeks old. She was all alone, as her brother had been adopted out the day before and there were no other cats at the time. She was allowed to climb on the tops of the cages and explore the back room so she didn't get bored. She was defintely in need of someone to play with her. So we brought her home.
She was a transfer from the Humane Society of Maui, which we thought was really cute. Apparently, there is a very large feral cat problem in the islands so many of their cats are sent to the mainland for adoption. She was so young and friendly, I believe her and her siblings were taken in very young, perhaps even born in captivity.
What does your pet like to do for fun?
She is a born climber. I have caught her on top of our flat screen TV, inside the top shelves of our closets, on the tiny ledge where our microwave sticks out past the cabinets and high up in the rafters of our garage. As she gets older and wiser, she doesn't climb up high as often unless she is trying to get our attention.
She is an indoor cat, although there have been enough unplanned adventures outside that I'm confident she knows our yard and how to get back home. I mostly worry about the birds that she might harass. She is a mighty hunter, catching moths, flies and other winged insects nearly every day. She has even brought in a couple of mouses that appear to have been trying to make a home in our garage.
We have bird feeders outside our front window and she likes to sit there and look outside. She also has a couple of windows to our backyard and a catio where she can enjoy the fresh air and munch on some grass or catnip that grows there.

Do you have anything else to share about your pet?
Chantel is the noisiest cat I have ever had, with so much expression in her various squeaks and trills. If a door is closed, she will let us know that she wants it to be open and will let out the most pitiful whine when you pick her up and try to cuddle. Only my husband can hold her for any length of time as they have a special bond. He sometimes holds her in the kitchen while I'm cooking where she will watch me like I'm her favorite TV show. She will often sleep between the two of us at night or early in the morning, moving to the couch, her cat tower or my daughter's bedroom in the daytime. As you can see, she loves to snuggle down in soft blankets.
We are so happy to have her as part of our family. She brings so much joy and laughter. Santa brought her this flower bonnet last Christmas. She wore it for a total of maybe 5 minutes and hated it, of course. I have the photo on my lock screen. It makes me smile every time I pick up my phone. :)
Add your voice! Click below to comment. ThriftyFun is powered by your wisdom!
Add your voice! Click below to comment. ThriftyFun is powered by your wisdom!