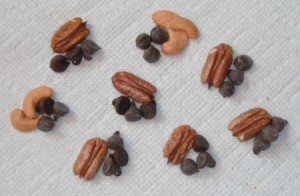 For a long time, I have heard and read that eating a little chocolate every day is good for you. I have chocolate chips left over from Christmas, that were going to waste if not used, so for the past couple of weeks I have been eating some of them daily. So far I have not gained weight. I have actually lost a couple of pounds, which I am trying to do.
Chocolate covered nuts are my favorite candy. Chewing up a nut and a few chips at the same time taste just like eating a chocolate covered nut.
Benefits of chocolate, in the AOL news today.

Immediate mental stimulant.
It widens blood vessels and can help reduce blood pressure.
It can lower body fat.
Healthy bacteria in your stomach thrives on chemical makeup of chocolate, which while breaking down releases compounds that lesson cardiovascular tissue inflammation, reducing the risk of strokes.
It can improve your memory.
I need all of this so I just may be stocking up on chocolate chips to keep on hand all the time. One tablespoon, a serving size of Nestle Chocolate Chips, contains 70 calories.