I think I have washed my hands more in the last two weeks than in the past two months. To keep them from getting so dry, I use lotion. In addition to the lotion, I have been using coconut oil to keep my hands soft. It's an easy application with the use of X-large disposable latex gloves. The gloves are probably hard to find now due to the coronavirus. My husband bought this box several years ago to use for painting.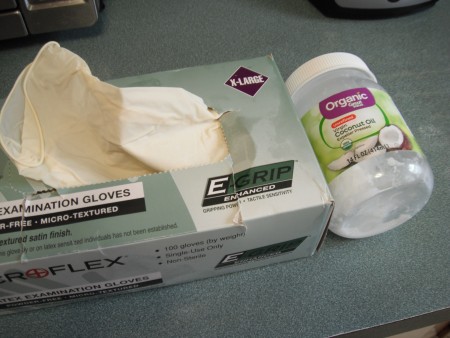 When I learned that coconut oil will soften your hands, I started using it. I use only a dab at the time and a pint jar has lasted a long time. I keep some on my computer desk in a little pimiento jar. When needed, I treat my hands and let the coconut oil soak in while I enjoy looking at the computer. Lately, I have had to treat my hands every day since I have been washing them a lot.
To Use: Put a dab of coconut oil in the palm of your hand and rub your hands together to lightly coat them all over. Put on the gloves. If they are too loose, use a rubber band around your wrist to hold them in place. It takes about 15 minutes for the oil to soak in and leave your hands dry. At this time, the gloves will loosen and can be easily removed.
Store the gloves in a dry place and use them over and over until they stretch way too big or tear. Then it's time for disposal.