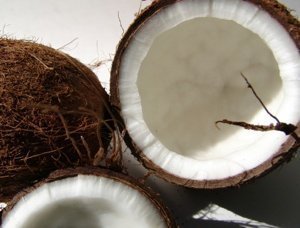 We all know that spinach is good for us - we should eat it everyday. I have also discovered Organic Cold Pressed Coconut Oil. This has great benefits, good for your hair, skin, weight loss, lowers blood pressure, and a whole host of other things. Now I am not a doctor, but I figure if it tastes good and is good for you, you can not go wrong.
I take the coconut oil (make sure it is organic and cold pressed) and melt it in a skillet, put in a couple of cloves of garlic, then cook down the spinach in it. Sometimes I add eggs, celery, carrot, or onions - whatever I feel like. The coconut oil gives it a great flavor and at one meal I have consumed about 3-4 servings of my daily vegetables. It is a wonderful meal, and I don't miss the butter and all the other "bad" things that make spinach taste good. Enjoy!
Source: This was inspired by www.earthclinic.com
By WendyD from Whitewater, CA
Read More

Comments

Health is on everyone's mind, and a healthy body starts with what you put into it. Coconut oil, and coconut product are at the forefront of nutritional subjects with claims of internal and external rejuvenation!
Read More...

Does anyone have recipe uses for coconut oil?
By Sharon

Answers

June 19, 2012
0

found this helpful
I use coconut oil for everything I'd use regular oil for. I also use it on my lips when they're dry & sometimes my skin. A jar costs about 10 dollars but it lasts forever. I don't use it in baking cakes anymore, because I stopped using oil & eggs in them as Club Soda is easier & has less calories.
But I use it for everything else. Its the healthiest alternative & I never use canola oil as its a GMO product. I use peanut oil or coconut oil...mostly coconut oil now. Hope this helps!

June 20, 2012
0

found this helpful
Just like av8rs3 I too use it for everything. I buy it at my local grocery store. I must try the club soda in baking cakes next.
Answer

this Question