Color Advice for Area Rugs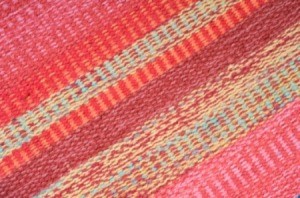 Choosing the best color for an area rug and bring the whole room's color scheme together. This is a guide about
color advice for area rugs.
Questions
Ask a QuestionHere are the questions asked by community members. Read on to see the answers provided by the ThriftyFun community or ask a new question.
December 3, 2013
1

found this helpful
I have white walls in my living room with brown sofa. The pillows are lighter in color as in a golden color and curtains too are in golden color. I want to know what rug color will look good with it. Will a maroon rug look good? Please help.
By Kelly from Austin, TX
December 5, 2013
0

found this helpful
Gold, brown are earthy colors. I think I would like a brandywine over maroon, which is a burnt orange color. I also like greens with that, like an olive green or even teal. Sherwin Williams has a website that has rooms you can color coordinate. I really like this site, I use it whenever I want to paint so I can see what colors go very well together... check it out, it's really cool.
I have a dark green sofa. The wall is a tan color. The floor is light hardwood. What color of area rug would or should I choose?
By Judy from Eastman, GA
July 31, 2010
0

found this helpful
Tan and the wood tones are neutral colors and a lot of people consider green to be a neutral too. Any color you want would work.
July 31, 2010
0

found this helpful
Something with a mix of burgundy and black with a touch of purple would be nice. A tan and black rug would be another good option.
July 31, 2010
0

found this helpful
Let the rug reflect your personality. Choose a nice woven rug that incorporates the 2 neutrals with a least one more accent color that you love. Let that accent color repeat in the room at least 3 times in a significant way. Throw pillows, vases, drapery, candles, etc. Hope this is helpful.
August 4, 2010
0

found this helpful
I think earthy brown, rust, and tan ( picking up from your wall color) in a block pattern or Oriental type throw rug if you're traditional or transitional might be nice; the same colors in a braided rug if you're country or shabby chic. I'd definitely go with something patterned on the floor and maybe a few throw pillows on the couch in similar colors, a couple of solids and a couple of patterned. Mixing the pillow patterns as different from the rug pattern if you decide to try that will work as long as they're in the same or complementary color family.
November 20, 2014
0

found this helpful
I would love to buy a area rug to go under my white coffee table. The couch is sunflower yellow and the three chairs are medium green. What color would go with this color scheme? Thank you.
By Ginger from Alexandria, VA
November 21, 2014
0

found this helpful
To me, rust would go with that.
November 22, 2014
0

found this helpful
My first choice is to agree with Abigail... but I also like the idea of chocolate brown.
November 22, 2014
0

found this helpful
I was thinking cocoa brown as my second choice! Whichever one you could get a better deal on.
My boyfriend and I just moved. We are getting new furniture here soon. Our carpet in the living room is mainly brown. The couch is red with brown legs. It's a love seat and a sofa. What color rug should we do ?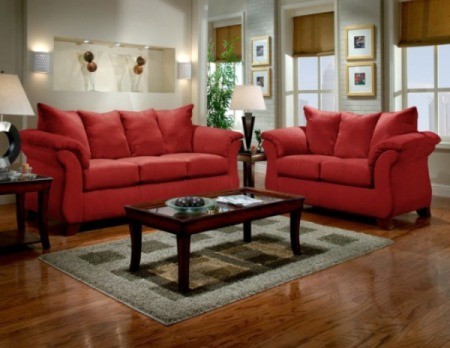 December 15, 2016
0

found this helpful
I always go for the more "out there - adventurous" color. Try deep deep forest/hunter green (not Christmas green) or teal. I have a red and teal tablecloth, and it looks great. I see you have a dark coffee table. If it can be moved, I suggest black. How about something in a dark gold (as dark as possible). Just some possible choices. Hope it helps.
My walls are a tan with white trim. My carpet is an off white and my furniture is a tan brown. What color of area rug would look good? I am trying to add some color to the living room. It looks so blah. Please help. Thanks.
August 25, 2015
0

found this helpful
I think you've got a good, basic colour scheme, Kelsey. (Mine is very similar and I know what you mean about wanting to spice it up a bit.) The roll ends at local fabric stores often provide inexpensive pieces of cloth large enough to make throw pillows. Consider trying yellows, rusts and oranges? Stop by your dollar store and see if they have silk flowers in those same colours?
Live with those colours for a while before investing in an area rug?
Have fun!
December 7, 2014
0

found this helpful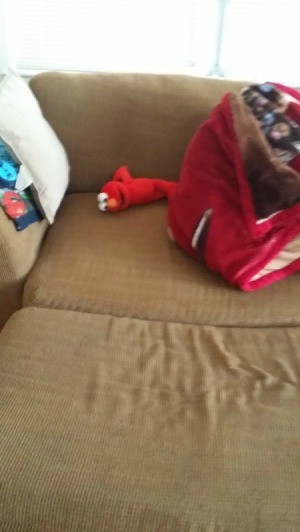 I just moved into this house. I have black curtains I would like to put up soon, but I have a rust colored, sort of light brown, couch and chair with ottoman. What color and type should the rug be? I have regular hardwood floors.
By Marilyn W
December 12, 2014
0

found this helpful
I'd choose a low pile rug with a bold pattern that picks up various brown colors and the black to merge furniture/curtains.
November 28, 2012
0

found this helpful
My walls are sunkist yellow. What color area rug can I buy so it blends nicely with the walls? I have Pergo flooring, light oak pictures with reds and yellows and the couch is a very light sage color.
By Maggie
November 30, 2012
0

found this helpful
The only color I can recommend for the shades you named is gold. Not too dark or light, and not too bright. Flecks of other colors would be okay. I can envision it now -and it's pretty! Cay from FL
May 4, 2014
0

found this helpful
I have walls of beige with an ivory bead board. The curtains are solid rust and the sofa and chair are chocolate brown. The floors are light oak wood. What color would be best for an area rug and accent pillows?
By Jeane M
Related Content