Cooking Tips and Tricks
Solutions
Share on ThriftyFunThis guide contains the following solutions. Have something to add? Please share your solution!
Neat hints and older recipes for us baby boomers. I love to shop thrift stores, and I happened upon this gem of a cookbook called, "The Priscilla Cook Book" Personal Recipes by The Woman's Association Pilgrim Congregational Church in St. Pete, Florida. Certainly looks to made in the early 40's. Enjoy!
Greaseless Griddle Cakes: When making griddle cakes, grease the pan for the first cake. After that rub a piece of raw potato over hot griddle instead of greasing. The cakes brown nicely and there will be no smoke.
Sugar in Fruit Pies: When making fruit pies sprinkle the sugar under the fruit instead of on top. The juice will boil up through the fruit and not out and over the top.
When cutting cream pies dip the knife in warm water and none of the filling will stick to the knife.
Meringue will always stand up high and perfect if a generous pinch of baking soda is added to beaten whites.
Coat raisins in flour before stirring them into a cake to prevent them from going to the bottom.
2 Tbsp. of lemon juice added to 1 cup of milk will sour immediately.
Add several drops of vinegar to icing while beating and it will be soft and seldom grainy.
And lastly, an oldie but a goodie because I certainly remember this recipe.
Porcupines
Ingredients:
1 lb. hamburger
salt
1/3 cup raw rice
small amount of mince onions
1/2 cup milk
1 can mushroom soup
1 tsp. baking powder
1 can water
Directions:
Mix together and form into patties. Brown in fat, Put into casserole and pour in soup diluted with water. Bake in slow oven 1 1/2 hours. The secret of its excellence is in cooking at low temperature. May be cooked in heavy aluminum on top of stove. Emma Rogers
Certainly would not use aluminum today!
Source: The Priscilla Circle of The Woman's Association Pilgrim Congregational Church
By Debra from Fort Pierce, Florida
When I am making a recipe, I get all my ingredients out, and I also get out whatever tools I need to assemble my ingredients.
For example: If I am making meatloaf and mashed potatoes, I preheat my oven, then I get my meat, and breadcrumbs, eggs and spices and put it all in a mixing bowl set in the baking dish. Then I get my potatoes, cream, butter, salt and pepper, and set all that in a large pot, which I set on the cutting board. Then I assemble the ingredients of the meatloaf since that takes longer to cook.
I put it all in the bowl, mix it, shape it and set it in the baking dish. I pop that into the oven with a timer, then I start peeling and rinsing my potatoes. I dice them up on the cutting board, slide them in the pot and fill it with water, and put it on to boil. When the potatoes are done, I drain them, add the salt, pepper, cream and butter to the pot while the potatoes are still draining, I heat them up, add the potatoes and mash. By that time, my meatloaf is done, and all I have to do is serve!
We are in somewhat of a bind right now with no refrigerator and we can't do dishes in the kitchen sink because the metal pipe has rusted through. We had been eating a lot of fast foods, which is way too costly.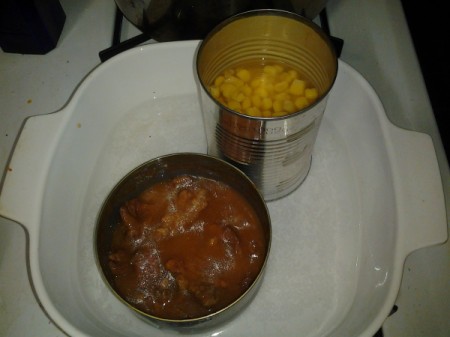 Tonight I decided to give something a try. I don't have to do it again if I didn't like the results, but I DID like the results! I opened the cans of what I wanted and found cookware I wanted to use. I added a couple of inches of water and turned on the flame.
I peeled off the can labels and sat them both into the water. In a little bit, it was heated to my liking. All I needed was to salt it and grind pepper over the top of the corn. I have no butter but it was tasty just the same. I spooned it all up on a Styrofoam plate and enjoyed!
I now have only ONE piece of cookware, which really just needs wiped out. There's only a large serving spoon that needs washed. I saved fuel. Instead of heating 2 pots of food, I narrowed it down to one!
I don't always use Corningware to cook in.I sometimes use metal. The cans are metal. Why not use them? As you can see by the image, possibly 2 more items could have been fit in. That's OK. I got full. It was just me tonight. I wonder what my son would think of this one?
November 14, 2004
2

found this helpful
Robin submitted a bunch of food tips so we put them together into one post. Feel free to add your food tips as well.
Read More...
I chop vegetables and meat on paper plates. It's cleaner than a chopping board, and I can throw away the used plate...
Read More...
Easy Substitution List. I keep this list inside my cookbook in case I am ever in a pinch for alternative ingredients. Easy Substitutions: If the recipe calls for: Cheese - cream cheese: cottage cheese blended with butter or milk.
Read More...
I have a 3-ring notebook just for cooking hints and tips that are not recipes, but are a great help in the kitchen. I have sections for equivalents, substitutions, baking and cooking equipment, and a section on helpful hints. . .
Read More...
November 22, 2004
0

found this helpful
Always work next to the stove. You can chop and drop items in pots as you cook them. Saves time and steps. By Robin
Questions
Ask a QuestionHere are the questions asked by community members. Read on to see the answers provided by the ThriftyFun community or ask a new question.
1. Why add 2 cups of water to a recipe (with sugar) and then 'reduce by half'? Why not just reduce the amount of liquid used and reduce the cooking time?
2. Why do some recipes specify 'unsalted butter' and then later in the recipe use salt as an ingredient? Why not use regular salted butter to begin with?
I am looking for the (scientific/cooking) reasons behind these instructions. Thanks so much for your help.
Carlos from Mexico
Answers
January 4, 2008
0

found this helpful
1. I'm not sure what you're cooking(fruit?) but you have to start with a certain amount of water because some will be lost to evaporation or absorption.If you reduce your cooking time your food may not be cooked completely or may not be soft enough.
2. Salted butter is of inferior quality, salt is added to improve the flavor(gives it a sweeter, creamier taste). It may taste the same but it does not have the same cooking qualities. For example, cookies made with salted butter can come out "flat". Always use unsalted butter then add salt for taste.
January 4, 2008
0

found this helpful
1. Generally, if you are reducing, you are creating a thickened sauce through evaporation, and this applies to fruits for pies and savory sauces. You also produce a more intense flavor by reduction, since you are causing the excess water (or broth) to evaporate, but not the flavorings.
2. Using unsalted butter makes it easier to control the salt in a recipe. Depending on the recipe, using both the amount of salt called for and salted butter can affect the taste and texture.
As for great books on food science, look for "Cookwise" by Shirley Corriher, and "On Food and Cooking" by Harold McGee. Both of these books discuss the science behind the cooking process, and have helped my cooking.
January 5, 2008
0

found this helpful
Ditto on previous posts with this added: Salted butter has different amounts of salt, thereofre you can't be sure how much salt you're actually getting. If sodium is a concern this can make a big difference.
January 9, 2008
0

found this helpful
perfumed fan, if I use unsalted butter, how much salt do I know to add?(ie making cookies)
Thanks!
January 9, 2008
0

found this helpful
Mikki, you would use the salt called for in the recipe, and there almost always is.
January 9, 2008
0

found this helpful
Depending on what you're making, adding salt too early during cooking/baking will sometimes toughen certain foods. Adding it later will flavor them.
January 14, 2008
0

found this helpful
When cooking a water & sugar mixture to reduce it by half, you are creating a syrup that you can't otherwise make without doing so; i.e. for making candies, syrups, etc. Simply adding equal amounts of water (even when using hot water) doesn't give the sugar enough liquid to fully dissolve no matter how much you stir it! Cooking the water & sugar together allows the sugar to take another form & it becomes a condensed form of liquid sugar & when cooled is thick, clear, & smooth. As in the case of making fudge, when other ingredients are added & then cooled, you have a nice smooth mixture that isn't granular like sugar--that is, unless you under or over-cook it. If you undercook the sugar/water syrup for the fudge you'll have a runny mixture that won't set up at all. If you overcook the water/sugar syrup mixture then your fudge will either be granular or hard. As for adding salt to a recipe calling for unsalted butter, I agree with 'perfumed fan'. Salt is a seasoning & brings out the flavor of the food it is being used in. Salted butter is inferior to unsalted butter. Compare one to the other when cooking or baking & you can really tell the difference!
February 8, 2008
0

found this helpful
My view regarding added salt to unsalted butter is that it provides a controlled amount of salt suitable to the recipe. It reminds me of when I make creamed chipped beef.
If I used the beef as it comes packaged, the result will be too salty. But I boil the beef shortly, which removes the salt. I pour out the water, and then I add a measured amount of salt to the recipe. It's a matter of controlling the amount of slat to suit the recipe.
Answer

this Question

...
This is a tip for when you are cooking something that needs to be brought to the boil and then simmered for a period of time. If you are using an electric stove, you know that it takes considerable time to cool down that burner so that the simmering can begin. To avoid the wait, and possible boiling over, just turn on another burner (of the same size) on "low" and transfer your boiling pot to it. Turn off the original burner, of course. No more boiled over sauces, soups, or chili.
By Ginny from Murrells Inlet, SC
Related Content